Beats Audio Also Coming to HTC Windows Phone Handsets
We've already heard that Beats Audio will be coming to a number of forthcoming Android handsets, including the re-tooled Sensation XE and the HTC Vigor, and now HTC is also confirming that it will be releasing Windows Phone 7 handsets in the future with the enhanced audio experience. The company had recently made a major investment in Beats Audio in an effort to differentiate its product offerings from rivals through better sound output.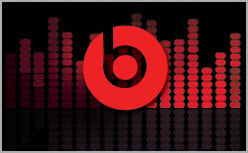 In the past, HTC had relied on various premium audio solutions for its smartphones, including those from Dolby and SRS Labs. With the investment in Beats Audio, HTC will try to leverage its $300 million investment in its smartphones. Beats has been touted on HP's product portfolio in the past, including netbooks, notebooks, and the HP TouchPad.
According to SlashGear, it's unclear when Beats Audio will come on Windows Phone 7 devices. The company had recently announced two new Windows Phone 7 Mango handsets in the form of the HTC Titan and the HTC Radar–those devices were not announced with Beats Audio, but theoretically HTC could re-release audio-enhanced versions of those devices in the future similar to how the Sensation XE is a release of the original Sensation with improved specs and inclusion of the Beats experience.
As Beats Audio requires not only the necessary sound profiles and software drivers, but also a digital signal processor, Beats-branded phones from HTC would likely require new hardware and current-generation phones would most likely not be able to upgrade via a software patch for Beats compatibility.

As an Amazon Associate I earn from qualifying purchases.