Bebop 2 Drone Launches Just in Time for the Holidays
Parrot announced the Bebop 2, its latest flying camera. While there's an array of expensive drones available for enthusiasts and tinkerers, Parrot designed the Bebop 2 for normal people who don't want to go through all of the hassles normally associated with flying remote drones. The Bebop 2 starts at $549.99 and will be available starting December 14.
As you might have guessed by its name, the Bebop 2 is the followup to an older model that looks fairly similar.  The newer model is smaller, weighing in at just .5 kg (1.1lb) and can fly for 25 minutes on a single charge. That's double the flight time of the original Bebop drone and perhaps the most important new feature.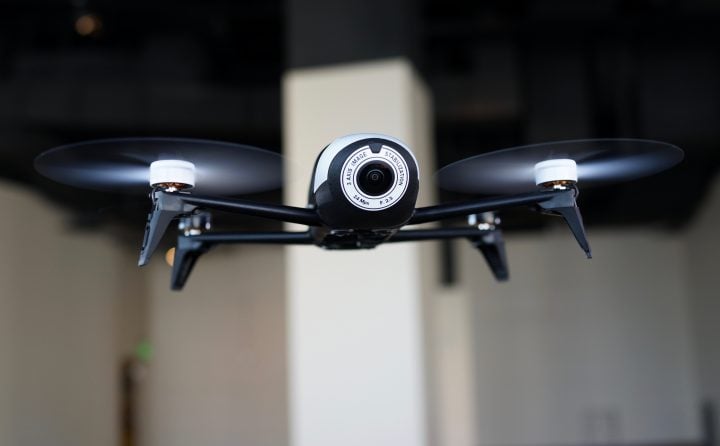 The Bebop 2 features a 14MP camera that can stream 1080p video to any iPhone, iPad or Android device. There is an optional Skycontroller Black Edition that adds $250 to the price tag. Parrot allows other hardware and software vendors to plug into its drones, which means there are a number of compatible accessories and applications Bebop 2 owners will be able to take advantage of.
Parrot CEO Henri Seydoux unveiled the Bebop 2 drone at a press event in San Francisco. Parrot shared the above demo reel that was shot entirely with the Bebop 2.
"It's a drone for everybody," said Seydoux. "A drone is a flying robot, but the most important feature is the camera. The Bebop 2 is designed around the camera. It is a stable camera that doesn't need anything (hardware) to stabilize. Everything is done with software. The drone has virtually no moving parts."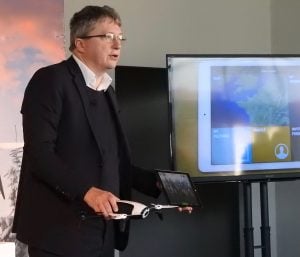 The Parrot Bebop 2 drone does of course have four moving rotors, but it relies almost entirely on software to create smooth video. The Bebop 2 features an improved lens and 180-degree field of view, which is even wider than what's found on GoPro cameras.  During our test flight with the drone, the video did indeed stay level, even when intentionally tilting the drone from side to side.
The Bebop 2 doesn't rival professional-grade drones when it comes to image quality, but Seydoux wants to make sure people don't underestimate the Bebop 2 because of its size.
"Our goal was to make it as small as possible, like a bird. A small bird has nearly the same capability as a big bird," Seydoux said. "A pigeon can travel hundreds of kilometers and know exactly where he is."
The Bebop 2's small stature may allow owners to fly it more places legally. As the FAA and other government authorities crack down on drones, Seydoux said the 500g class of drones may be immune to some future regulations.
While $549 isn't exactly cheap for a flying toy, it is quite affordable compared to drones with similar capabilities. The latest  DJI Phantom drones start at $799 and are more advanced in some ways, but are a lot bulkier and complex to operate. The Bebop 2 has a much more friendly user interface that anyone that can play a video game could use. The DJI products require a bulky remote control with a separate charger while the Bebop 2 can be controlled with the iOS or Android device you already have in your pocket.
The optional controller boosts the Bebop 2's range up to 2km or 1.2 mile.
The Bebop 2 has a number of video modes that make capturing video easier than expected. The drone can be set to follow you around or to fly on a pre-determined flight plan. There's even a third-party app that will create 3D models of buildings out of still photos shot with the Bebop 2.
During our indoor test flight we were told that the Bebop was designed with indoor flight capabilities in mind. It has a safety feature that stops its rotors as soon as it comes in contact with any object to help protect people and decor.
The Bebop 2 can fly up to 37 mph in bursts horizontally and climb at 13 mph.  Though the Bebop 2 looks a like a toy, Parrot stresses the importance of safety.  To that end, the Bebop 2 has several safety features such as automatic "return to home" functionality.

This article may contain affiliate links. Click here for more details.