Beginning To Fall In Love With Office 2007 On My Tablet PC
I've been off again/on again with Office 2007 (no, I'm still not using that silly new name with the small 's') simply because earlier builds seemed to cause more problems than they were worth for me on my Toshiba M200 Tablet PC. I use the M200 as my main computer, or as some call it production machine, and I just couldn't take the chance. I have been using OneNote 2007 for quite awhile and had no real issues there. (Consequently I wont' be commenting on OneNote 2007 in this article.) But with the release of the Technical Refresh of Office 2007, I decided to give it another go this weekend. I'm happy to report that things are working very well with the B2TR and I'm beginning to see the promise of working with Office 2007 on a Tablet PC. Awhile ago, on Life On The Wicked Stage: Act 2, I published this article, Office 2003 and Ink: The Things We Assume. This article begins that same exploration for me with Office 2007, although I have in no way used it as much as I had the earlier edition before I authored that article. So, as I have only been at this a few days, this is more like a first look than a review.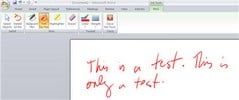 Word 2007: The inking experience is so much easier and intuitive compared to Office 2003. Although why in the world the Start Inking button is somewhat difficult to discover because of the counter intuitive location under the Review tab on the ribbon is beyond me. (This occurs in Excel and Powerpoint as well.) On some levels that makes sense I guess, as this is where markup would occur, but if I want to start inking a document from scratch, it doesn't. Not a big thing, but a niggle. What is most noticeable is that you no longer have to deal with the expanding box when inking into a document. You just start inking. Amazing how far this has come from Office XP (remember those days?) I've mentioned before that the Ribbon feels much more pen-centric and now that I've actually put it to the test in a couple of days of real work, that is indeed the case.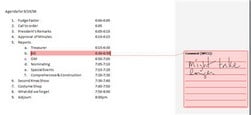 Annotating, markup and commenting in Word 2007 is also much easier. In Office 2003 you selected a button off of a toolbar and did your work. Again, here the commands are on the Ribbon under the Review tab. Inserting an Ink Comment has its own button and works much easier than it did in 2003. Highlighting and Marking up a document seems easier to me as well and you can do so from the Start Inking button, simply by adding ink highlights or markups to a typed document.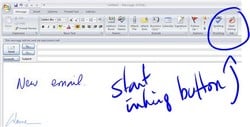 Outlook: You have the same functionality using Word 2007 as your email editor as you do in creating a regular Word document with one exception. The Ribbon is there and different from Word and more intuitive, you can find the Start Inking button right on the Message tab, not under a Review Tab. Interesting. Again, Inking an email is much easier as no expanding text box appears and you just start inking right in the body of your email. What's missing is access to adding Ink Comments, although I just don't expect people do much of that with email, so that is really a minor observance, not a niggle. You can certainly markup a text email if you like, and as GBM colleague Matt Faulkner has pointed out, when you start inking in an email, by default you are given a page with lines to help you keep your ink in line. (Although that takes away some of the fun of scribbling an email.) The lines disappear when you return to the body of your email by turning off the Ink Tools.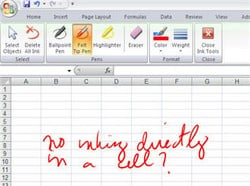 Microsoft Excel: You can find the same Start Inking button under the review tab in Microsoft Excel. Although intriguingly it doesn't allow you to insert ink directly into a cell, instead serving as a mark up tool. I don't think I'm missing anything here, but if someone sees something else let me know. An annoying niggle here is that when you close the Ink Tools in both Excel and Word the Ribbon takes you back to the Home tab and not the Review Tab.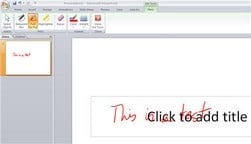 Powerpoint: Again you find the Start Inking button on the Ribbon under the Review Tab. You can ink directly on a slide, but intriguingly doing so doesn't activate the text box you may be working with. Admittedly, I haven't done much with Powerpoint 2007, so I've more to explore here.
Publisher: The Ribbon interface doesn't carry through with Publisher. Too bad on an aesthetic front, but not really an issue from a desktop publishing point of view, in my opinion. Although I could see it being handy for markup under a Review tab, if you are sharing documents for review. I've done no work so far in Publisher 2007, so I can't really comment much here.
Add-ins
Save as PDF add-in: One of the tasks I had before me today was to prepare and submit reports for a board meeting tomorrow. I receive the financial reports and print them to a PDF file from Excel. Using the Save as PDF add-in from Microsoft, this was a much quicker process than it used to be in Office 2003. This easily saved a good 10 seconds a document. Get the add-in if you do any distribution of documents in PDF format. Remember you can download add-ins to Save as PDF, Save as XPS, or Save as XPS or PDF.
TEO 3.0 is working like a charm. No issues, no problems. Great job, Josh.
Compatibility Pack: And if you're in a shop that shares documents back and forth between Office 2007 and Office 2003, Microsoft has released a Compatibility Pack for Office 2007 that allows you to open 2007 documents in ealier versions of the office suite. Check it out here.
I'm looking forward to Loren working up a new build of Ink-Gestures, as this is one program that I regret leaving behind now that I've made the switch to Office 2007. I'd also like to see TipX, the Excel add-in updated as well.
Additional Thoughts
Some other things I've noticed. And as a point of reference, I uninstalled all the Office 2003 apps before making the switch. As another point of reference I'm still using XP as the operating system and not Vista.
Intriguingly Outlook 2007 in this Technical Refresh, runs quicker and smoother than the Office 2003 version. Before making the switch, I had gone through and forced an archive in Outlook, and also cleaned up a number of folders. Following which, I compressed the Outlook .pst file and the archive.pst file. (By the way, that procedure always makes Outlook run snappier) I had done this a couple of days before making the switch, using Outlook 2003 in the interim. So the noted improvement in speed isn't due just to that procedure.

When opening Word 2007, I occasionally see a delay in the Ribbon appearing. This is totally random and not reproducible with any regularity. I don't see that same delay with Excel.

Attaching documents to an email works more quickly in Outlook 2007 than it did with Outlook 2003.

The Ribbon really grows on you (at least it does in my case) when you use it regularly.
So, I've made the switch, (small 's' or no) and I'm not going back. Things appear to be stable enough for me to keep Office 2007 as my working Office suite. Certainly the Inking experience is much improved and of course, this is a key aspect in making that move. We've still got a ways to go for complete transparency, but we are indeed getting closer.
If you are having issues with B2TR, you might want to check out Patrick Schmid's list of issues and work arounds. Thanks to Marc Orchant for that link.

As an Amazon Associate I earn from qualifying purchases.