Belkin Chef Stand + Stylus For Tablets Keeps Your Screen Clean Even If Your Hands Aren't
Belkin has a great accessory for those of us who use our tablets in the kitchen to look up recipes or watch episodes of Good Eats while we cook to make sure we're doing everything right. The $39.99 Chef Stand + Stylus is listed as being for the iPad, but it will work with other tablets, too. Not only will it hold the device at a nice angle and in either orientation, the stand also includes a stylus so you don't have to wash your hands every time you need to tap or drag.
The Chef's Stand is three pieces — the stand itself, the stylus stand, and the stylus — that fit together to form a nice, compact unit. Most of it is made of or covered in rubber or chrome-painted plastic, making it easy to clean up splatters and other food detritus. I particularly like that the stylus and stand can either sit in the well behind the tablet or you can move it around to the most advantageous spot. The stand itself is fairly light, but sturdy enough that it won't topple or move easily.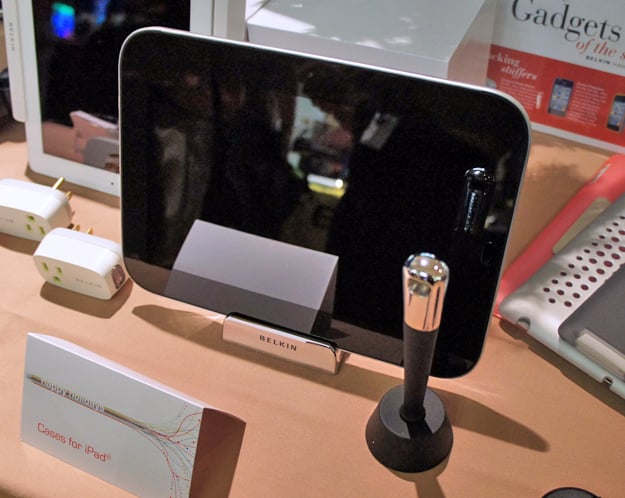 As I mentioned, Belkin has this product listed under their iPad accessories, but it will work for other tablets. The one in the picture is a Lenovo IdeaPad K1, so you're not even restricted to super-thin models. This also means that you can keep your iPad in its case.
The chunky stylus is perfect for kitchen use. The pen tip works with capacitive screens and the magnetic tip can wake a sleeping iPad, so you won't need to touch it with flour-covered hands. Android and Touchpad users will have to set the screen timeout themselves, sadly.
You'll be able to scoop one up for the holidays at electronics and cookware retailers or through Belkin.com.