Belkin Grip Power iPhone 5 Battery Case Offers Mophie Alternative
Accessory maker Belkin recently introduced its new Grip Power Battery Case for iPhone 5, a Mophie Juice Pack competitor that Belkin claims will double the battery life of the iPhone 5.
The new Belkin Grip Power Battery Case for iPhone 5 adds a 2000 mAh battery to the iPhone 5, which is in fact larger than the 1440 mAh battery inside the iPhone 5. The larger battery should double the battery life of the iPhone 5, provided the user is smart about how they charge their phone with the battery.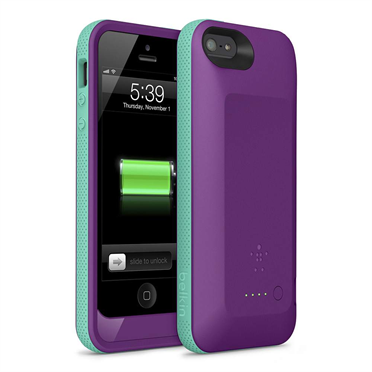 Belkin's iPhone 5 battery case looks fairly similar to the Mophie Juice Pack Plus for iPhone 5, though it's much more angular with a slightly different case design. While Mophie's case has a seam in the back where the top and bottom meet, the back of the Belkin Grip Power has no seam.
All battery cases add a bit of bulk to the iPhone 5, though Belkin's website does not say how large its case is. For comparison, Mophie's Juice Pack Plus for iPhone 5 about doubles the phone's thickness at 0.7-inches.
Users plug their iPhone 5 into the Lightning port connected to the bottom of the Belkin battery case, then secure it by attaching the bumper to the case. The bumper is shock resistant and has a texture that should make it easy to grip. The bumper covers the volume and power buttons of the iPhone 5, but leaves an open space for the mute switch.
Because of the design of the case Apple's EarPods headphones will work, but headphones with an L-shaped plug won't work without an adapter. Belkin includes an adapter with the case for users who want to use such headphones.
While Mophie only offers its Juice Pack Air and Juice Pack Plus in three colors, Belkin offers four dual-tone colors for the Grip Power Battery Case for iPhone 5. The colors include Purple Lightning/Fountain Blue, Civic Blue/Stone, Whiteout/Blacktop and Blacktop/Gravel. The case is available now from Belkin for $99.99.

This article may contain affiliate links. Click here for more details.