Belkin QODE Slim Style Keyboard Case Review
You got a Tablet? Don't you need a keyboard to get any work done on that thing? Well, most sure think you do. I'm one of those who think that a keyboard with a Tablet is a perfect combination. (Microsoft does too.) Nothing wrong with just typing away on glass, but when it comes time to push out some alpha numerics, nothing beats a keyboard.
Soon after the unveiling of the fist iPad came the hopes of keyboards and very quickly those hopes were delivered on by manufacturers. Never was there a more willing market for an accessory. It's been fun to watch. The Tablet keyboards have gotten better as they have matured, but so has the packaging. I find that curious and amazing. Suffice it to say, with the release of each new iPad we'll see the release of new keyboards.
I was actually surprised at how quickly new keyboards appeared on the market after the release of the iPad Air. It's only been a month and a few days and already manufacturers like Belkin, Zagg, Logitech, and others have models ready to be bought and stuff in Christmas stockings. I've already reviewed two different types of iPad Air keyboards: the Logitech Ultrathin Keyboard and the Zagg Folio Keyboard Case.  Both serve different functions, but both allow you to type when you need to.
Now, I'm taking a look at the Belkin Slim Style Keyboard Case. Like the Zagg Folio this is a keyboard attached to a case that you can use in a folio fashion to protect your iPad Air. The similarities stop about there.
The Belkin Slim Style Keyboard has some good things going for it and some not so good things working against it. This isn't a negative comment but it doesn't come with some of the bells and whistles we're seeing on other models like backlit keys. The good part about that is that it costs $79.00 which is less than most other newer models.
On the plus side, the Belkin keyboard has several things that a typist will enjoy. The keys are nicely spaced. Belkin calls this TRUTYPE keys.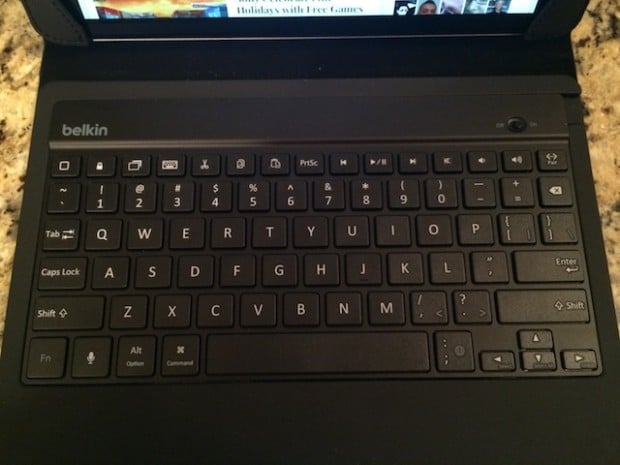 Regardless of the labeling, out of the box I was able to type much easier on this keyboard than I have on others. There is always a slight learning curve until your fingers adjust. That curve was diminished here. The keyboard also has a larger palm rest below the keys than most. I find that more comfortable than models that bring the keys right to the edge of the assembly.
The Belkin Slim Style Keyboard Case also has six rows of keys, dedicating an entire row to special keys such as Home, media controls and cut and paste. For those who don't like to use Function or Control key combinations.
This keyboard does not use magnets to turn your iPad Air on and off the way most models do. There are magnets to hold the two halves of the clamshell together when closed, but they need to be properly aligned to work. The downside here is that you have to remember to turn off both the keyboard and the iPad Air if you're concerned about battery life for either. That would require some retraining for me given past usage habits. You'll notice that their is a slight gap when the folio containing an iPad Air is closed within which you can see a still turned on iPad Air glowing.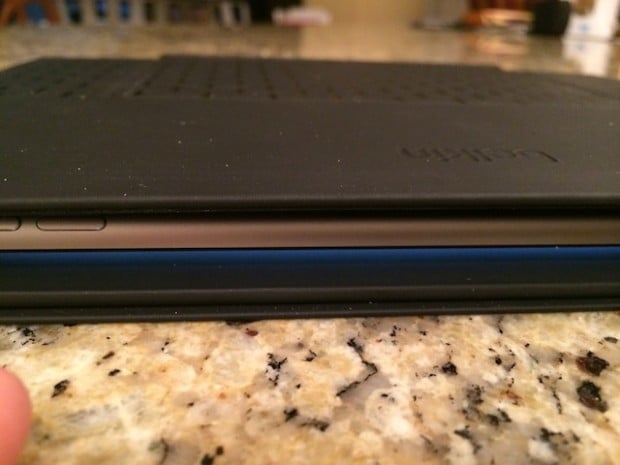 The folio cover is designed so that your iPad Air slips in under four corner straps. It's relatively easy to slip an iPad Air in and out. The iPad Air feels secure and snug once strapped in.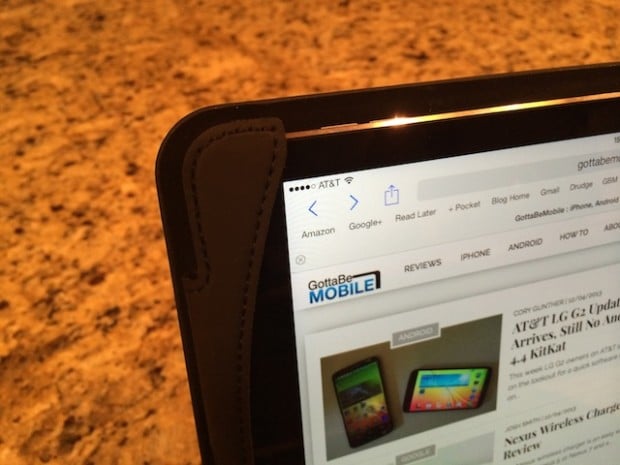 In general I'm not a fan of Folio keyboard cases. I like to use an iPad Air as a slate when I'm not typing. With most Folio designs I feel like inserting and removing an iPad is too cumbersome a process. The Belkin Slim Style Keyboard Case is designed in such a way that this may not be an issue for some. You can fold the keyboard over the back of the iPad Air while keeping it installed in the case, and use the Tablet as a slate.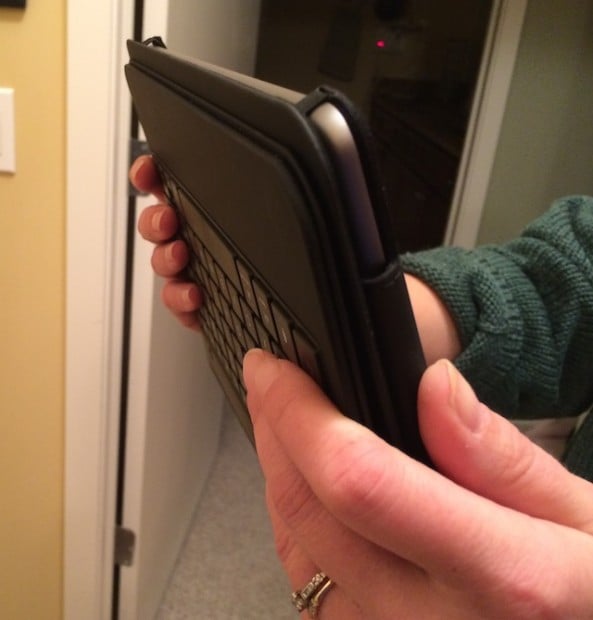 Belkin calls this Media Mode. It is similar to how the Type and Touch Covers work for the Microsoft Surface Tablets. Note though that you need to turn the keyboard's power off with this device. It doesn't shut off automatically like the Surface keyboards. Otherwise you'll be pressing keys inadvertently while watching a movie.
The Slim Case has an on/off switch and a separate pairing key. Although the instruction sheet says you need to turn the device on and then press the pairing key, the review unit I'm testing paired up without that latter step.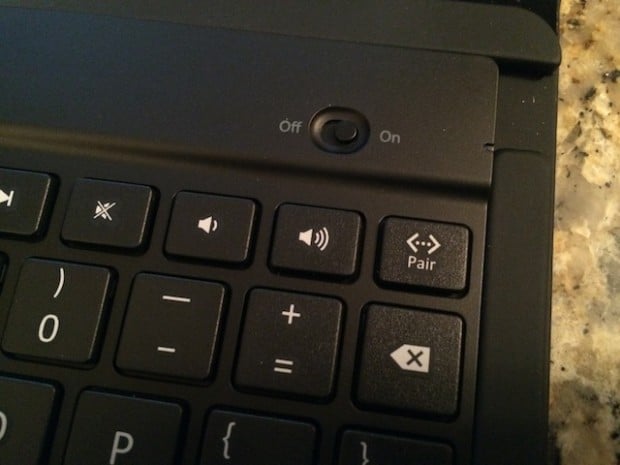 The other interesting design choice is both a plus and a minus. Belkin has chosen to add a fold out kickstand to support the iPad Air. While the principal of the kickstand does indeed work, I find it collapses far too easily if I move or slide the iPad Air on my desk to any great degree.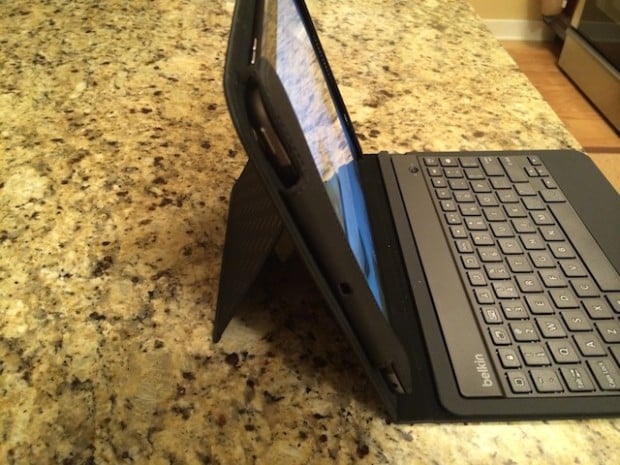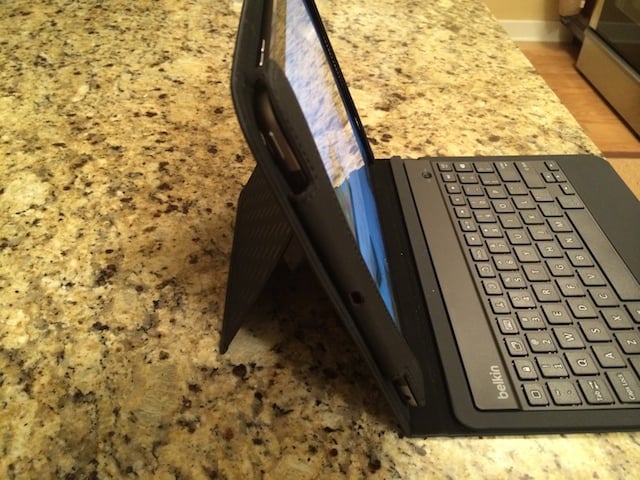 Belkin says we can adjust the kickstand for multiple display angles, but I find that these adjustments are really limited and if you choose to have the screen displayed on a more upright angle, it is far too easy for the kickstand to collapse while typing on the keyboard.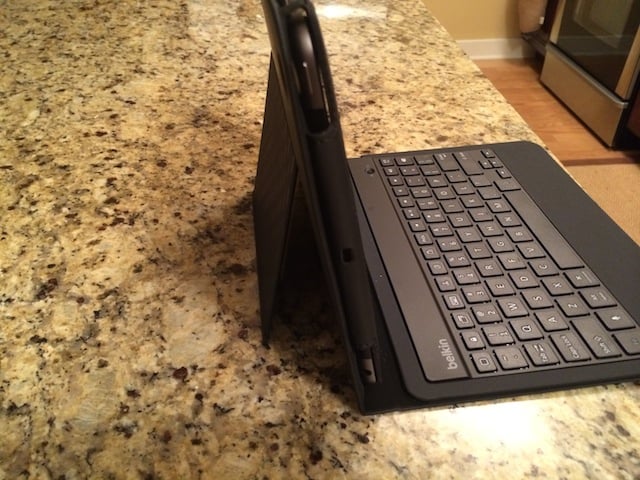 This may be named the Slim Style Keyboard Case, but it is not the thinnest of the keyboard cases that are out there. I don't think of that as a fault, but if you are looking for a very thin solution for the very thin iPad Air, this will probably not be to your liking. That said, the case is designed nicely and feels like it would give your iPad Air sufficient protection in a gadget bag.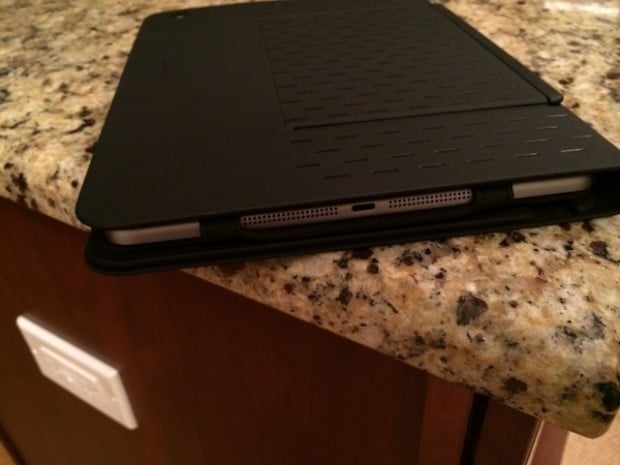 So there you have it, my thoughts on the Belkin Slim Style Keyboard Case. You can find it for online at Belkin, [amazon_link id="B00C8OT7FK" target="_blank" container="" container_class="" ]at Amazon[/amazon_link], and most other retailers for $79.00. Black versions are available now and different color combinations look to be available later this month. A purple case containing a white keyboard is also now listed as available on the Belkin site.