Belkin QODE Thin Type Keyboard Case for iPad Air Review
Some still say that the iPad isn't a device to do "real work" on. Belkin, Logitech, ZAGG, and other external keyboard manufacturers didn't get that memo because making external keyboards for the iPad has turned into quite an industry. It seems like we see a new one just about every month or so. While they all deliver essentially the same functionality, each one is slightly different and that gives users quite a few models to choose from.
The Belkin QODE Thin Type Keyboard Case for the iPad Air is one of the newer models on the market and Belkin boasts that it is the thinnest iPad keyboard yet. Mostly that's true. The Belkin QODE Thin Type Keyboard is a keyboard cover, not a full case folio model. When it is not in use as a keyboard it is only protecting the display, not the entire iPad Air. It's thin enough, so when combined with the iPad Air it can still fit into most sleeves if you have one available.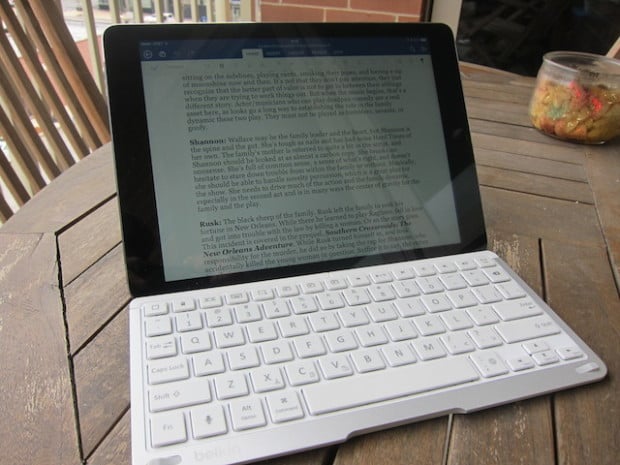 The Belkin QODE Thin Type Keyboard Case is made of a high-performance, aircraft-grade, anodized aluminum alloy that makes the accessory quite strong. At the front of the keyboard, its narrowest part, it measures only 4mm thick. That makes it slightly thinner than the iPad Air along that edge. It weighs in at just under 12 ounces, which is 4 ounces  lighter than the iPad Air itself.
One of the unique features about this particular keyboard cover is the large bump along the back edge that houses the battery. This means that the keyboard has a slight rake to it from front to back when in typing position. While the battery bump provides for extra battery life, it also makes the thinness of the keyboard seem less thin than the measurements indicate.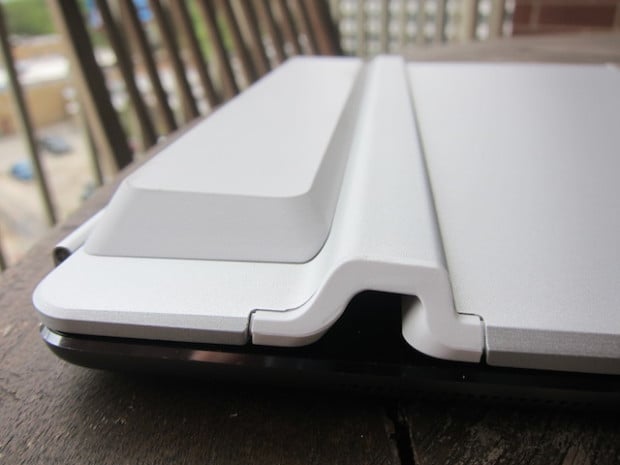 That extra battery is built to last. According to Belkin it will keep going for up to "79 hours of active typing time" and up to six months on standby. Most external keyboards do quite well on a charge, but I've never seen a claim of up to 79 hours before. Suffice it to say I have spent some time typing on the keyboard, but not that much. A micro USB cable is included for those times you do need to charge it up. The battery bump also provides for a nice hand grip when you are carrying the cover closed on the iPad Air.
There is a magnetized hinge along the back side that attaches to the iPad Air that folds over the display for traveling. Detach the iPad Air from that hinge and stick it in the slot to prop it up for typing.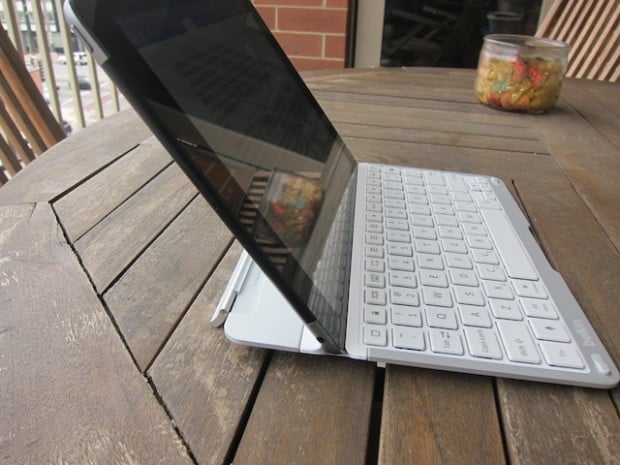 The keyboard detects the weight of the iPad Air in the slot and turns itself on automatically, so there is no on/off switch. Lift the iPad Air out of the slot and the keyboard turns off. This works in both landscape (horizontal) or portrait (vertical) mode. A small blue light flickers on and then goes off when the keyboard is powered up. Because of the weight sensing technology, Belkin recommends you use the keyboard on a flat level surface. So it won't work very well if you like to use your keyboard on your lap. Moving around can affect the sensing of the weight and turn the power on and off.
In addition to the absence of a power switch, there is also no pairing switch to connect via Bluetooth. Instead there is a pairing key in the upper right corner of the keyboard. Tap and hold the key and it will pair up with your iPad Air once Bluetooth is turned on on your iPad.
Belkin calls how it arranges and designs its keys TruType technology. Regardless of the name I find the typing experience to be quite good. The chiclet style keys are well proportioned and well spaced. And the action and feedback feel very good under my fingers. Most touch typists will quickly adjust to the feel and action of the keys and be up to speed quickly based on my experience.
As with most third party external keyboards these days there are special keys for some iPad functions. These keys are in an additional row above the numeric keys. They include:
Home: Takes you back to the Home Screen
Lock: Turns off your screen and locks your iPad
Multitasker: Brings up the scrollable screen of Apps currently running on your iPad
Onscreen Keyboard: Brings up the onscreen keyboard
Screen Capture: Takes a screen capture of your screen. (This is a very handy feature)
Favorite Song: This favorites a song playing on iTunes Radio
Skip Song: Skips to the next song on iTunes Radio
Add to Playlist: Adds a song on iTunes Radio to a playlist.
There are also Play/Pause, Rewind, Fast Forward and Mute keys as well as keys for Volume Up and Down. The iTunes Radio and Screen Capture keys are nice additions to this keyboard.
The Belkin QODE Thin Type Keyboard Case for the iPad Air comes in two color combinations: dark gray keys surrounded by an anodized aluminum case, or white keys in the same anodized aluminum case. The Belkin QODE Thin Type Keyboard Case for the iPad Air costs $99.99 from Belkin or Amazon. It is currently listed as available for pre-order from Belkin and available in 2 to 5 weeks from Amazon.
Given the wealth of choices for external iPad keyboards these days, The Belkin QODE Thin Type Keyboard Case for the iPad Air is certainly one that you should take into consideration. Its thin, light, and sturdy and offers excellent battery life for a keyboard that is also easy and pleasant to type on for long stretches of time.
Other GBM iPad Air Keyboard Reviews