Belkin Ultimate Keyboard Case for iPad Air Review
Keyboard cases and covers for iPad seem to proliferate in ways that would shame rabbits. But there's a reason for that. iPad users and uses are so varied that it only makes sense that we'd see a variety of different styles of keyboard combinations with cases and covers. iPads, like any Tablet, are very personal devices. That certainly extends to the way they are accessorized. We've reviewed quite a few keyboard options for the latest round of iPads already and I'm sure there will be more to come. Belkin, Logitech, ZAGG, and others are all competing for your fingertips with models that are as different as they are alike.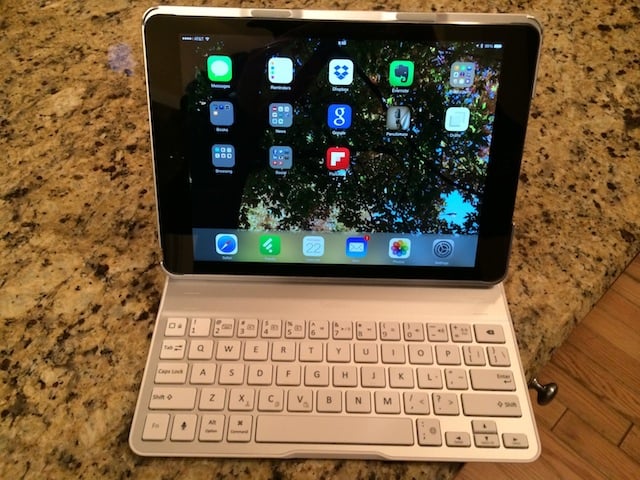 This review features the Belkin Ultimate Keyboard Case for the iPad Air. It's a case. Which means it wraps your iPad Air up completely back to front and also provides a keyboard. It can be found under another name, The Belkin QODE Ultimate Keyboard Case for the iPad Air. Belkin's rep says that they are indeed the same device but with different packaging. In my experience, I've found the QODE model listed online and the non-QODE model available in retail stores, but that isn't a definitive breakdown. Josh gave a review to the same keyboard with the QODE packaging awhile back. But I'm taking a look at whatI think is the signature differentiator between this keyboard for the iPad Air and some others.
Read: Belkin QODE Ultimate iPad Air Keyboard Case Review
Perhaps Belkin took a hint from the Type and Touch Covers that Microsoft sells for Microsoft Surface Tablets.
There are quite a few iPad users who are looking for a case that allows them to keep the Tablet in the case and work in Tablet mode. Most case and cover designs don't make this possible. The signature feature of the Belkin Ultimate Keyboard Case aims at this market segment with a design and construction that allows the keyboard portion to be folded back on to the iPad Air, or to slide over the keyboard so that you can use the iPad Air as a slate without removing it from the case. While this may be a preferable keyboard/case/iPad Air arrangement for some, in my view, this implementation does not work very well.
The challenge is designing the hinge mechanism for folding the keyboard back over. The leather like material that is used here feels sturdy enough and also flexible enough. But when the keyboard is folded back there is too much give. Both the keyboard and the iPad Air slide around more than I think is desired. At least in my hands.
Depending on how you pick up the combination it can feel like things are separating in your hands. They aren't, but the feeling is a bit uneasy if that's the attraction of this keyboard case.
As to the other features of the Belkin Ultimate Keyboard Case, as mentioned earlier, it does wrap your entire iPad Air for some protection.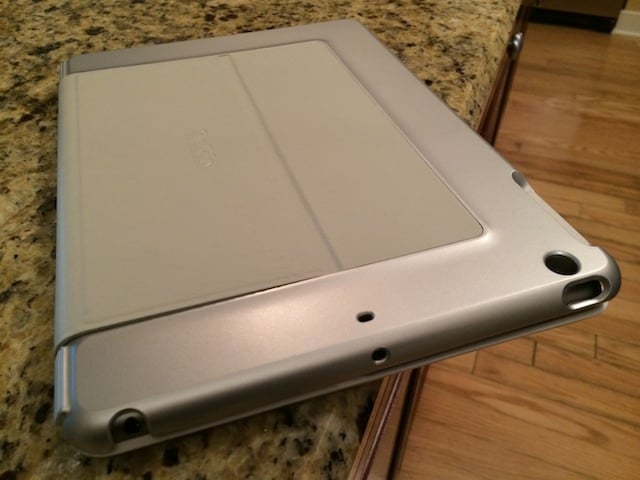 The frame that you slide your iPad Air into is designed for the iPad Air to slide in and out easily, unlike some other models. This might be a good thing for some and less than preferred for others. Unlike some other keyboard cases and covers that offer the opportunity to tilt your iPad Air to any viewing angle you'd like, the Belkin Ultimate Keyboard Case offers your three positions. Each of these is marked with small ridges just above the keyboard itself.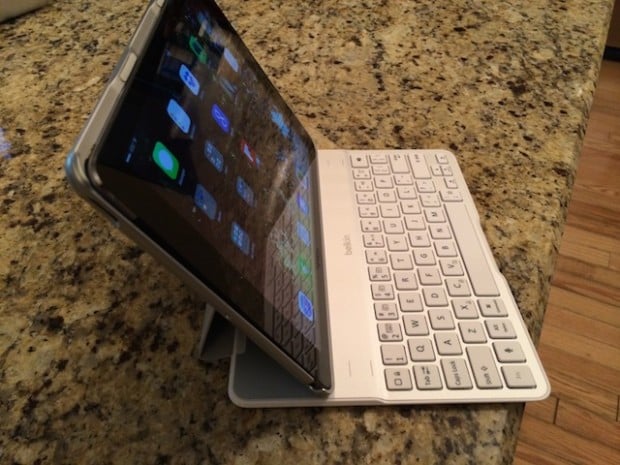 Magnets embedded near those ridges mate with magnets in the iPad frame for sturdy connection between the two. Once the magnets are lined up to your desired screen angle, the entire unit feels good and sturdy. You can pick up the entire package from the top of the iPad Air when all is connected and the magnets are sturdy enough to hold.
The keyboard itself contains five rows of keys so you'll be using the FN key quite a bit to access some controls such as Lock, cut and paste, and multimedia controls.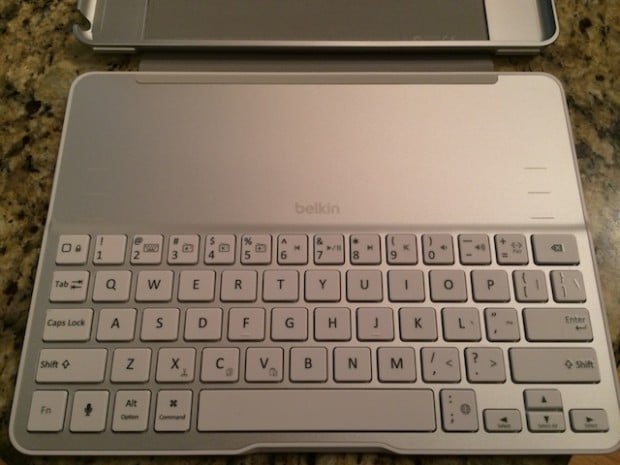 The island style keys are spaced well enough for typing, but there is no hint of a palm rest so typing results are better with the keyboard on a sturdy flat surface. Punctuation keys are problematic in my view because  several require the FN key to access. The location of the the colon and semicolon key is directly to the right of the space bar and that takes some getting used to in my view.
Pairing is simple. There is no on/off switch which we are used to seeing on other Bluetooth keyboards. Once your iPad Air is secured into the case and opened up for business, you make sure Bluetooth on the iPad Air is switched on and hit the FN and Pairing keys and you're hooked up. From that point on, once the magnets of the case mate with each other you're turned on and ready to type.
The cutouts for buttons and connections leave plenty of room for you to maneuver as you need to. The Belkin Ultimate Keyboard Case weighs in at 0.9lbs and the keyboard portion is only 0.27 inches thick. The mixture of materials in this keyboard case include the leather like connecting hinge, and aluminum for the keyboard.
The Belkin Ultimate Keyboard Case can be purchased directly from Belkin for $129 or found at most retailers for that price and sometimes lower.  (Amazon has it [amazon_link id="B00EOE4G4E" target="_blank" container="" container_class="" ]currently listed for $99[/amazon_link].) Colors available include Black, White, or Silver.
Depending on your typing needs and how you want to hold your iPad Air with the case attached, the Belkin Ultimate Keyboard Case for the iPad Air might just fit the bill.

As an Amazon Associate I earn from qualifying purchases.