Belkin USB Charging 6-Outlet Surge Protector Offers Compact Power Solution for Travelers
The Belkin USB Charging 6-Outlet Surge Protector gives you plenty of charging options at home or on the go. It plugs into your wall outlet and provides six grounded charging ports plus two USB charging ports so you can power up to eight devices with a relatively compact solution.
I can see this working great for someone needing to charge a bunch of gadgets in a hotel room or at home. When my family travels we often have a couple of laptops, four phones, and an iPad or two. You get the benefit of all those outlets without a cord like you would with a power strip.
Belkin packs a lot of useful features into this little device. The charger has surge protection with a $25,000 warranty. If you plug your laptop, tablet or other expensive device into the charger and a surge fries its circuits, then you're covered. An indicator light tells you when the charge protects your devices or not so you won't rely on it if the power source doesn't have decent power.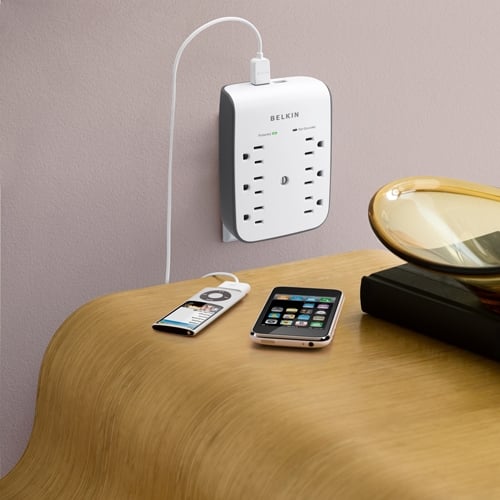 The charger's "Not-Grounded" light will tell you if the outlet you're using to power the charger doesn't include proper grounding, keeping your devices protected in case of a lightning strike. You'll know to unplug and not risk damaging them during a storm.
The charger promises a 900 Joule energy rating in case of a surge. The 2 USB ports send 1.6A of power enough to charge most USB powered devices.
Belkin wants $20 at retail or direct but we found it on Amazon for just $12.99.
Like the folks at Lifehacker I put a similar Belkin charger, that offers 2 USB ports and three power connectors, in my computer bag when I'm on the road and I love it. If you need more than five ports, the 6-outlet Surge Protector with USB will probably work well. On Amazon the 6-outlet charger costs $3 less than my 3-outlet Mini Surge Protector Dual USB Charger.