Benchmark Confirms Dual-Core Exynos 5 CPU on Nexus 10 Tablet
It's been rumored that the Nexus 10 tablet will be coming alongside the debut of Android 4.2 Key Lime Pie and the LG Nexus 4 smartphone, and now we know that the Samsung-made Nexus 10 will debut with a new dual-core Exynos 5 CPU. The tablet along with LG's smartphone and Google's Android 4.2 OS was originally scheduled to debut today in New York City, but hurricane warnings prompted Google to cancel the event and it's unclear when the event will be rescheduled for.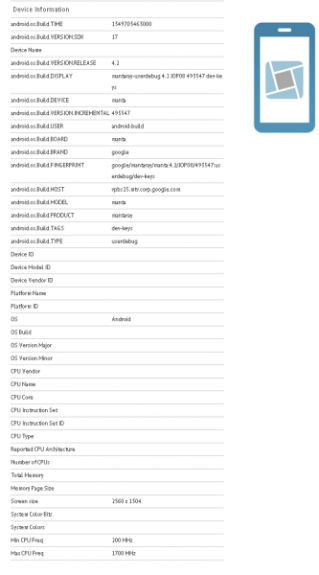 Leaked benchmarks show that the Nexus 10 will debut with a 10-inch display with a pixel resolution of 2560 X 1600 as previously speculated. The actual resolution of the display may be 2560 X 1696, but the 96 vertical pixels may be reserved for the on-screen Android navigation bar according to AndroidOS.in.
The benchmarks show that the device is running a Mali T604 graphics processor, which is only bundled with the Samsung Exynos 5 processor, based on the ARM Cortex A-15 reference design, as the T604 graphics is not available in any ARM chip on the market right now.
The dual-core Exynos 5 chipset will be clocked at 1.7 GHz, and Unwired View speculates that performance of the new Exynos chipset should best the NVIDIA-made Tegra 3 processor, based on an older ARM reference architecture, that's currently found on the 7-inch Asus-made Nexus 7 tablet.
We had previously reported that the Exynos 5 chipset would also outperform the Qualcomm Snapradon S4 Pro, which is a quad-core processor that will be found in the LG Nexus 4 smartphone.
And unlike Samsung's recent generation of Galaxy Tab tablets, the Nexus 10 won't have a slot for removable storage so users will be stuck with the memory configuration selected by Google, which is 16 GB.
When it debuts–and when Google reschedules the event–the Nexus 10 tablet will likely have to compete against new slates and hybrid tablet form factors running Microsoft's Windows RT and Windows 8, such as the Surface tablet, as well as the market-leading iPad from Apple.

As an Amazon Associate I earn from qualifying purchases.