Bendable Lithium Battery Tech to Pave the Way for Flexible Displays in Wearable Computing
In the last few years, we've been hearing a lot about flexible displays, and this year at the Consumer Electronics Show, Samsung debuted its Youm flexible OLED panels, which will eventually make its way into some interesting consumer electronics and maybe into wearable computing devices with new form factors. However, the challenge for designers and electronics-maker is that while the displays are bendable and flexible to take on new forms and shapes, underlying technologies–like batteries–are still brick-lick and may detract from the possibilities of twisty-bendy screens on new designs.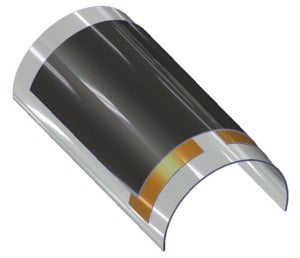 Enter the Ulsan National Institute of Science and Technology of South Korea with its invention of what appears to be the first imprintable and bendable lithium-ion battery in the world. The bendable battery technology may help accelerate the design of wearable computing devices and new form factors when combined with flexible display technologies, like the Youm OLED panels.
The way the bendy batteries work, according to Ubergizmo, is that "the batteries use nanomaterials which can be applied to any surface to create fluid-like polymer electrolytes."
And according to the South Korean Ministry of Education, Science and Technology, the new bendable batteries are safer than conventional lithium-ion batteries that are packed into bricks today. Today's lithium-ion batteries use liquefied electrolytes that are separated by a thin film that may melt under heat. This would cause the positive and the negative to come into contact, thereby causing an explosion.
"Because the new battery uses flexible but solid materials, and not liquids, it can be expected to show a much higher level of stability than conventional rechargeable batteries," the Ministry says.
Flexible batteries can curve to the fexible display's curvatures and create a more elegant form factor and help to mitigate some of the design challenges of having a curved display, but a flat battery brick. Now, it's up to the imagination of our designers, engineers, and hardware-makers to engineer new form factors to usher in a new generation of wearable computing devices.

As an Amazon Associate I earn from qualifying purchases.