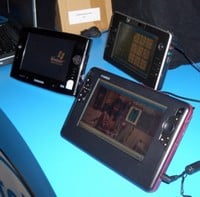 Word is bouncing (and Twittering) around that smartphone and handset maker BenQ may be readying a UMPC for market. DigiTimes is saying this is targeted for a 4th Quarter release. Maybe by then, we'll see Vista drivers.
Via OrigamiPortal and DigiTimes

As an Amazon Associate I earn from qualifying purchases.