Berwick Middle School students inking away at school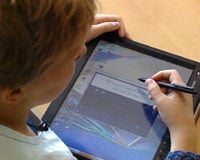 WCSH6.com has a great video and storyvideo features some really good interviews with students and teachers talking about how they use their Tablet PC.
The best I can tell, the students are using Toshiba M400 Tablet PCs.

This article may contain affiliate links. Click here for more details.