Best Android 4.4 KitKat Smartphones Under $200
When it comes to buying an Android smartphone the options vary from extremely powerful flagship high-end smartphones like the Samsung Galaxy S5, to extremely budget friendly options from Motorola and everything in-between.
We'd never recommend consumers opt for some of those cheap no-name budget smartphones or Chinese knockoffs, but we understand that not everyone is willing to sign a 2-year contract or spend $500-$600 on a smartphone. These days even spending $200 is tough for many, and that's why below you'll find a few awesome options that are actually worth your hard-earned dollars.
Read: 5 Best Cheap Smartphone – May 2014
Not long ago it was nearly impossible to get a smartphone for under $400-500 that wasn't complete junk and probably had a terribly low resolution screen and barely played average games from the Google Play Store. However, over the past year or so Google's Android operating system and technology have both come a long way.
Most consumers choose to sign contracts or spend monthly payments on a top tier Samsung Galaxy S5, iPhone 5s, or even an HTC One, but for those who'd rather keep things simple we have you covered. Below we'll detail a few excellent smartphones that all run the absolute latest version of Android. Ones that won't cost you over $200 or so, contract free.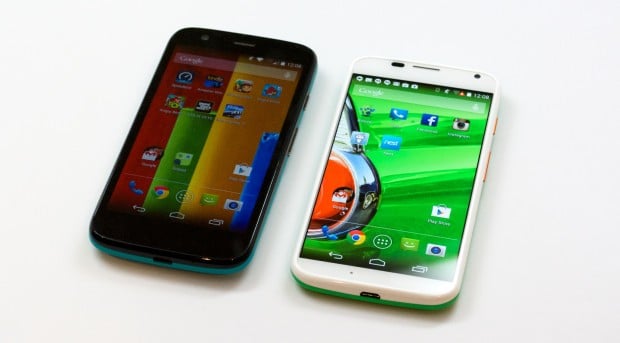 Google's latest and most up-to-date version of Android is Android 4.4.3 KitKat, which was originally released in November of last year and then received a few maintenance updates as recent as last week. In previous years budget devices all ran old and outdated software, had screens that were fuzzy and not good quality, and weren't something you'd enjoy using. But boy times have changed.
From Google's own Nexus 5 for $349 (that obviously doesn't make this list) to even smartphones like the Moto G. If you're looking for a quality and enjoyable Android smartphone that's up to date, runs smooth, and will last you for years to come, check out the few detailed below.
Moto G
First on the list has to be the Moto G simply based on how well-rounded of a smartphone it is, and it's only $179 at most. Revealed in November of last year the Moto G isn't a premium device, but offers nearly everything you'd need in a smartphone, save for the camera only being 5 megapixels.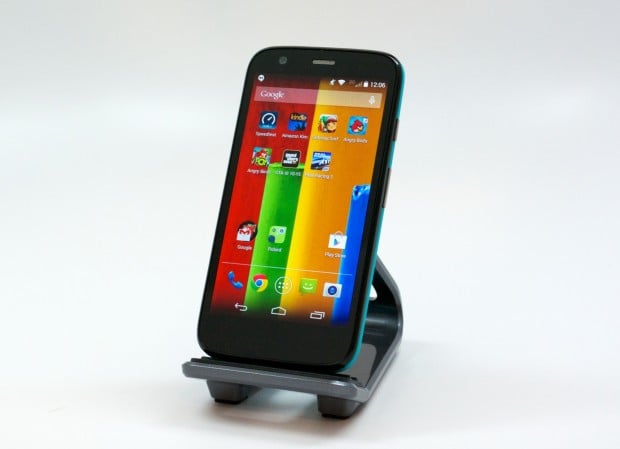 The Moto G is reportedly Motorola's most successful smartphone ever, and with good reason. It debuted for $179 but can be found for as low as $99 from places like Verizon or regional carriers all contract-free. Outright $100. So what does $100 get you? A 4.5-inch 720p HD display, 1.2 GHz quad-core processor with 1GB of RAM, and even 8GB of internal storage. This phone runs the absolute latest Android 4.4.2 KitKat (read: 4.4.3 as of this week) and there's even a 16GB variant available.
The Moto G is hands down the best smartphone for the price, in our opinion, but it does have two big features missing. There's no 4G LTE (but 3G is fast in most places if you don't have WiFi) and the camera is only 5 megapixels, which was sup-bar in our full Moto G Review.
Read: Moto G vs Moto X: 6 Key Differences
Last month a newer Moto G was also announced with a slightly different quad-core Snapdragon processor with 4G LTE, and a micro-SD slot for expandable storage for $220, for those who don't mind spending a few over our $200 limit.
Moto E
While we're talking about Motorola, another smartphone the company unveiled earlier this year is a new device for emerging markets called the Moto E. Taking the same budget-friendly price as the G, but dropping it even further, the Moto E is one of the best smartphones for the price, bar none. It proves you don't need to spend tons of cash to get a great experience.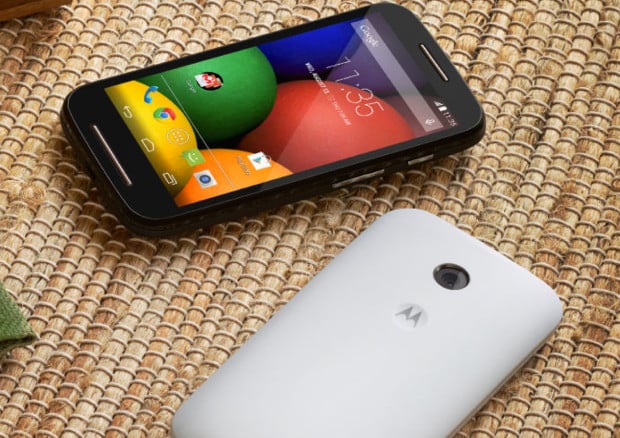 The Moto E has a similar overall design, custom backplates for additional color options, and a slightly smaller display. The Moto G is still probably the better buy, but the Moto E can be found for just $130 on places like Amazon. The Moto E screen is only 4.3-inches and isn't HD, and the storage drops down to 4GB. That said, it has dual front facing speakers, a micro-SD slot, the same 5 megapixel camera, 1,980 mAh hour battery, and a quality quad-core processor as well.
Both the Moto G and Moto E ran the latest Android 4.4.2 KitKat until Google dropped Android 4.4.3 this week. Thankfully Motorola's X, G, and E will all be updated this week, making them one of the first devices on the planet to run Android 4.4.3 KitKat.
If you're looking for a near stock Android experience as Google designs it, one that runs smooth and performs excellent without breaking the bank, these are the two best options.
LG Optimus L90
In a similar approach as Motorola did late last year with the above devices, LG now has something similar the company hopes can be as successful, and it's called the L90. LG releases dozens of budget-minded devices outside the United States, but the new L90 can be had at Best Buy for $179 outright. No contract. It's a T-Mobile prepaid device, one that's likely also available from MetroPCS and other prepaid options, and is worth checking out.
The LG Optimus L90 has a larger 4.7-inch display, but the same 540 x 960 qHD (not 720p HD) display as the Moto E. Which means the Moto G will probably have the better display, but it isn't as big. The L90 also comes with 4G LTE, which is important for many. The L90 rounds out with the same 1.2 GHz quad-core as the Moto G, it offers 1GB of RAM, 8GB of internal storage, an 8 megapixel camera, and a large 2,540 mAh battery for all day usage. Screen aside the L90 is probably the second best device on the list.
Read: LG G3: Everything You Need to Know in Two Minutes
There's also an L70 for Metro that is a bit underwhelming and closer to the Moto E in specs with a 4.5-inch screen, and it can be found for $50 after a $100 mail-in-rebate in most stores.
Blu Life One
Now I know we said we wouldn't recommend those Chinese knock-off devices, but a rather unknown brand by the name of BLU deserves a bit of attention. They handpick some of the best Chinese smartphones around and customize them with newer versions of Android, and most importantly have a warranty system in place. Based in Florida they're one option worth considering if you're on a budget.
The BLU Life One is actually the best smartphone on this list, but since it isn't a Motorola device or run a California based Qualcomm Snapdragon processor that's tried and true, we didn't want to lead with it.
Offering a 5-inch 1280 x 720p HD display you'll have a good quality screen, and decent specs under the hood. Powered by a 1.2 GHz quad-core by MediaTek you'll get 1GB of RAM, 16GB of internal storage and a micro-SD slot, and even a 13 megapixel camera on the rear. The added a 5 megapixel front camera for good selfies, a large 2,500 mAh battery for all day usage, but sadly it only runs Android 4.2 Jelly Bean, and not KitKat. We're hearing an update is in the works soon, so that's the only other caveat
Sadly the BLU Life One is no longer on sale and doesn't stay under our budget, but can be found on Amazon for only $219.
Final Thoughts
Thankfully there are always a few deals to be found. The BLU smartphones are often under $200 on Amazon, but make sure you're getting something comparable to the Moto G, otherwise you'd be better off sticking to a quality company like Motorola that's been around for years and years.
Another honorable mention would be the OnePlus One for $299, or even the Nexus 4 from last year.
The times of spending $500 just to get a quality smartphone are over thanks to Motorola and Google pushing the boundaries, and expect more and more impressive options from other manufacturers to continue to arrive as Android matures and technology improves.

As an Amazon Associate I earn from qualifying purchases.