Best Apple Pencil Apps: Use Your iPad Pro to Sketch, Sign, More
While the Apple Pencil is one of the best styluses you can buy for any device, it doesn't work well with every single app out there. We've put together some of the best Apple Pencil apps for iPad Pro so you don't need to waste time searching.
It took Apple long enough, but the company finally put out an iPad that uses a stylus; their first attempt, the Apple Pencil, is winning praise from almost everyone that uses it. If you're not an artist, however, is the Apple Pencil really a worthwhile purchase? We wondered the same thing, so we spent some time looking for apps that work really well with the Apple Pencil – keeping an eye out for those titles that don't require you to be a skilled artist just to get some use out of them (don't worry, we looked for our favorite art-related apps, too).
It might surprise you to learn that the Pencil's performance isn't uniform across the App Store; there are some apps that work really well, and some apps with noticeably worse performance. In those apps that have been updated to explicitly support the Pencil, you'll find that lag – already quite low for a digital stylus – is further reduced, with better support for Pencil features like tilt sensors.
Best Apple Pencil Apps: Notes
Price: Free | Pre-installed
Notes? The app that comes with your iPad Pro? Yes, the very same. Unsurprisingly, Apple knows its hardware best, and as a result, Notes is one of the best supported Pencil apps that exists on the iPad Pro. It's the best example of how realistic the Pencil can feel, with nearly imperceptible lag as you drag the stylus over the iPad's display.
It's worthwhile for more than just its Pencil support, however, as Apple put a lot of work into updating the Notes app. You can use it to type a note, just like always, but you can also use it to sketch with a Pencil or finger, insert pictures, video, and web pages, and generally keep track of your life. It's like a less powerful version of Evernote, but more compelling thanks to its easy-to-use iCloud integration.
Best Apple Pencil Apps: Astropad
Price: $20 | Buy
Apple Pencil support isn't what makes Astropad so incredible, but it's definitely the key to unlocking the app's potential. If you've got a Mac, you'll need to install Astropad on both your MacBook as well as your iPad Pro, and pair the two either over Wi-Fi or buy plugging in your Lightning cable. What do you get for your troubles? Astropad takes your Mac's desktop and displays it on your iPad Pro, letting you interact with OS X apps like they ran natively.
What that means is you can use your Pencil to manipulate OS X apps like Photoshop or Illustrator, without having to go through the rigamarole of moving files between computer and tablet. Thanks to some fancy proprietary software, Astropad promises to deliver a smooth experience despite the remote nature, targeting a 60 frames per second interface.
Best Apple Pencil Apps: Notability
Price: $4 | Buy
Notability is one of our favorite note-taking apps. It offers a number of really powerful features, like the ability to record a presentation while taking notes, then play back the lecture along with your written notes. If you're an educator, the app supports sending out and turning in assignments, too. One of the things that makes Notability an easy recommendation is the way the developers continue updating it with more features.
That means that despite the newness of the Apple Pencil and iPad Pros, Notability supports both, and offers a great Pencil experience, to boot. Palm detection lets you rest your hand and arm on the iPad Pro while you write, without marking up your notes. With apps available for the iPhone and Mac as well, you can use iCloud, Dropbox or Box to keep your content synced.
Best Apple Pencil Apps: PDF Expert 5
Price: $10 | Buy
Our favorite PDF app for the iPhone and iPad is Readdle's excellent PDF Expert 5 (all of their software is quite good, actually, and there's usually a bundle discount in the App Store if you buy a collection) – so when they added Apple Pencil support, it became another easy recommendation. PDF documents load quickly and easily, with the iPad Pros' blazing performance making even big, complex PDFs easy to navigate.
You can annotate the PDF with a number of tools, including both pen and highlighter support, in any color. The Pencil makes it easy to write on top of the PDF just like you would with a pen and printout. Plus, it makes signing PDFs easier than ever, with your signature actually looking like your normal signature. As you might expect, it integrates with all the cloud services you need, and even lets you wirelessly send documents to your iPad, straight from your computer.
Best Apple Pencil Apps: Pigment
Price: Free, but with several in-app purchases | Buy
Over the past couple of years, coloring books have seen a resurgence, with a new focus, surprisingly, for the young adult and adult markets. The App Store is no exception; there are a bunch of coloring apps available for both the iPhone and iPad. Most of them aren't great, offering something that's less like coloring on a page and more like tap-to-color functionality.
Pigment, on the other hand, works exactly like you'd expect a coloring book to work; the Apple Pencil makes it extremely fun to use, since it feels just like you're using an old colored pencil. A plus to going to a digital coloring book means that you get to use highlighters, pens, pencils – whatever you like – to do your coloring with. There are a few designs included with your free download, all of which are stunning and complex, but there are many, many more available with in-app purchases or recurring subscriptions.
Best Apple Pencil Apps: uMake
Price: Free, but requires a $5 or $15 monthly sub | Buy
uMake is one of those apps that you never really thought was possible on a mobile-first device like the iPad, and it turns out that not only is it possible on the iPad, but it's actually an extremely compelling experience. At its core, uMake lets you generate 3D models with just a few preliminary sketches. The app and associated process is probably more appropriate for prototyping designs rather than doing it in uMake from start to finish.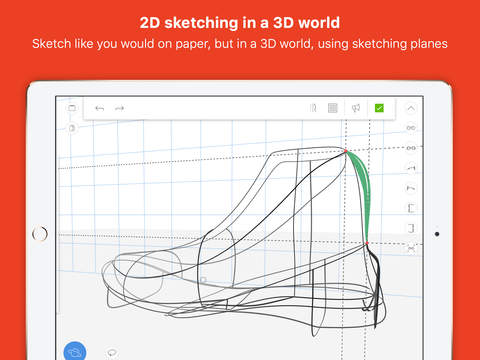 You can export designs as 2D representations / flat PNG files, but the app supports exporting the various curves and shapes so that you can refine your work in a more robust 3D editing program on the computer.  If you're worried about getting up to speed with a new 3D app – on the iPad of all things – uMake comes with a number of tutorials that show you how various features work.
Best Apple Pencil Apps: Paper
Price: Currently free | Buy
Paper has been one of our favorite iPad apps ever since it premiered on iOS, and the version that they've engineered for the iPad Pro continues to be an excellent experience. While skilled artists will be able to use Paper to generate some pretty impressive works, it's a good app for the rest of us, too. Paper's algorithms can let anyone make attractive sketches, and new versions of the app make it great for planning and flow charting, as well.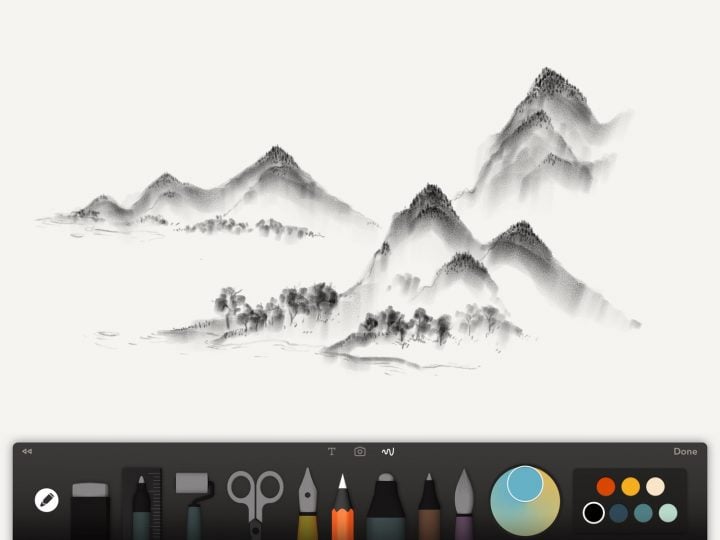 You can start from scratch with a blank workspace, or you can import a picture to write or sketch over top. Fifty-three has built its own social network within Paper, where you can follow the work of friends and artists, or you you can share your results on Facebook and Twitter (or export directly into a PowerPoint presentations, which is a super fun way to build your slideshows.
---
Did we miss an app that pairs perfectly with the Apple Pencil? Let us know in the comments, and we'll take a look. Keep coming back for updates as we find new and better experience with both the Apple Pencil and the iPad Pro.

As an Amazon Associate I earn from qualifying purchases.