8 Best Apple Watch Accessories You Can Buy Right Now
The Apple Watch is officially available to consumers, and if you're looking for some great accessories to along with the new wearable, here are the eight best Apple Watch accessories that you can buy right now.
While many users are still waiting for their Apple Watch units to show up on their doorsteps, some lucky buyers received their units on launch day, but don't get too discouraged if yours is back-ordered — many orders will ship ahead of schedule.
Apple announced the Apple Watch back in September at its iPhone 6 event and even provided more details last month during another event. There are three different models of the Apple Watch to choose from, with prices starting at $349 for the entry-level Apple Watch Sport, and then the stainless steel Apple Watch starting at $549, with the gold Apple Watch Edition priced at $10,000.
Whichever model that you choose, you'll probably need some accessories to go with it, so if you're looking for some accessories to go along with your new smartwatch (whether it'd be a charging stand, a protective case, a screen protector, etc., we've rounded up eight of the best Apple Watch accessories that are available to buy right this second.
Furthermore, there are a plethora of different accessories that you can buy, including charging stands, a bike mount, protective cases, watch band adapters, and even carrying cases to protect your Apple Watch when you're not wearing it. To see the full list, check out the slideshow below.
Reserve Strap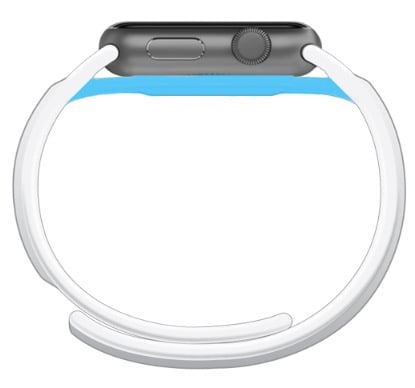 Apple Watch battery life is something that many users are concerned about, but a new accessory that looks to be the first third-party watch band for the Apple Watch aims to fix battery life issues by packing more juice into the wearable.
The Reserve Strap, as it's called, is the equivalent of an iPhone battery case, where it includes a battery of its own to charge the Apple Watch as you wear it, giving it more battery life than what would normally be the case.
However, since the Apple Watch only supports wireless inductive charging, the strap has to accomplish the same feat when charging the smartwatch itself. The Reserve Strap has embedded batteries that "utilize magnetic inductive charging, similar to the new MagSafe wall charger for the Apple Watch."
The company believes that the watch band will be able to increase the battery life of the Apple Watch by up to 125%, and it's available for pre-order for $249.