10 Best Apps for Coachella
This week, thousands of people will descend on the Coachella Valley for the annual Coachella Music Festival. Next week, thousands more will attend the Polo Grounds for Coachella week two. With that in mind, we want to make sure that the thousands of you that are going are as prepared as possible with some essential apps for Coachella 2015.
Coachella 2015 is finally upon us and that means that many of you are starting to prepare for the trip into the desert. That means loading up the car, or suitcase, with food, clothes, beverages, glow sticks, and of course, your mobile devices. Preparing for one of the year's biggest festivals is never easy and that's why I want to offer some tips to make the job, and your Coachella experience, a whole lot better.
I've been going to Coachella for a number of years now and before I leave, I remember pack my bags full of essentials (clothes, etc) but always forget to prepare my phone for the long weekend. Make no mistake, this has been a problem in the past. I've lost my friends, failed to secure a ride home after the concert, and missed some early sets. If I had done a little preparation before the show, I probably wouldn't have run into these issues.
I don't want any of you to run into these problems, especially if you're attending for the first time. And with just a few days to go before the start of the show, you have plenty of time to get your phone in order. It might sound ridiculous but you're going to be much better off if you spend a little time doing this before you leave. Trust me.
There are tons of apps out there but there are only a few that I plan to use during the festival. As a Coachella veteran, here are the 10 apps that I think will help if you're attending Coachella this year.
Find My Friends
While some of you might be resourceful at festivals, others, particularly those of you that have never been to a festival of this size, won't be. Don't take any chances, especially if you're staying with a friend of a friend of a friend. Knowing where your friends are is essential at the Polo Grounds, especially after the lights dim and the crowd starts clearing out.
If you are using an iPhone, and at least some of your friends have iPhones, you'll want to download and install the Find My Friends application from the App Store. The app will allow you to share your location with your friends and get location-based alerts. It's far more reliable than dropping a pin down on your location.
If you're using an Android phone, you have a few options. Locate My Friends and Find My Friends are two solid options though there are a number of options on the Google Play Store.
Find my iPhone/Android Device Manager
I go to Coachella with a bunch of friends. And without fail, someone in the group always loses their phone before the festival comes to a close. I've had friends lose their phones at the show itself and in taxis and cars on the way out. Losing your phone at Coachella can be a nightmare so you're going to want to prepare as if it will happen.
If you're using an iPhone, you can download Find My iPhone from the App Store. If you're signed in with your Apple ID, you will be able to track your lost iPhone from another device. Apple gives you a number of options.
You can play a sound if you think it might be stuck in a car seat or a couch. You can select Lost Mode which will lock up your phone with your passcode. Or, if you're confident that it has been picked up by nefarious individuals, you can remotely erase everything on your device. This is particularly useful if you use your iPhone for work.
If you're using an Android phone, you'll want to get acquainted with Google's Android Device Manager. It's the Android equivalent to Apple's Find my iPhone application.
It doesn't matter how times you've been. This can happen to anyone. So you'll want to get familiar with these applications ahead of the show. They could be lifesavers.
Waze
If you've driven to Coachella before, you know that the roads in Indio can be brutal. There are thousands and thousands of people which means there are tons of cars on the road. Tons of cars on the road can lead to traffic, especially in and around the festival itself.
If you don't have Waze, now is the time to start using it. Waze will redirect if you encounter traffic on the way to the desert or on the way to the festival itself. It has saved us a ton of time in the past. If you're driving to the show, you or someone else needs to have Waze.
Uber
If you aren't driving, you'll probably want to download the Uber application and create an account. Last year, I had several friends use Uber after the show and they said that it worked flawlessly. I highly recommend getting this application, even if you aren't planning on taking an Uber. Lyft is another option but I haven't used it at the show. At least not yet.
Taxi Apps
You should always have a backup plan and in this case, the backup plan should be taxis. (Yes, Uber can also be your backup plan.) Two apps that I recommend are Curb and Flywheel.
If you can't find an Uber or if you aren't in love with the fare, try finding a taxi with one of these applications. Taxis will be hovering around the Polo Grounds all night.
Google Maps
If you're close enough, you might consider biking to the show. I've done this the past three years and it has worked out well. Part of the reason is because I am very familiar with the area. Many of you might not be familiar with La Quinta and Indio and that could be trouble. When it's dark and you're tired, it's easy to get lost. I've had friends show up an hour late because they took the wrong route. Don't be this person.
What you're going to want to do is familiarize yourself with your bike route ahead of time. To do this, download and install Google Maps on your phone. Google Maps offers biking directions. While I do know the area, I have stopped to pull out my phone just to make sure. If you're renting in one of the resorts, this is going to be crucial because there are tons of different roads and everything looks the same.
Official Coachella App
The official Coachella application has been updated for 2015 and unsurprisingly, it's one of the best apps to have on your phone. Even if you consider yourself a Coachella pro, this app is going to be worth a download. Here's why.
Having a festival app at your fingertips, especially when service is terrible, is essential. The app comes with a map. It also comes with important information about set times, the shuttle, and your food and drink options. I am constantly checking set times and I still check the map every once in awhile, even though I know the Polo Grounds by heart.
Instagram
You probably have friends that aren't going to Coachella this year. If you do, it's a good idea to taunt them with pictures and videos from the show. Instagram's a great place for that. Just don't post 50 times a day. No one likes that.
Camera+
I try not to be that guy with the phone taking photos and video but sometimes you just want to capture a moment so that you have it forever. Friends being idiots, a great song by your favorite band, a sunset at the Sahara tent. If you're like me, you want these moments to look good.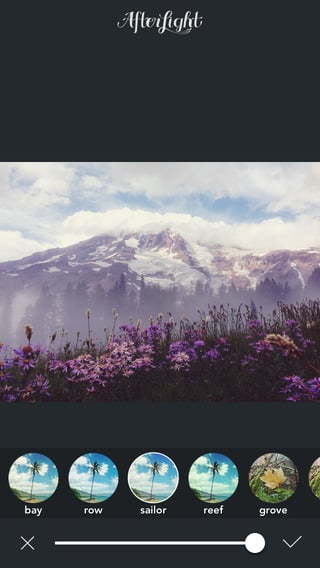 There are a ton of photo editing apps out there but I like Camera+ and Afterlight. These apps can turn a horrible photo into a decent looking photo and a decent looking photo into a good photo. I'm not the best photographer or videographer in the world but these apps make me feel a whole lot better about my Coachella content.
SiriusXM
There have been times when I've missed sets, particularly if they are early in the day. Well, for the first time, Coachella is streaming on SiriusXM which means that I'm not going to feel bummed out if I miss something. The SiriusXM app is worth a download before you go.
If you're not into that, I recommend downloading Soundcloud. More often than not, you'll be able to wake up the next day and relive your favorite sets from the night before.