Best Bluetooth Headphones for Working Out
Here are the best Bluetooth headphones for working out. You can wear these bluetooth headphones while you sweat, run, jog and work out in without worrying about wires tangling up around your arms and equipment. You can use any of these Bluetooth headphones for working out with your iPhone or Android — and even with a tablet if you plan to keep the tablet off to the side of the room or want to sit it on a treadmill to watch a movie while you run.
Great Bluetooth headphones for working out need to offer long battery life, quick charging, good range, a comfortable fit that stays put and they need to handle sweat and other elements that you'll exposed them to while working out.
We love using Bluetooth headphones to work out in while running outside and even in the gym where wires can easily catch on a weight or part of the equipment. Last year we almost lost a two-day old phone when the wire caught our arm using an elliptical. These headphones are also great options to use while mowing the lawn, cleaning or other physical activity where wires are a pain.
If you own a smartphone made in the last several years you can connect Bluetooth headphones without any wires to listen to music, watch movies, use voice control software and talk on the phone.
Here are the best Bluetooth headphones for working out and other physical activity.
Best Bluetooth Headphones for Working Out
Plantronics BackBeat Go 2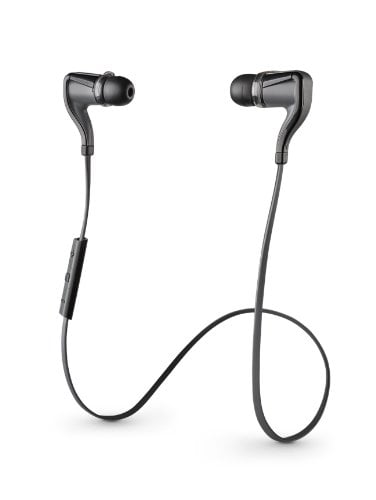 The Plantronics BackBeat Go 2 headphones connect wirelessly to up to eight devices so you can use them with all your gear. They include ear options to help keep the headphones in your ear while you are working out, an in line remote to control your iPhone or Android and 5 hour battery life. The headphones are sweat and water-resistant.
The case includes a built-in battery and charging cord so that you can recharge without taking them out of your bag to chance forgetting them at home. We enjoy the fit and the sound quality of the Plantronics BeatBeat Go 2 Bluetooth headphones. Check out our review for more information.
$80 at Amazon

As an Amazon Associate I earn from qualifying purchases.