Best Buy's Black Friday Tech Deals
Best Buy is discounting a lot of gadgets on Black Friday, but the retailer is limiting the quantity of some items at each store. This means most shoppers, even those that skip Thanksgiving dinner, will have to pass on the doorbuster deals and look deeper into Best Buy's Black Friday circular. Below is a look at Best Buy's most attractive deals.
Black Friday's crept into Thanksgiving day. The days of Black Friday kicking off at 5am are long gone with retailers, such as Walmart opening at 8pm on Thanksgiving. Best Buy is opening its doors at midnight on Black Friday, but many Best Buy stores will have lines forming early Thursday, or even Wednesday. Two women tried lining up in front of a California Best Buy last Friday, but mall security asked them to leave.
If you're willing to wait in line on Thanksgiving and you're lucky enough to be at the head of the line, you'll need to get a claim ticket for the item  you want from a Best Buy employee. The tickets will be handed out beginning at 10pm on Thursday. Each shopper may get one ticket for each item, but there's nothing stopping the first guy in line from getting a ticket for each of the doorbusters. Best Buy isn't advertising how many units of each item its stores will have in stock. In past years, Best Buy has guaranteed minimum quantities for some deals.  Note that Best Buy is not offering rain-checks on any of its Black Friday deals.
Some of Best Buy's Black Friday deals are being sold online at BestBuy.com. If you're already planning to go to Target on Black Friday, the retailer will match Best Buy's Black Friday ads, according to a store manager we spoke with. However, the item numbers must match up between Best Buy and Target, which can be a challenge considering some SKUs are exclusively sold at one retailer. What may appear to be the same item may have small variations and/or different model numbers, which means Target employees can't matching prices
Read: Apple Black Friday 2012 Price Guide: Best Prices on Apple Gadgets
Kindle Fire HD + $30 Gift Card for $199.99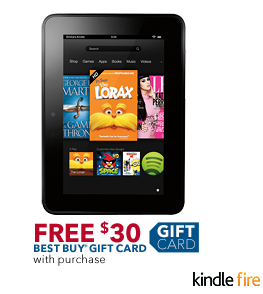 Best Buy is selling the Kindle Fire HD for the same price as Amazon.com, but it's throwing in a $30 Best Buy gift card, bringing the effective price down to $169.99. The Kindle Fire HD is an Android-based tablet that is a lot cheaper than Apple's iPad mini. This tablet is worth looking at if you're tied into Amazon's ecosystem with Amazon Prime or any of its other media services.
We haven't seen any Kindle Fire HD deals from Amazon.com so far, but keep your eyes on their Gold Box deals as they may discount this device for a limited time.
Toshiba 40″ HDTV for $179.99 (doorbuster)
This is a deal that a lot of line-sitters are going to be after. This is a true Black Friday deal, with 57% in savings. The Toshiba 40″ HDTV (40E220U) features full-HD resolution (1080p), which is better than the 720p resolution we're seeing on many bargain-basement Black Friday HDTV deals . Best Buy's online store is currently sold out of this TV, where it was selling for $419.99. It is currently available at Amazon.com for $449.98.
This is a pretty basic television, but it's certainly good enough to please anyone getting their first flat screen.
New iPod touch & $50 Gift Card for $294.99 or $194.99
Apple's retail partners rarely knock serious dollars off newly-released Apple gear, partly because of marketing restrictions. So instead of offering a substantial discount on the new iPod touch (5th Generation), Best Buy is throwing in a $50 Best Buy gift card. A gift card isn't as good as cash, but it's better than nothing. MacMall is selling the new 32GB iPod touch for $279 on Black Friday, which is the cheapest we've seen it advertised so far. Best Buy is selling last year's iPod Touch with 16GB along with the $50 gift card for $194.99.
Samsung Laptop Bundle for $349.95 (doorbuster)
The Samsung NP300E5C is a pretty basic machine, but its specs will get users with the most basic users by. It comes with an Intel Core i3 processor, 4GB of memory, a 500GB hard drive, 15.6″ display and Windows 8. Best Buy regularly sells the same laptop in a different color scheme for $429.99, which means Black Friday shoppers are saving $80.04.
The bundled items are simply added to pad the advertised "value." The bundle includes a one-year security subscription ($49.99), a neoprene laptop sleeve ($24.99), Logitech Mouse ($29.99) and 8GB flash drive ($17.99).  Technically, the total savings on this package is $178, but it isn't
13″ MacBook Air for $1,024
The base 13-inch MacBook Air normally sells for $1,199, but Best Buy will be selling it for just $25 more than the 11″ MacBook Air's standard price on Black Friday. This is more than a lot of people want to spend on a laptop, but it's one of our favorite computers. It's very portable and its SSD make it very snappy. The only thing to be aware of is that it only comes with a 128GB drive, which isn't enough for many users. This is the best price we've seen advertised so far for this computer.
Panasonic  55″ HDTV for $899.99
Best Buy and other retailers have lots of bargain basement HDTVs on sale this Black Friday, but a lot of them are small or made by companies you've never heard of. The Panasonic TC-L55ET5 measures in at almost 55″ diagonally, which is bigger than what living rooms need.  The 3D LED TV can connect to the Internet and stream videos from services like Netflix, MLB.tv and Pandora. It ships with four pairs of 3D glasses for family movie night. Best Buy is also offering a soundbar and subwoofer package that's normally $250 for $149.99 along with this TV.
As with some of its other deals, Best Buy is exaggerating a bit when it comes to the $900 discount on this TV.  Other retailers, such as
Amazon.com are selling it for $1199.99
any day of the week. Best Buy already sells it for $1399.99 "on sale", which means you're saving $500 at most and only $300 if you would've ordered it from Amazon.
Blu-ray movies $3.99 each
Best Buy is selling more than 50 Blu-Ray discs for just $3.99, which is a steal if you're after a movie that retails for $24.99, the upper band of the price range for this particular promo. It's not such a great deal if you pick up a Blu-Ray disc that normally sells for $4.99. Kill Bill, Sherlock Homes and Iron Man 2 are part of this promo.
Best Buy is selling 140 DVDs for the same price if you don't mind the standard-definition viewing experience.
For $8.99, Best Buy is selling some new releases, including Hunger Games. 
XBOX 360 and PS3 Games
Video games are amongst the best Black Friday deals at Best Buy this year in terms of percentage off MSRP.  Select $59.99 games are $34.99 each, while older titles are going for as low as $7.99. Some of the most popular games will be selling for $29.99 each. These prices apply for select Nintendo Wii, PS3 and XBOX 360 games.
$100 iTunes Gift Card for $80
A lot of Apple users, especially kids, can never have enough iTunes gift cards. Best Buy is offering a 20% discount on its most expensive iTunes gift card. A lot of kids get by with iTunes gift cards in much smaller denominations of course, but this is a good deal if you're looking to really make someone's Christmas.

This article may contain affiliate links. Click here for more details.