Best Buy Game Trade-In Deal Makes Madden 15 Crazy Cheap
Best Buy may just have the best Madden 15 deal available anywhere. The company isn't forcing buyers to haggle with coupon codes or giving away special Pro Team Pack add-ons. Instead, it's boosting the amount customers get for their used games by a whopping 50%.
For what we assume is a limited time only, Best Buy is boosting trade-in values across the board, meaning users get extra credit every time they trade-in a used game for the Xbox One, Xbox 360, PS3 and PS4. Best Buy shoppers can then use what they earn from different trade-in deals to get whatever the retailer sells at a heavily discounted price.
For example, today users can trade-in a copy of Titanfall and receive $31.50 in credit towards the purchase of Madden 15. Normally, trading in that game would net users just $21 towards the price of Madden 15.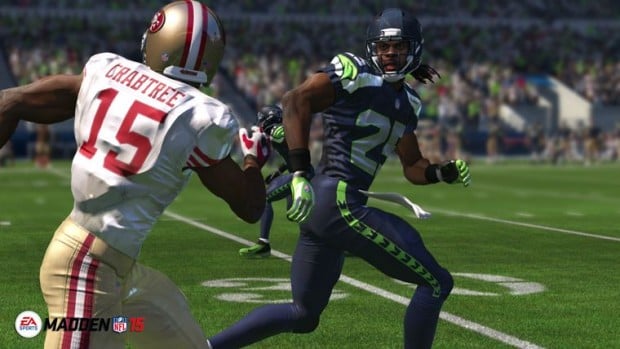 Before rushing out to buy Madden 15 at Best Buy there are a few details buyers should keep in mind. First, Best Buy allows users to enter the name of a game and see how much they'll get for it online. Checking the value of your favorites before heading to a local store is better than heading directly to the store and discovering that the game you prize isn't worth as much as you thought it would be. Second, all of Best Buy's retail locations don't accept trade-ins. That means users looking to take advantage of the deal are better off calling ahead to their local store to see if they accept game trade-ins.
Best Buy is reserving the right to refuse discs that are worn or scratched in any way. The retailer doesn't accept video games for really old consoles either. Xbox One, Xbox 360, PS4 and PS3 games are eligible,but not much beyond those two consoles are.
Debuting today Madden 15 is all about refreshing the experience gamers already know and love. Instead of focusing on flashy new features, the Xbox One and PS4 versions of the game include upgraded players that make playing exhibitions in the title feel more realistic. Dynamic camera angles and presentation extras also add to the game's atmosphere.
Functionally, Electronic Arts has revamped the way users play defense. In Madden 15, users are expected to judge the situation themselves and adjust their tackle based on what's required. Aggressive tackles could stop the opposition in their tracks, but they're not really meant as a complete replacement for pick-offs and having a defender in the right place at the right time. More in-depth training exercises help new players better learn the intricacies of the game too. That's something that Madden has needed for a very long time. Madden is intended to be a simulation and sometimes that makes the game harder to grasp for anyone who just wants to experience a few quarters as their favorite team for a few hours a week.
Released today, Madden NFL 15 for the Xbox One, PS4, PS3 and Xbox 360 costs users $59.99 for a standard version of the game. As such, users who trade-in a copy of Titanfall for the Xbox One can expect to pay just $28 plus tax for the new game. Users who trade-in last year's Madden NFL 25 for Microsoft's Xbox One console can expect $13.50 to go towards the new game.
Best Buy happens to be one of the stores stocking the Xbox One Madden 15 bundle, so users can save on that bundle's $399 price tag by trading in a few of their games too. Microsoft is hoping the giving the game to users who upgrade at no additional cost will help drive sales of the console. Buying Madden 15 and an Xbox One Separately costs users $460 before taxes.