Best Buy iPad 2 Buying Experience Great & Not Great
I got my 64GB White AT&T 3G iPad 2 today at the Best Buy store in Hickory, NC. My friend Paul and I arrived at about 1:00 just to see how it was working before getting some lunch. At about 2:0o PM we returned to find no one in line yet.
We talked to the General Manager of our store. First, let me say that my friend Paul knows him because a friend worked for him. His friend said Bobby is a great GM and from our experience I would say he likely is. I've been a loyal customer of this location and he bends over backwards to help customers. A really great guy! But there is one customer who would disagree.
Getting in Line
After we looked around the store for awhile we saw a lady waiting at the front door. That is where I was a little disappointed. Apple required that they have people wait outside which supports my belief that Apple engineered this whole launch to ensure lines outside stores. We decided to get in line. We were 2nd and 3rd. She told us her husband was coming and we agreed that he could cut in line ahead of her since he didn't want the same kind of iPad 2 we wanted. He arrived about 45 minutes later when there were still only about six people in line and they agreed too.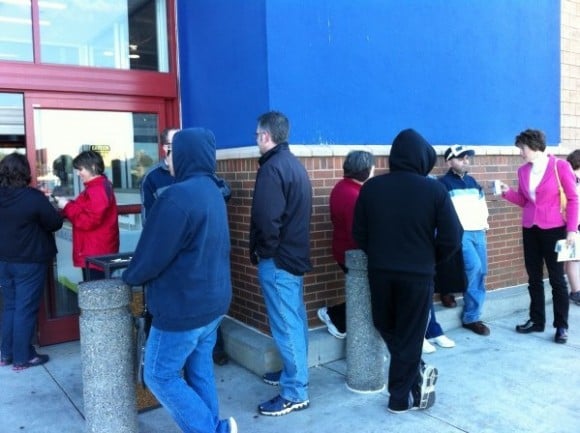 Let me say that the folks we met were really nice. I made a couple of friends in the line behind us.
Best Buy's Efficient System
Fast forward to about 3:30 when an assistant manager came out and explained carefully that at 4;30 we would be asked what kind of iPad 2 we wanted and given a corresponding marked sheet of paper. Our "ticket" ensured that we would get on iPad.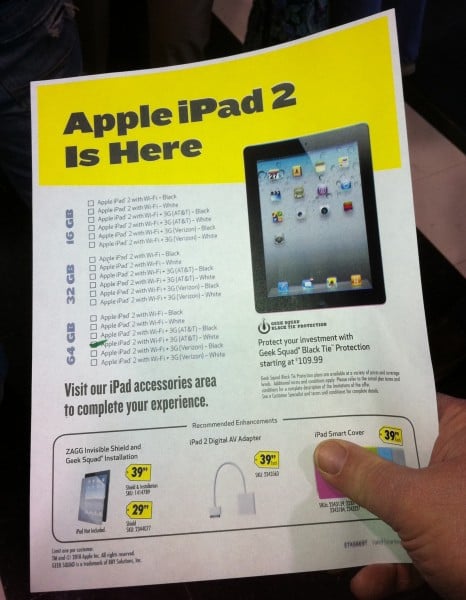 At 4:30 Bobby brought his crew out and we were given our tickets. It was handled efficiently and professionally. Much better than my experience at the Apple store in Greensboro last summer to get an iPhone 4. Our friends in front of us wanted a 16GB Verizon iPad in White and a 16GB AT&T iPad in Black. Not sure why a married couple is divorced in their cell contracts, but not my business. Sadly our Best Buy store had no 16GB AT&T Black iPads at all in its initial shipment, so our friend settled for the 32GB model. Her husband was given a ticket for what he wanted.
In the Store, Out of the Cold
At that moment we were free to enter the store and look around. It was chilly and windy so were glad to get out of the cold. We were surprised that another line was forming inside for "accessories" so we queued up again. I was hoping to get a red leather Smart Cover. They didn't get any leather covers at all. But we did  get an HDMI adapter and a nice blue cover. However, a third line formed to actually get the iPad 2 box and to pay. This was not the way it was supposed to work but the GM quickly fixed it by directing extra sales associates to open registers. We were through our third line in about fifteen minutes despite being about 30 back.
I Got an iPad 2
I got a 3G iPad and wanted to activate it in the store because we were told Best Buy and AT&T had a deal that if you activate today in the store there is no activation fee and  you get a free month of 2GB 3G service. While mine was being activated our friend in front of us showed up needing to get hers activated in a different location, after paying. It took quite awhile for the sales associate to just get someone to activate because the hold times with AT&T were so long. That's when the husband showed up quite unhappy.
The Bad News
"Josh isn't getting an iPad today," he said in disgust. Since he didn't line up immediately inside he was towards the end of where they actually handed out the iPads to those with tickets and let us pay. He said he gave the associate his ticket for the 16GB Verizon 3G iPad. They didn't have one! They only got 5 in the shipment and gave his to someone else who changed his or her mind at the cash register opting for a 3G instead of a Wi-Fi only. Big mistake because the first person in line didn't get an iPad. They were all gone!
To make up for it the man was given a free cover, an HDMI connector and a screen protector gratis along with a promise that they would call him the minute one arrived. The manager had no idea when this would be. Sadly, this very good manager was the victim of an honest mistake by a less than perfect employee. And our new friend in line paid the price by not being able to pay for a 16GB Verizon 3G iPad 2 . He's likely to get one eventually, but since they are sold out online and not shipping for a few weeks now, it is possible that he might not get one till late March. Apple might have set aside some for in-store sales at their partner retailers like Best Buy. That's his only hope.
One Kid's Experience at an Apple Store
Target Left Out of Day One Fun
By the way, the Target is right next door to our Best Buy. There were no lines. But that's because they had no iPads to sell, despite what I was told earlier in the week.
Other GBM iPad 2 Launch Day Experiences
Check out our other Gottabemobile writer's and their experiences today with the iPad 2 launch from all over the country:
Josh Smith interviews people online in Ohio at the Apple store.
Warner Crocker's friend unboxes his iPad from WalMart.
Xavier sees a long line at the San Francisco Apple Store near him.