Best Buy iPhone 5 Pre-Order Reservations Start in Store Friday Sept. 14th
We talked to a local Best Buy Mobile representative and he told us that they will begin taking reservations for the new iPhone 5 starting Friday, September 14 when the store opens.
It's unclear whether the buyer must also make a down payment when reserving an iPhone 5. Also, there's no guarantee that the buyer will get the one her or she wants on launch day due to limited supply.
For more than a year Best Buy has partnered with Apple to sell their products including the iPhone. From my past experience, buying an Apple iPhone or iPad usually means showing up on the first day they take reservations, the same day Apple starts taking pre-orders. They will number your reservation meaning the customer will get one in the order he or she reserved one.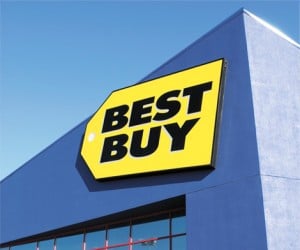 Usually a Best Buy reservations mean buying a $50 Best Buy gift card as a down payment. The customer can use it for anything, but presumably the person would put it towards the cost of the iPhone the day the customer picks it up, in this case September 21st.
Doing it this way gives the customer a chance to back out and use the card for something else and signals to the store that the customer genuinely wants a phone. The rep I talked to thought it would work this way this time around, but his immediate supervisor said the down payment would be needed. I would still show up with at least $50.
Best Buy's system means that a person won't certainly get an iPhone on launch day. Apple doesn't always send enough of each model to each Best Buy store. Since the phone runs on three carriers, comes in two colors and three different storage sizes, its possible that they might only have one white 64GB Verizon iPhone or no black 32GB Sprint iPhones. The often get a limited supply and that supply might not include more than one or two of each version.
People who buy from Best Buy take a risk of getting left out, however it does come with some perks. Those who shop at the big box store can sign up for rewards and get coupons and gift certificates after buying a certain amount of product. I carry a $20 certificate I'll use for some accessories when I get my iPhone.
For buyers willing to take what the store offers, showing up at a Best Buy at 10:00 AM on Friday September 14 might score them an iPhone on launch day. I'm not willing to take the risk so I'll pre-order tomorrow at Apple's online store.

As an Amazon Associate I earn from qualifying purchases.