Best Buy No Longer Selling iTunes Gift Cards? [Updated]
Update: iTunes gift cards are back online on Best Buy's website. It appears that Best Buy is now selling new iTunes card designs. 
Long-time Apple partner Best Buy is now no longer listing Apple's iTunes gift cards for sale on its website. In the past, Best Buy had often discounted iTunes gift cards, by as much as 15 to 20 percent off of the cards' face values, in different sales and promotions. The big box retailer currently sells many Apple products, from iPods to iPhones, from iPads to Mac computers, and various Apple accessories including Apple TV.
A search for iTunes gift cards right now on Best Buy's website returns three listings–two for Creative's Sound Blaster accessory and one for a how-to DVD. In the past, searching for iTunes would give users various denominations of iTunes gift cards in addition to the mentioned listing, both for physical gift cards that could either be shipped or picked up at a Best Buy location, or for digital delivery where the PIN numbers for the cards would be emailed to customers.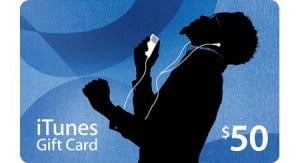 It's unclear if the recent absence of iTunes gift cards on Best Buy's website may suggest a bigger shift between Apple and the big box retailer. Best Buy continues to stock and carry many Apple products, and the company is listing Apple's newly announced iPad as coming to stores.
One possibility is that Best Buy may be strained with iTunes gift card inventory ahead of the iPad and Apple TV launch, but that may not entirely make sense as Best Buy had in the past offered digital delivery of gift cards where the company would email you the gift card PIN number so users can have instant access to the card without having to wait for the physical cards to be shipped. Currently, Best Buy shows no listing for digital delivery of iTunes gift cards nor for physical gift cards. The company's website further does not show a way for users to purchase–and pay for gift cards online–and pick up the cards in store at physical retail locations.
We have not heard any news from Best Buy or Apple on the matter.
Users may recall in the recent past that Costco had a disagreement over pricing with Apple, forcing the membership discount club to discontinue offering Apple products in its warehouse stores. A rift of that scale with Best Buy seems unlikely as Apple is trying to push for new partnerships to expand availability of its products in areas where the Apple does not have retail stores in place. Best Buy is perhaps one of Apple's largest retail partner.
Walmart and Target continue to list iTunes gift cards on their websites at the time of this writing.

This article may contain affiliate links. Click here for more details.