Best Buy Offers Killer Surface Book & Surface Pro 4 Deal
Best Buy, the United States' largest electronics retailer, is hoping that shoppers purchase Microsoft's Surface Pro 4 Windows 2-in-1 from there stores this morning. To help facilitate that, the company has a Surface Pro 4 deal that slashes the price of Microsoft's latest Apple alternatives by a good amount.
Best Buy revealed a special Surface Pro 4 and Surface Book and Surface Pro 4 deal this weekend. The deal gets shoppers $100 in savings when they trade in their device. The Surface Pro 4 and Surface Book are Microsoft's answers to Apple's high-end notebooks and tablets. The Surface Pro 4 and Surface Book release day is today in the United States and some other countries. The Surface Book starts at $1499. The cheapest Surface Pro 4 costs $899, and that's before shoppers purchase the $129 cover that doesn't come with it.
Read: Microsoft Surface Book Pre-Orders Dry Up
From today until November 7th, anyone who purchases a Surface Pro 4 or Surface Book can get $100 off the price of their machine when they trade in their notebook. Best Buy's Terms and Conditions indicate that this Surface Book & Surface Pro 4 deal are exclusive to the company's physical retail stores. The savings at least covers a large portion of the Type Cover price for buyers. A minimum of $10 is a Best Buy gift card. The rest of the savings involves a coupon. The company says that it isn't excepting devices without a power cable or with cracked screen, water-logged components or batteries that simply won't turn on. Best Buy explicitly says that it won't except Barnes & Nobles Nook tablets as a part of this Surface Book and Surface Pro 4 deal either. A shopper can only trade in a single device at a time.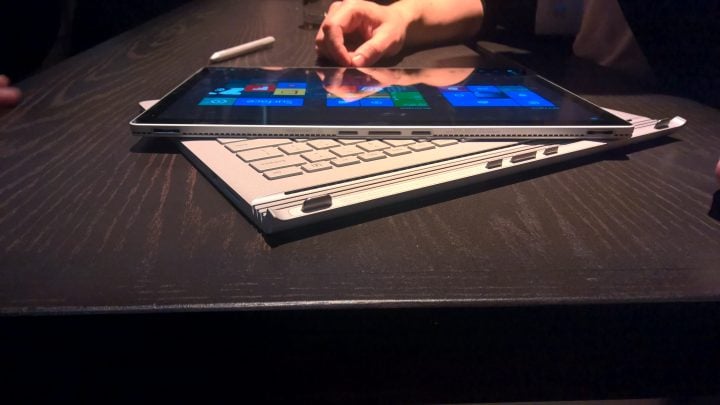 Retail stores across the United States began selling Surface Pro 4s and Surface Books early this morning. The Surface Book is the newest addition to Microsoft's family of devices. It keeps the magnesium frame of the Surface Pro 4, but it expands that out into a keyboard dock with its own batteries and graphics processor. Rather than plugging accessories into the device's 13-inch display, users connect it to the dock itself when they need ports. What Microsoft calls the dynamic fulcrum hinge keeps the tablet half of the Surface Pro 4 upright on a desk or in a lap, exactly how a notebook would. Gotta Be Mobile got some hands-on time with the Surface Book at Microsoft's Windows 10 Devices Event earlier this month.
Read: Microsoft Surface Book Impressions
The Surface Pro 4 is a mostly internal upgrade of the Surface Pro 3, Microsoft's MacBook Air competitor from last year. Microsoft kept the same kickstand and physical footprint of the Surface Pro 3, but added a more detailed 12.3-inch display. The display is also able to sense 1,024 different levels of pressure, a lot more than it's predecessor. This new machine is both thinner and lighter than the Surface Pro 3. Microsoft was able to pull this off using Intel's new Skylake processors.
Read: Microsoft Surface Pro 4 Impressions
Both of these devices are arriving on store shelves today along with a new set of Surface accessories. The Surface Pen included with both of them has interchangeable tips so that users can customize how they feel as their scribbling notes in apps like OneNote or just navigating Windows 10. The pen now locks to the side of the device thanks to magnets imbedded in both the frame of the device and the pen itself. Available separately, is the new Surface Dock. It uses the same connector as the Surface Pro 3's power charger, but lets users connect multiple displays and has its own set of powered USB 3.0 ports. Purchased separately, the Surface Pen costs $59.99 with a detachable Pen kit. The Surface Dock costs $199.99, the same amount as the old Docking Station for Surface Pro 3.
Microsoft has already sold out of Surface Book and Surface Pro pre-orders on its own website. It isn't yet clear how hard the Surface Book and Surface Pro 4 will be to purchase in store though. Reports indicate that most stores only received enough devices to cover their pre-orders.

This article may contain affiliate links. Click here for more details.