Best Buy Reveals Verizon Windows Phone 8X Price
Best Buy has a product page up for the Windows Phone 8X by HTC on Verizon with a price tag of $199.99 according to WPCentral.
The product page only offers the Windows Phone 8X in blue despite the plethora of colors HTC showed when it launched the phone in September. The Verizon model will have 16GB according to Best Buy. The 16GB will cost $199.99 on AT&T as well.
The product page also gives the off-contract price of the Windows Phone 8X as $649.99. That's the same price as the unlocked iPhone 5, and about $200 more than the unlocked Nokia Lumia 920. The Lumia 920 will cost $449 off-contract, though it's limited to AT&Tin the U.S.
Read: Windows Phone 8X by HTC Review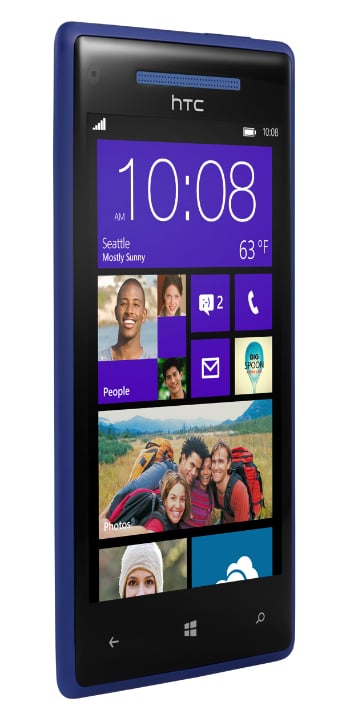 The Windows Phone 8X is HTC's flagship Windows Phone 8 device, and the only high-end Windows Phone on Verizon so far. It has a 4.5-inch 720p display, a 1.5 GHz dual-core Snapdragon S4 processor, and 1GB of RAM. The Verizon version of the phone will likely have wireless charging, but users will have to buy a separate wireless charger for the device.
The Windows Phone 8X also has an ImageChip for better photos and Beats audio for enhanced audio. The 8MP camera on the device isn't as good as the camera in the Lumia 920 according to most reviewers, however. Some users will also want to disable Beats audio if they don't want the boosted bass the brand is known for.
Verizon still hasn't announced a release date for the Windows Phone 8X, only that it will come out sometime this month alongside the Nokia Lumia 822. Both phones will likely make it to market before Black Friday on November 23.
Verizon will also release the Samsung Odyssey in December. It's not clear what the phone will look like, but Samsung's other Windows Phone, the ATIV S looks like a re-branded Galaxy S III with Windows Phone instead of Android.

As an Amazon Associate I earn from qualifying purchases.