Best Buy Taking iPad 2 Reservations with $100 Down Payment
I stopped by my local Best Buy for some nostalgia, remembering the joyous and magical experience of waiting in line for my iPad 2. Well, actually I was returning something I had purchased previously. The store's customer sales representative recognized my Packers jacket and asked how I was enjoying my iPad. I told him about our review and asked if they had a lot of people asking for them. He informed me that they had a lot but had not yet received any. But they do have a plan in place. If a person wants one they can buy a $100 Best Buy gift card as a down payment. Then, as soon as they get a shipment of iPad 2 units the store will call to inform those at the top of the iPad 2 waiting list.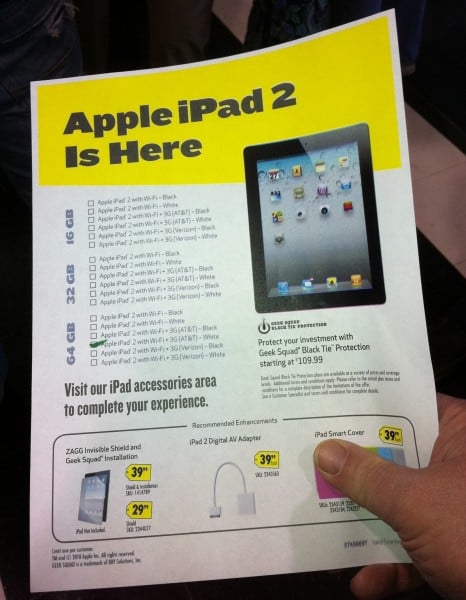 Last summer when the iPhone 4 was also in short supply, Best Buy handled pre-orders the same way. So if you are really wanting to get one and don't want to wait at an Apple Store early on Tuesday, you could try this method and just get one when they are finally available. You will be able to use the gift card to pay for the iPad. The other option is of course buying online and waiting weeks for shipment. Otherwise it will be hard to get one since Apple is totally sold out of the first run of iPad 2 units.
You can read our full review of the iPad 2 here.

This article may contain affiliate links. Click here for more details.