Best Buy Teases HTC One Launch In Store
Through a series of in-store advertisements, U.S. retailer Best Buy is teasing the launch of the HTC One smartphone. The phone initially was announced last month and is expected to make its way to U.S. carriers sometime this month, and Best Buy is luring prospective HTC One customers to its stores.
A specific launch date still has not been announced by Best Buy, nor is the price for the smartphone buy according to Phone Arena, the retailer has begun hanging posters for the smartphone, saying that the HTC One is 'Coming Soon.'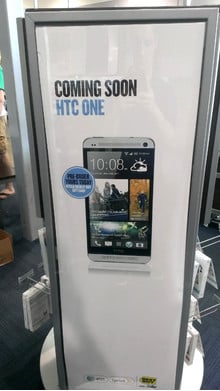 In the U.S., the HTC One is known to be coming to AT&T, Sprint, T-Mobile, and Cincinnati Bell. It's been rumored that Verizon Wireless, which currently offers the HTC Droid DNA with a larger 5-inch 1080p HD display, will be offering the HTC One at a later date, though neither HTC nor Verizon would comment on those rumors.
HTC, which has struggled in recent years, is designing the HTC One with some coveted technologies, including stereo front-facing speakers, a vibrant 1080p HD display, Beats Audio technology, and the new Ultrapixels camera technology. The HTC One will have to compete with the launch of the upcoming and highly anticipated Samsung Galaxy S4.
And unlike other smartphone-makers, HTC is also creating a web portal to allow prospective HTC One owners to begin setting up their phones even before the HTC One arrives. Users can visit the dedicated HTC One webpage to enter log-in credentials as well as personalize the home screen and upload images to the HTC One.
The highlight of the phone is HTC's new Ultrapixel technology. Rather than focusing on cramming more megapixels onto the camera sensor, Ultrapixel uses larger pixels, but fewer number of pixels, to allow more light to be captured, allowing for brighter images. The camera technology will likely be compared to Apple iPhone's cameras as those devices have been popular photography tools in recent years, as well as Nokia's highly praised PureView camera technology.