Best Buy to Offer iPhone 3GS for Free on August 22nd?
Can't wait for the iPhone 5? Not interested in paying for Apple's current crop of iPhones? Look no further than a rumored Best Buy offer for the iPhone 3GS that is apparently going to be taking place on August 22nd.
TechnoBuffalo has gotten a hold of a photo of a promotional sign that seems to point to the retailer offering up the iPhone 3GS for free this Monday.
Of course, Best Buy hasn't said anything yet so it's possible that things might fall through but let's stay optimistic. This isn't the first time that the iPhone 3GS have been given away for free but iPhone sales are few and far between so it might be worth considering.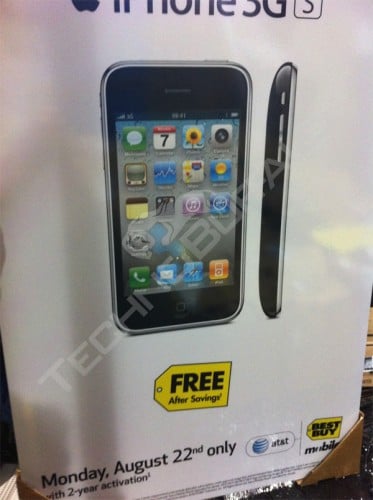 Of course, if this is the real deal,  you'll have to lock into a two year contract in order to take advantage of the discounted price tag. Probably not the smartest thing to do with the next iPhone rumored to be launching in October but if you can do without the latest and greatest hardware, the iPhone 3GS is a capable phone.
And hey, it'll also be upgraded to Apple's iOS 5. Hard to picture it holding its own over the next two years though.
We'll keep an eye out for an official announcement soon.

As an Amazon Associate I earn from qualifying purchases.