Windows Phone 8X Pre-orders Start October 21 at Best Buy
Best Buy will begin selling pre-orders for the Windows Phone 8X by HTC this weekend according to a WPCentral report.
According to the report an image from Best Buy's flier for the week of October 21-27 reveals the pre-order date. The image shows a picture of the Windows Phone 8X along with a statement that users can pre-order the phone in store or online.
The Best Buy flier doesn't give a price, release date, or carrier for the Windows Phone 8X. Both T-Mobile and AT&T already announced they will carry the phone next month, and HTC announced Verizon as a carrier partner when the phone launched. None of the companies have announce pricing for the smartphone yet.
Read: Windows Phone 8 Roundup: The Future of WP8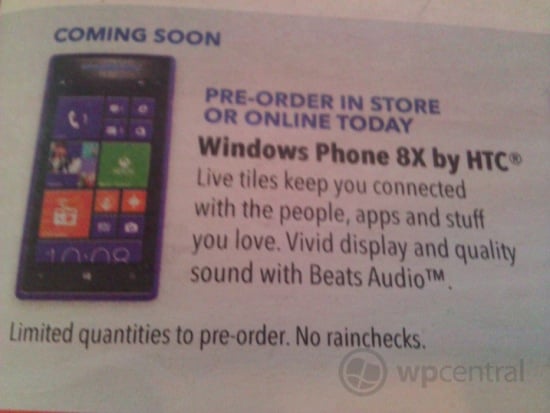 In its short description of the Windows Phone 8X by HTC Best Buy talks about live tiles, the "vivid display," and the integrated Beats audio of the phone. There;s no other description to help potential buyers know why they might want the phone.
The WIndows Phone 8X by HTC is the "signature" Windows Phone, which means Microsoft will use the device in its Windows Phone 8 marketing material. The phone has a 4.3-inch Super LCD2 720p display, a 1.5GHz Snapdragon S4 processor, 1GB of RAM, and 16GB of storage space.
HTC's Windows Phone 8X also has an 8MP camera with ImageChip like the company's One series of Android phones. The ImageChip will make the camera take better photos in almost all situations.
Microsoft will officially launch Windows Phone 8 on October 29 which is likely the day when we'll get the final release date and pricing for the Windows Phone 8X.

As an Amazon Associate I earn from qualifying purchases.