Well, my first day of demoing Vista and Office 2007 is over. As soon as 10:00 hit, I could see lots of folks headed back to the Microsoft Vista / Office 2007 software shelves to get their copy of Vista. Best Buy reps told me that the morning is normally not busy, but because of the Vista launch, they had gotten a lot more traffic.
I was surprised to see the Vista Ultimate Signature Edition on sale as well. I didn't expect to see it. I probably talked with 20 or so folks, most just wanting see what was different, and needing help figuring out the difference between Home Premium and Ultimate. As I demoed things like parental controls, Aero, 3d Flip, Word, etc, I heard the word "wow" a lot. After a couple of hours the main stocking shelves were completely empty of Ultimate and Home Premium. There was a lot of Home Basic left.
I even got to meet a GBM reader! After reading where I was going to be at Best Buy today, Danny stopped by to see Vista and talk Tablet PC and UMPC! Thanks for coming by, Danny!
Here are some more pictures: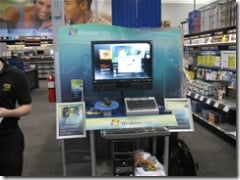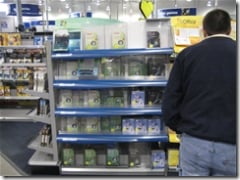 As an Amazon Associate I earn from qualifying purchases.