Best Buy's New Return Policy Will Let You Return Anything Within 30 Days
Best Buy's return policy has been a confusing mix of timing and terms, with 14 day return windows for the iPad and notebooks and 30 day returns for various other items. But, if the rumors are true, Best Buy is rolling out a new, consumer friendly 30-day return policy on everything in the store.
According to TUAW, next week Best Buy will change its return policy so every item in the store has a 30-days return policy. That includes iPads, smartphones, and laptops as well. That's better than Apple's 14-day return policy for all products in its stores.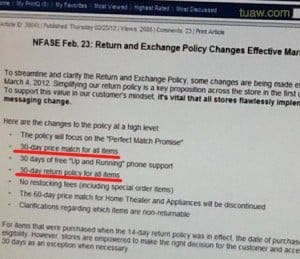 The new return policy actually makes the store's iPad 2 sale seem worthwhile. Now you can buy the iPad 2 at a discounted price, return it within 30 days, and pick up an iPad 3, assuming they're in stock. Sure, you'll have to pay a bit more for the iPad 3, you'll get a chance to use the old iPad before picking up the new one, plus that means your iPad 3 will be ready to go when you bring it home and restore it from a backup.
The extra time might not seem like a huge advantage, but it could make Best Buy the best physical store to buy an iPad or MacBook if you're unsure if you'll like it. The same goes for any other tablet or PC. A 30 day window makes you feel less rushed to make a decision on whether you want to keep the device or not.
Amazon.com offers a similar 30 day return window, though returning an item to Amazon is a bit more complicated. It's easier to just walk into a Best Buy to return an item.

This article may contain affiliate links. Click here for more details.