5 Best Car Chargers for the Galaxy Note 7
Samsung's new Galaxy Note 7 has a huge battery bigger than any Note ever released, but that doesn't mean owners won't want a few extra chargers. Here we've roundup a collection of the five best car chargers for the Galaxy Note 7, all of which feature fast charging technology so owners can juice up while on the go.
With a big 5.7-inch screen, double the storage, a micro-SD slot for storage expansion and water resistance, the new Note 7 has a lot going for it. Once buyers get it they'll need some cases, accessories, and of course chargers.
Read: 12 Exciting Galaxy Note 7 Cases
Quick, Turbo or Adaptive Fast charging are all names companies use to describe the latest in battery technology. It allows phones to recharge from 0-50% in less than 25 minutes, safely. It's extremely useful and users will want to make sure the car charger they buy supports it. Ours below all charge fast and many come with the USB Type-C cable that matches the new charging port on bottom on the Note 7.
Those who choose to buy one of the many quick car chargers we've outlined below will get the same fast recharging speeds they do at home, with the wall outlet that came in the box, while they're driving in a car. This gives owners enough juice for a night out, topping off after work, and more.
Samsung's Note 7 has a new USB Type-C port on bottom which is reversible and can be plugged in both directions, but it won't work with micro-USB cables of old. Meaning you'll likely need multiple new cables for rooms in the house and in the car, and probably a new car charger as well. Even those with a compatible car charger will want to make sure they have a "fast car charger" for the best experience.
Read: 5 Quick Chargers for the Galaxy Note 7
Sadly Samsung didn't add the latest Quick Charge 3.0 technology to the Note 7, which can recharge to 80% in 35 minutes. Instead it works with Quick Charge 2.0 technology which promises 0-50% in 25 minutes or a full charge from 0-100% in around 85 minutes. It's still faster than most phones, and something every owner needs to be aware of and use.
Don't buy a cheap car charger from a gas station or use some spare cable laying around, as the experience won't be good or nearly as fast. Instead, check out these five great fast car chargers we've outlined below. They all use Quick Charge technology, and work with the new USB Type-C charging port.
Anker 24w Quick Car Charger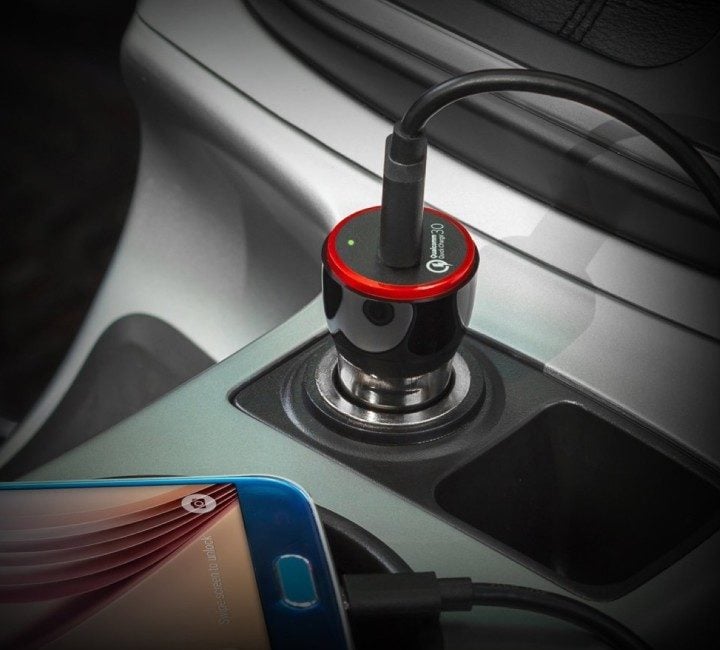 For those that don't know "Quick Charge" 2.0 and 3.0 technology charges phones at an incredibly fast pace to 50-75%, then trickle charges the rest to preserve the life of the battery. The result are phones that are nearly full faster than ever before, without ruining the battery. Meaning the phone will still work great for years to come and not degrade over time.
This tiny little Anker car charger offers Quick Charge 2.0 or is future-proof with Quick Charge 3.0 as well. Meaning it will work great with the Galaxy Note 7, support phones later this year or in 2017, and top off other phones released in 2016 at top speed. It's a great all around charger for the car.
It's small, fast, effective, and cheap.

This article may contain affiliate links. Click here for more details.