7 Best Cheap Android Smartphones [August, 2015]
Now that all major Android manufacturers have released a few smartphones here more than halfway through 2015, buyers have lots of options to get exactly what they want, for the right price. Those who can't afford a premium new Galaxy S6, devices like the new 2015 Moto G, LG Escape 2 or ASUS ZenPhone 2 are worth considering.
Not everyone wants or needs a premium high-end device, or wants to sign a 2-year contract or pay over $500 for a smartphone. If you're one of the millions looking for a cheaper route, but still want a great phone, read on for more details.
Read: 10 Best Cheap Android Smartphones
Here in 2015 we have tons of excellent choices that are under $200, and even a few great devices for under $299 that should be on all buyers radar. The new Moto G is an excellent choice, ASUS and LG have some good mid-range wallet-friendly phones, and devices from last year are dropping in price.
Getting a premium device like a leather-clad LG G4 or the new Galaxy S6 would be nice, but not everyone can afford the high prices or want to be locked into a 2-year contract. And while payment plans are available from most carriers, buying a cheaper phone may be a better choice for some users.
A lot of cheap phones are pretty terrible, and don't offer a good experience. With that in mind, here we've gathered a list of affordable smartphones that aren't junk. Smartphones that aren't expensive, but still worth spending money on.
Everyone is different, and each buyer has different needs or wants. With that said, we've round up a list of some good cheap Android phones that aren't complete junk. These are a few the editors here at Gotta Be Mobile agreed were good enough to make the list, in no particular order. Lets get started with a few of your best choices here as 2015 starts rounding its way into the holiday and back to school season.
Moto G 2015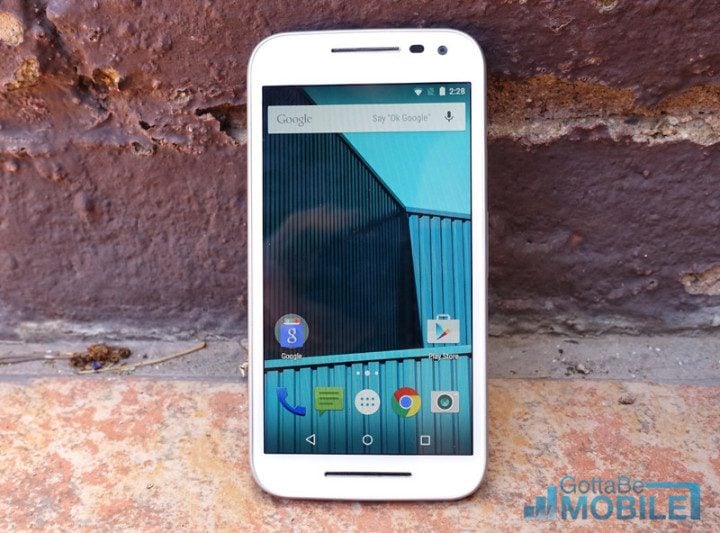 In 2013 Motorola announced its cheapest smartphone ever, the Moto G. It went on to sell millions and be its most successful smartphone to date. It was only $179, and offered an excellent experience for those on a tight budget. Motorola did something similar in 2015, but here in 2015 we have an all-new 3rd generation Moto G (2015) that needs to be at the top of this list.

Read: 2015 Moto G Hands-on: Budget Price, Premium Phone
The Moto G that was just announced AND released at the end of July is one of the best bang for your buck smartphones on the planet. It offers up a 5-inch 720p HD display, a powerful quad-core processor with 2GB of RAM, 16GB of storage with a micro-SD slot, dual front facing speakers, tons of customization, it's water-resistant, and it has a great 13 megapixel camera all starting at $179. Oh, and this year it has a bigger 2,400 mAh battery.
Motorola has set the bar here. The 8GB 1GB of RAM model is $179, and for $219 buyers can get the Moto G with 16GB of storage and 2GB of RAM, customize it with 10 unique colors, 10 accent colors, and enjoy all it has to offer running on Android 5.1.1 Lollipop.