Best External DVD Drives for Your MacBook
If you own a MacBook Air or a newer MacBook Pro that doesn't include a disc drive, here are the best external DVD drives for your MacBook.
Not everyone needs a disc drive, which is probably why Apple got rid of them in the MacBook Pro. The world is going digital and that means music, movies, etc. are becoming more popular as streaming options, rather than shoppers buying them on physical discs. That doesn't necessarily mean that the DVD is completely obsolete, though, as many people still use them.
However, that doesn't mean you're completely stuck if you have a newer MacBook Pro or another computer that doesn't have a disc drive. External DVD drives exist for this very reason, and they easily plug into a USB port on your MacBook and away you go.
The best part is, you don't need to pay a lot of money for an external DVD drive, as many of them can be bought for around $30. Here are the best ones that you can buy for your MacBook.
Apple USB SuperDrive
This is a pretty obvious option for MacBook owners. Apple has its own external DVD drive known as the SuperDrive, and it comes with the same aluminum design as the MacBook Pro and MacBook Air, so it'll match your setup nicely.

The only downside is that it's $79, which is really steep for an external DVD drive, but it's really the only way to go if you want a matching design.
LG Ultra Slim Portable External Drive
LG's external DVD drive is a good option for those looking for a cheaper option than Apple's SuperDrive, as it's only $33 on Amazon.
The drive can burn DVDs and CDs, and it works on both Macs and Windows PCs. Furthermore, this drive includes M-Disc support, which is a type of disc that's more physically resilient and will theoretically last longer than a regular DVD disc. This is probably something that most users won't really need to worry about, but it's nice that the drive includes the support for it anyway, just in case.
Samsung Ultra-Slim Optical Drive
Perhaps the cheapest option that we've seen (as well as the slimmest), is Samsung's Ultra-Slim external drive, which measures in at a cool 14mm thick, making it one of the slimmest options available, as well as the cheapest, ringing in at only $25 on Amazon.
The drive supports OS X and Windows, and it even has limited support for Chrome OS and Android. You can't burn a disc on Android, but you can use it to read/watch DVDs. And like the LG model previously, this one also supports M-Disc.
Asus External Slim Drive
If you prefer an external drive with a disc tray (rather than slot-loading), then the Asus External Slim Drive is the one to get.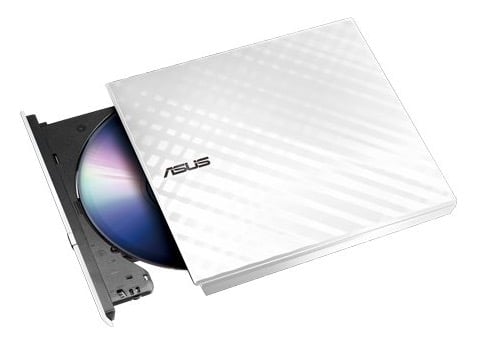 It's also one of the cheapest options we've seen at $24 on Amazon, but it's a rather thick drive because of the disc tray, which takes up more space. However, it comes in a beautiful white finish with a stylish diamond cut design that would look great on any desk.
Samsung Slim Blu-ray External Drive
If it's a Blu-ray external drive that you're after, then this Samsung drive for $79 is the best option by far. It's obviously a lot more expensive than just the regular DVD drives, but it allows you to watch Blu-ray movies, as well as burn Blu-ray discs.
Perhaps the best part about this drive is that it only needs one USB port to function, whereas other Blu-ray drives sometimes require two USB ports in order to get sufficient power.
The price is a bit steep, but if you really want Blu-ray capabilities, it's definitely the drive to go with.

As an Amazon Associate I earn from qualifying purchases.