Best Fantasy Football Apps for Android
With the 2014-15 NFL seasons right around the corner and preseason now in full stride, fantasy football fans are likely gearing up for another hard-fought year. Fantasy football in some ways is more important to many casual fans than the actual game, and you'll want to be as prepared as possible to win your league this year.
Whether you tasted victory like I did last year, or suffered a terrible loss due to injuries, it's time to start fresh with a brand new Fantasy Football roster full of talent.
Read: How to Watch NFL Preseason Games Live on Android
When it comes to Fantasy Football on Android, apps are a dime a dozen. Tons are available on the Google Play Store with terrible user interfaces, lack the features or news you need to keep you on your toes and your team ready for the week, or just generally don't offer much. However, below are a few of the many apps I've used in the past, and will surely deliver information, tips, hints, and analysis to help you out this year with Fantasy Football.
Ahhh. I can't wait for regular season to begin, and surely I'm not alone. Draft day is quickly approaching for many of you Fantasy players, and there's apps for that too. Obviously keeping up with all the latest news, trades, and injuries will be key, but having a few apps full of details and news will have you prepared all year long.
My boy Eddie Lacy for the Packers will be ready to run over defenses again this year, and Aaron Rodgers is poised to have an excellent year following his awful injury last year that almost cost me my Fantasy league trophy.
Below is a list of the best fantasy football apps for those on Android, in no particular order, but they're all worth at least checking out to see if they can offer you a competitive advantage.
NFL Now
NFL Now is a brand new app released this year by the official NFL Enterprises account, and it has a lot to offer. It will mainly be your own personal NFL Network for any single team, but can also help you out with fantasy stats. You can follow your team, or your entire fantasy team, all in one app.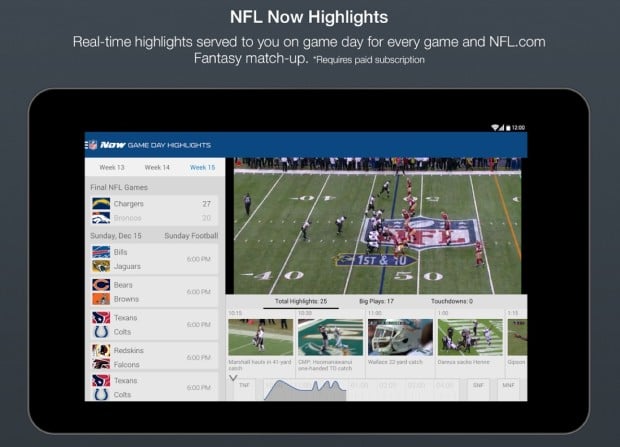 NFL Now has hundreds of video, new content daily, and will be curated to exactly what you select. It delivers content right from the official NFL Network, and will surely be one app you'll want to have installed. It even featured NFL Now Fantasy matchups and more.  NFL Now – Download
Team Stream by Bleacher Report
If you don't follow Bleacher Report on Twitter, or have their site bookmarked on your computer or Android smartphone, you're missing out on some of the best and fastest sports coverage around. Not just the NFL. That being said, the official Bleacher Report Team Stream Android app is essential for my daily sports news and coverage. I open it every morning, to be honest.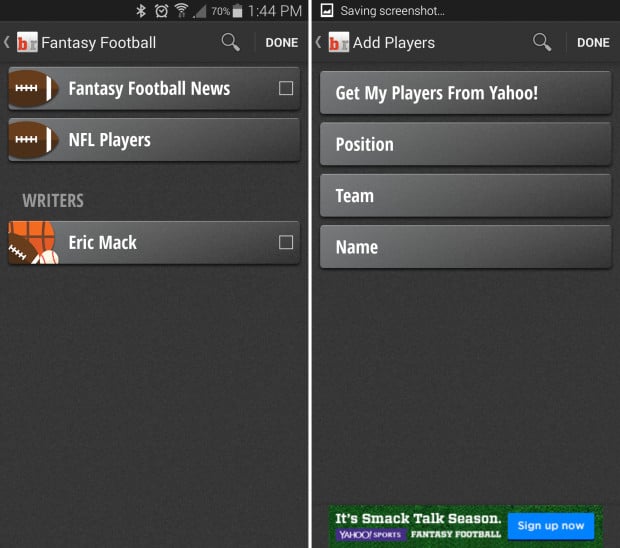 Not only can you select which sports you want to get news from, but which team, and also which type of news. They break everything down, have tons of customization for what notifications will alert you, and much more. Open a stream anytime to find scores, next games, videos and even more stories for your teams from local newspapers, websites, blogs, Twitter, and Bleacher Report.
Last year they added a Fantasy Tracker, and it's a bit tedious to add all your players, but once you do they've give you details, stats, descriptions, and even matchup information all year long. They do however let you import your Yahoo! Fantasy team, but that's the only one supported thus far. You can't go wrong with Team Stream. Bleacher Report – Download
NFL Mobile
Next up has to be NFL Mobile. Even though most of the features that make this app worth the download (like watching games live) require you to be a Verizon Wireless subscriber, it still offers plenty to everyone else. The app was redesigned for the 2014-15 season, and is ready to deliver any and as much content as you'd ever need.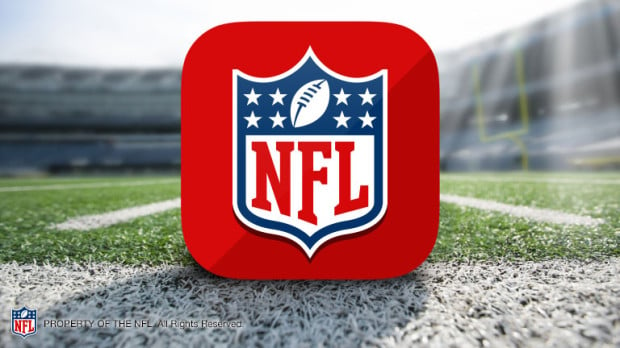 The app will even let you stream NFL Networks  "Fantasy Live" if you're a Verizon user, along with tons of other things catered around Fantasy players. The limits to one carrier are awful, but that's just how it has to be for now. NFL Mobile – Download
NFL Fantasy Football
Many people use ESPN, Yahoo, or others for Fantasy leagues, but if you're an official NFL.com Fantasy Football user you'll be extremely happy to hear this year they've redesigned the app. It was a joke for the past two years, like Tebows throwing motion, and nearly useless on an array of Android smartphones and tablets.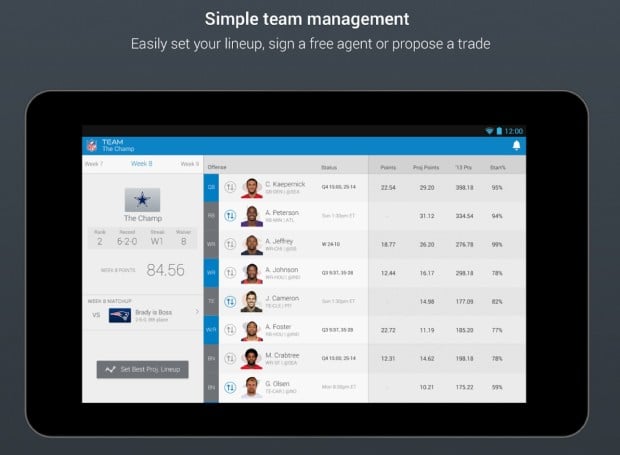 It even offers live draft right on the go, meaning you can do your NFL.com Fantasy draft from the app. However, unless it's leaps and bounds better than last year, I'd recommend a PC and a stable connection so you don't blow your #1 or even #7 pick. NFL's official app has simple team management, scores, highlights, details, matchups, transactions, and even the option to manage multiple teams with ease. Multiple team management was a mess before, and it appears a simple pop-down menu will make this much easier in 2014. NFL Fantasy Football 2014 – Download
ESPN Fantasy App
The ESPN app is something I've used for the past three years, and while it wasn't pretty or all that fancy, it worked extremely well. Moving around players was easy enough, and seeing details on injury reports with updates from ESPN.com was a breeze. Everything is still included this year, along with tons of new features and a completely redesigned layout. It still looks a bit odd, but appears to be extremely simple.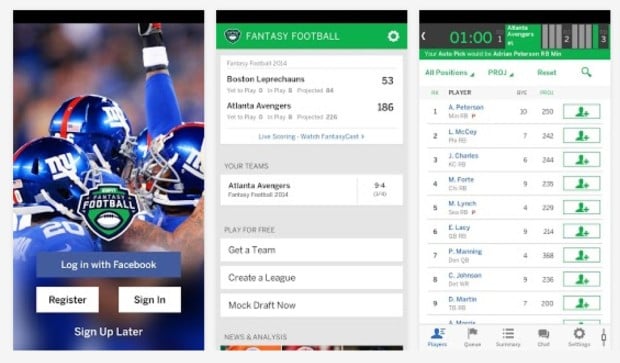 It's a different download completely (for some odd reason) so don't expect an update to arrive, you'll have to uninstall the old and get the new with our link below.
The new ESPN FFL app is extremely simple, clean, and minimalistic. Focused on your team, and only your team. Give it a try and good luck this year guys. ESPN Fantasy Football – Download
NFL Fantasy Cheat Sheet $4.99
If you really get into your Fantasy as much as I do, but need a little help to be a winner, there's an official NFL Fantasy Cheat Sheet. It's $4.99 for the season, and if you'd like all the help you can get in one convenient and easy to use app, this is it. I won't be paying for it, but many may want to check it out and see how they like it. There's a 2-hour return window on Android app purchases.
This app features an extremely deep scoring system for players, not just based on raw numbers or position. Meaning it could significantly improve your draft day experience, and Fantasy team for the entire year. If you're up for it, give it a try. NFL Cheat Sheet – Download
Fantasy Alarm Football
If you're like me and tinker around all week with your team, then can't make up your mind Sunday morning before kickoff, you'll need this app. Push notifications give you more details from an array of sources than most other apps, and you'll get updated and injury alerts nearly as soon as it's known to the world.
The app's up-to-the-second team changes, breaking news, and rumors will continue to keep you updated with everything you'll need to know all week, and all year. Best of all you can now sync your roster right to the app from all major league management providers including CBS, Yahoo, ESPN, NFL, RTFS, MFL, Fleaflicker and more. This makes it fast, easy, and best of all it's free. Fantasy Alarm Football – Download
Yahoo! Sports and Yahoo Fantasy
Yahoo! Sports is still my favorite app when it comes to checking game times, scores, and stats. I pull it up and it instantly remembers my team, the sport I'm watching during any particular time of the year, and much more. It's all customizable, and rather convenient. That and I've used it for years so just keep using it.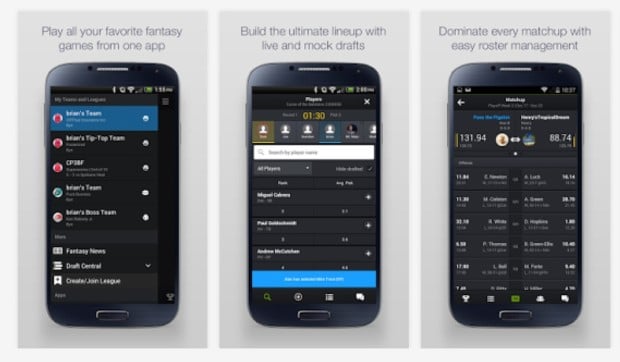 I set reminders for game start, scoring alerts, game end alerts, and even details for each score regarding fantasy players. It has all this right inside the app. However if you set too many apps to alert you for each game, your phone will be going off all Sunday, so use caution and remember what does what.
Then the Yahoo Fantasy Football & More app is probably one of my other favorites. It's clean, fast, stable, and just simple to use. You'll be able to watch all your Yahoo NFL Fantasy moves as they happen, make roster changes, and much more using this app. Combine this with Yahoo! Sports and you should be set. Don't forget to do a few mock drafts before the big day, either. Yahoo! Sports – Download / Yahoo Fantasy – Download
More
Of course these are just a few of many, but you may also want to check out RotoWire, TheScore, Fantasy Football Draft Kit, and tons of other apps from CBS, Fox, and all the other providers. There's tons of content, you just need to find it and use it to your advantage.