5 Best Galaxy S6 Battery Cases
The Samsung Galaxy S6 has a lot to offer with a beautiful new aluminum and glass design and a 16 megapixel camera, but sadly this year it's lacking a removable or replaceable battery. Here we run down a list of great Galaxy S6 battery cases to give you longer battery life and protection at the same time.
While we've already detailed a list of some excellent cases for the Galaxy S6, and wallet cases in the link below, some users may be looking to get a little more out of a case. There are tons of third party cases for the Galaxy S6, but these will all focus on improving battery life.
Read: 5 Best Galaxy S6 Wallet Cases
This is the first time in years a Samsung Galaxy smartphone doesn't have a removable back with a replaceable battery or a micro-SD slot, and those have been the biggest complaints for owners. If you're looking to get better battery life from the Galaxy S6, consider some of the cases below.
The Galaxy S6 is packed full of features, and has one of the most efficient processors and displays all aimed at improving battery life for users. However, it also has a smaller battery than past Galaxy smartphones, coming in at only 2,550 mAh, and many have been complaining the battery simply doesn't last long enough.
Read: How to Close Apps on the Galaxy S6
As a response, many popular case and portable battery makers have been producing cases that also pack an extra battery inside, essentially doubling the life of the Galaxy S6. The most popular is Mohpie, a top-tier case manufacturer, but it's also the most expensive. The list below details some great Galaxy S6 battery cases worth considering.
Mophie Galaxy S6 Juice Case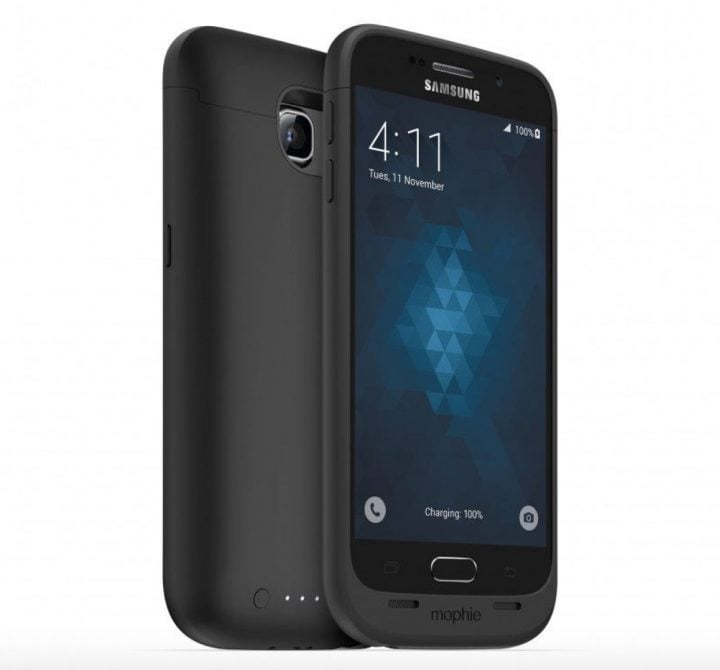 One of the most popular names in smartphone cases, and battery cases, is Mohpie. This year the company has one of the best Galaxy S6 battery cases available, but it costs a pretty penny.
The Mohpie Galaxy S6 battery case more than doubles the 2,550 mAh battery life by adding an additional 3,300 mAh of battery to the smartphone. However, that isn't all this case has to offer. It features two ports that aim the bottom speaker to the front, delivering improved sound output with front facing speakers, and has integrated rubber bumpers for an additional layer of protection in case of drops.
The Mophie Galaxy S6 protects your phone, more than doubles battery life, improves sound and more, but this all comes at a high price. It's available now in Black, and coming soon in white and gold.

As an Amazon Associate I earn from qualifying purchases.