This is a list of the best Galaxy S6 cases you can buy in 2015. After spending a month trying various Samsung Galaxy S6 cases and covers we can share our favorites in a short list of the best Samsung Galaxy S6 cases on the market.
A new design delivers a much nicer look and feel to the Galaxy S6 with metal and glass that some users may not want to cover up with a Galaxy S6 case, but even with all of durability that Samsung builds in there are times where a great Galaxy S6 cases is necessary.
The Samsung Galaxy S6 is not waterproof or water-resistant so if you find yourself near the water regularly you will want to invest in a good case to protect your phone.
Read: 65 Galaxy S6 Tips & Tricks
You can buy the best Galaxy S6 cases from Amazon, Best Buy and your carrier. If you get an employee discount on your cell phone bill you should check to see if you can also save 15 to 25% on a new Galaxy S6 cases.
In addition to the best Galaxy S6 cases we also include one of our favorite screen protectors that can keep your screen safe from drops and scratches. Most of these cases are budget friendly, but a few approach the $100 mark for added protection, charging and other special features.
Here are the best Galaxy S6 cases you can buy in 2015 to add features, protection and get new Galaxy S6 colors.
15 Best Galaxy S6 Cases
Samsung Galaxy S6 Clear View Case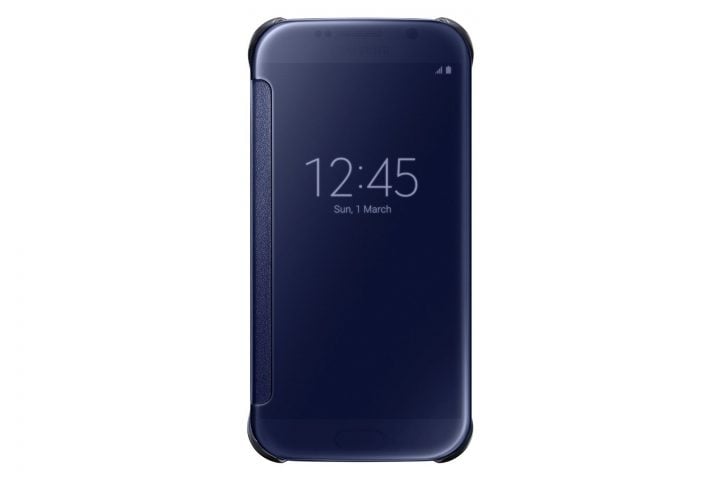 One of the official Samsung Galaxy S6 cases is the Clear View Cover that protects the front and back and still allows users to use the screen to see weather, time and other notifications.
Users can also answer a call without opening the cover and there are options to control music playback with the Clear View cover still in place. Samsung includes access to the camera with the clear view cover shut and a pull down notification bar so you can do a lot without removing the cover.
The Galaxy S6 Clear View case retails for $59.99 but is available on Amazon for $40.

As an Amazon Associate I earn from qualifying purchases.