The Best Gears of War 4 Deals
It's a pretty big week for owners of Microsoft's Xbox One entertainment console and lovers of what used to be Epic Games' third-person shooter franchise Gears of War. Microsoft promised a new Gears of War game was in production the same day it revealed it'd purchased the franchise and all related rights from Epic. That game launches this week as Gears of War 4.
Chances are that you knew the Gears of War 4 release was this week already. Microsoft, ever the promotion machine, has go to great lengths to get the word out about the return of the franchise. The Xbox One's software has a dedicated Gears of War 4 area right now. Every retailer that sells games and electronics has an ad featuring the title prominently.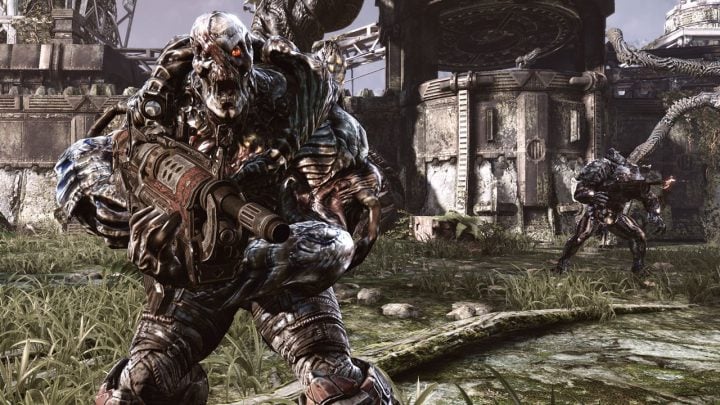 Read: Gears of War 4 Xbox One Release – What You Need to Know
Many of them are also running Gears of War 4 deals designed to get you to spend your hard-earned money with them and not directly through Microsoft's Xbox Store and Windows Store. We've tracked down the best Gears of War 4 deals for this week's launch of the shooter. Buyers are definitely going to want to look into some of them.
Discounts & Promotions
Boosted Trade-In Value at GameStop
GameStop loves using video game trade-ins as a way to hold sales on games just making their debut. Gears of War 4 isn't any different. The company will give users 20% more value for their titles, if they're making trade-ins so that they can pre-order or purchase any version of Gears of War 4. In effect, GameStop is handing shoppers a big discount on Gears of War 4 in exchange for older games they no longer play.
Shoppers should just head to their local GameStop to place a Gears of War 4 pre-order and hand over their titles.
$47.99 with Amazon Prime
Amazon is always offering new promotions and deals to Amazon Prime subscribers. One of its latest upgrades are discounts for new games – at no additional charge beyond the price of a Prime subscription.
Read: Amazon Prime 20% Off Games: 5 Things to Know
The online retailer slashes the cost of every new game that Prime members purchase a physical copy of by 20%. Gears of War 4 Ultimate Edition, the version that you need to be able to play this week and not October 11th, is $79.99 with this discount. Standard Edition is $47.99. Amazon Prime is $99.99 a year for those that don't already have a subscription.
$10 Gift Code from the Microsoft Store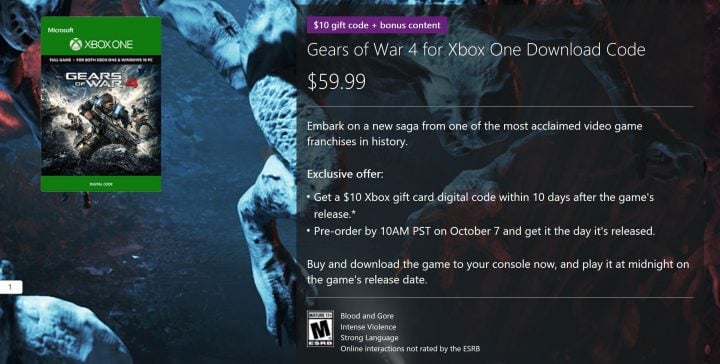 Purchasing Gears of War 4 from the Microsoft Store in digital or physical form gets shoppers a $10 gift code to use inside the Windows Store.
Extras
Free Funko Pop Figure at Best Buy
Best Buy stores aren't just offering a Gears of War 4 deal, they've got a special trinket available there too. Funko Pop figures show no signs of becoming less popular with video game lovers. Best Buy is taking advantage of that by handing out the figures when shoppers purchase the Gears of War 4 Special Edition Xbox One Bundle for $449. That's just one of the three console bundles Microsoft has launching with versions of Gears of War 4 over the next month or so.
$20 Off Coupon at GameStop
Finally, GameStop has one last Gears of War 4 deal for everyone with a PowerUp Rewards subscription. Subscribers get a $20 off coupon to use at the store or its website when they purchase Gears of War 4 Standard Edition and Ultimate Edition. The coupon is specifically for buying new games from the outlet. The offer ends October 15th.
Best Gears of War 4 Deals: Game Points & Rewards Programs
The video game industry is dominated by three main retailers, each with a vested interest in getting you to buy your games there. These promotions aren't specifically Gears of War 4 deals, but they're opportunities that you should keep in mind.
GameStop's PowerUp Rewards Points
Members of GameStop's PowerUp Rewards program get 20 rewards points for every dollar that they spend at the store. That includes Gears of War 4. What's more, the company boosts trade-in values by 10% for PowerUp Rewards members. The points can be turned into discounts and free trinkets.
Read: How to Trade-In Your Video Games for the Most Money
Best Buy's Gamers Club Unlocked Discounts
In addition to rewards points and a 10% boost on trade-in values, Best Buy Gamers Club Unlocked slashes the cost of any new game purchase by 20%.
Read: Is Gamers Club Unlocked Worth Buying?
In both cases, you'll need a subscription to each program for the savings to take hold. Two years of Gamers Club Unlocked costs $30. PowerUp Rewards Pro costs $14.99 a year.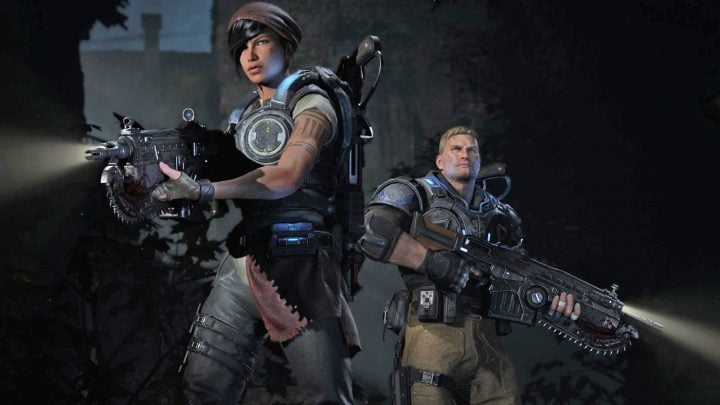 Microsoft Rewards
Bing, now Microsoft Rewards, gives users points for actively staying in the Microsoft ecosystem. Browsing with Microsoft Edge and searching with Bing are just two ways users earn points. Buying things from the Windows Store and Microsoft Store is what makes the program relevant to those looking for Gears of War 4 deals. Microsoft gives shoppers of both stores 1 Microsoft Rewards point for every $1 that they spend. Rewards points can be redeemed for store credit and Xbox Live Gold subscriptions.
Here's to hoping that these Gears of War 4 deals save you some cash on Microsoft and The Coalition's hit game. Gears of War 4 is the second-to-last blockbuster exclusive for Xbox One and Windows 10 this calendar year. The company hopes that December's Dead Rising 4 will also help boost console sales through the holiday shopping season.

As an Amazon Associate I earn from qualifying purchases.