Best Google Pixel 4 Screen Protectors
These are the best Google Pixel 4 screen protectors available that will keep your phone safe and scratch-free. With a bigger 5.7-inch HD display, even Google's smaller Pixel phone needs protection. That way your new phone can stay Pixel perfect.
This year Google added a 90 Hz display, which makes it more important than ever to keep protected, as they won't be cheap to replace if yours gets damaged or broken. And while Pixel 4's display is resilient it is far from scratch-proof.
Thankfully, the screen isn't curved like a Galaxy S10 so screen protectors are easy to install, fit perfectly, and work wonders. Here are your options.
Best Google Pixel 4 Screen Protectors
1. amFilm Tempered Glass 3-Pack
Buy it Now on Amazon for $8.99
The first Google Pixel 4 screen protector on our list is the amFilm 3-pack. They're one of the few brands we recommend for curved devices, and all of their tempered glass screen protectors fit great. For the Pixel 4, you're getting three chemically strengthened pieces of glass, just in case one breaks or you mess up the install.
amFilm uses 99.9% clear glass that scores a 9H on the hardness scale. They round the edges with what's called a 2.5D edge to prevent cracks and make it more comfortable to use, so your finger won't catch on the edge. It's also really thin, being just 0.33mm thick. This kit comes with an easy alignment tray, too, so you won't have a hard time installing it.
2. OMOTON Tempered Glass 4-Pack (Easy Install Tray)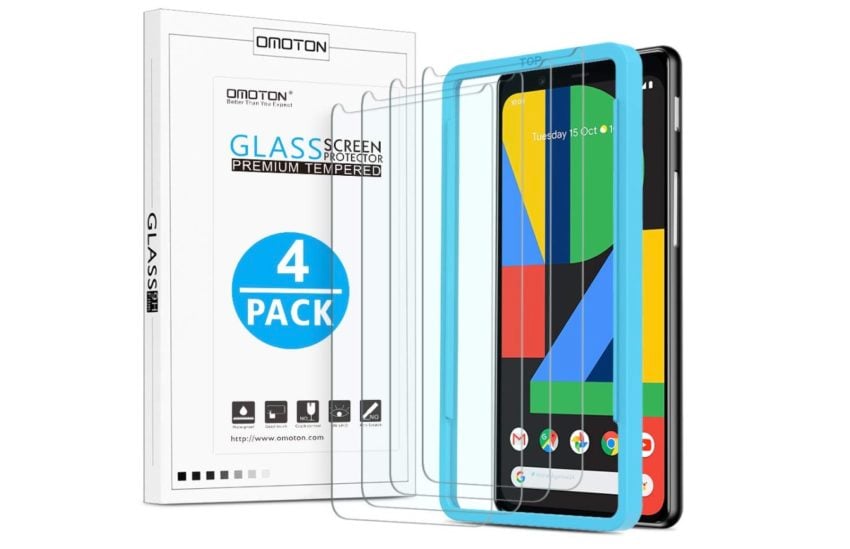 Buy it Now on Amazon for $8.99
Another option is the OMOTON Tempered Glass for the Pixel 4. We're recommending this over some of the others because you get FOUR screen protectors, lint and dust wipes, and an easy installation tray. Clean your screen, put the tray down, drop the screen protector in place and you're all done. It makes installation a breeze.
Plus, since this comes with four protectors you'll have extras for years to come, or even one spair for both you and your significant other if you both got a new Pixel 4. Either way, this is a rugged and tough piece of strengthened and tempered glass that will keep your phone safe.
3. SuperShieldz Tempered Super Glass 2-Pack
Buy it Now on Amazon for $6.99
SuperShieldz is one of the original smartphone screen protector brands, making durable screen protection since the beginning of smartphones. Here, you'll get two durable, thin, and tempered glass screen protectors for one low price.
In fact, the SuperShieldz is the cheapest on our list but doesn't come with an easy alignment tray. If you're not worried about the install, save a few bucks and get these from a brand we know and trust.
4. Pleson Tempered Glass Case Friendly 3-Pack
Buy it Now on Amazon for $7.99
Another good choice is the Pleson 3-pack, which gives you two backups if your original screen protector ever breaks, or simply gets too many scratches. Like everything on our list these are chemically strengthened and tempered pieces of glass that are nearly as strong as your screen itself. Which means they're very hard to scratch or break.
But, if you do manage to break it, your actual Pixel 4 screen underneath will likely still be brand new. So, get one of these 99.9% clear tempered glass Pixel 4 screen protectors, and get protected from life's daily mayhem.
5. TopACE Ultra-Thin Tempered Glass 2-Pack
Buy it Now on Amazon for $7.99
Last but not least, for now, is the TopACE ultra-thin tempered glass screen protectors. Like all the options on our list it scores a 9H on hardness scales, has a 99.9% clarity rating, and offers rounded edges for a more comfortable user experience.
Furthermore, TopACE adds an oleophobic coating to resist fingerprints and smudges, all while keeping its protectors extremely thin and durable. They guarantee it'll work with Motion Sense gesture controls, and cut the glass a tiny bit short so they'll work with a case. Buy one of these to keep your screen safe and use a case at the same time.
In closing, these are some of the best Google Pixel 4 screen protectors from brands we know, have used in the past, and know will help your phone last longer and look better. There are several manufacturers of tempered glass, so choose one from our list rather than spending $50 for something at a T-Mobile or Verizon store. They're nearly all the same anyways. We'll continue looking for and testing alternatives and update this post as we find more great coverage options.

As an Amazon Associate I earn from qualifying purchases.