T-Mobile is The Global Roaming Champ
T-Mobile offers the best international roaming experience of any of the four major U.S. carriers. While roaming plans for all carriers have improved over the years, T-Mobile is miles ahead of the competition and the only company that doesn't charge extra when mobility matters most. If you often travel overseas, you should strongly consider T-Mobile as your new wireless carrier.
T-Mobile's superb international roaming experience and rock-bottom pricing earned our Editors' Choice Award for Best Network for Travelers.
Having a T-Mobile phone can save you hundreds of dollars per international trip and thousands of dollars per year if you're a frequent traveller. The savings are only magnified if you're traveling with family.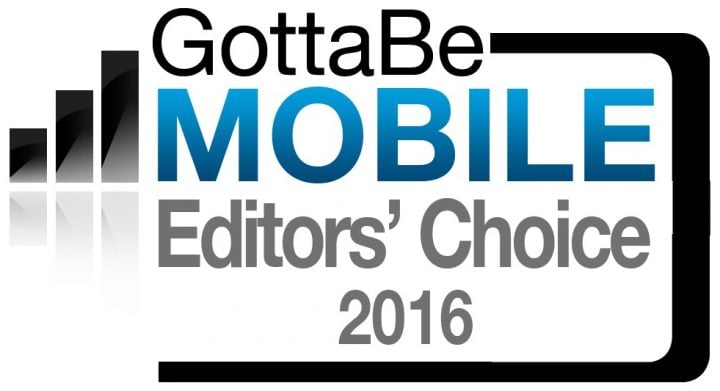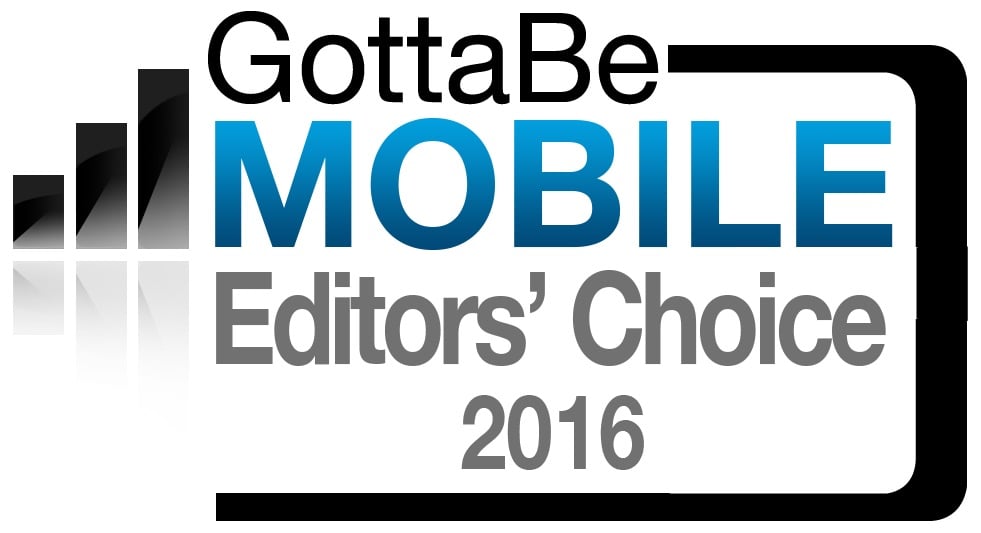 As part of my duties at GottaBeMobile, I carry several wireless devices, with at least one on AT&T's, Sprint's, T-Mobile's and Verizon's networks. I took four of these devices on my recent trip to Europe. I brought my AT&T iPhone 6s Plus, Verizon iPhone 6s, Verizon Galaxy S7 Edge and a T-Mobile iPhone 6s
T-Mobile: The King of International Roaming
T-Mobile offers very reasonable domestic data plans and is pushing the industry in the right direction by offering consumer-friendly promotions and features. My favorite thing about T-Mobile is that it simply does not charge users for roaming data. Instead, T-Mobile customers on Simple Choice plans, simply use their phones like they would at home.  T-Mobile generally limits free international data to 3G speeds, but this summer, T-Mobile offered free fast 4G LTE data speeds in Europe and Rio.
The total cost for me taking my T-Mobile iPhone 6s overseas? Just a $17 to cover the voice calls I placed and received.  I have a 6GB per month Simple Choice plan that costs $65 per month. That's an incredible value considering that I used about 4GB of data while traveling through Germany, Austria and the Czech Republic. Using that same amount of data on my AT&T iPhone would have cost $614.
I used my T-Mobile phone for everything I normally use my phones for without thinking twice about data overage fees. It was truly liberating and the first time I experienced such wireless freedom while traveling.
Instead of rationing data like it's 1999, I was able to launch Netflix and hand my phone over to my tired five-year-old son so my wife and I could enjoy a long dinner after a day filled with tours and bus rides. T-Mobile allowed me to share photos and videos with friends and family instantly, rather than having to wait to get back to our hotel and its Wi-Fi. We placed and received FaceTime calls to avoid paying for international calls.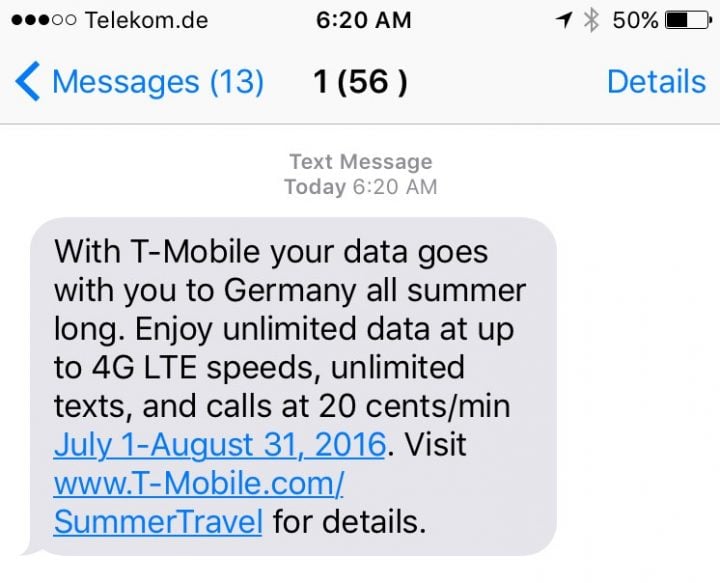 This is the text message T-Mobile sent me when I landed in Germany. It's much more pleasant than what most carriers send to roaming customers.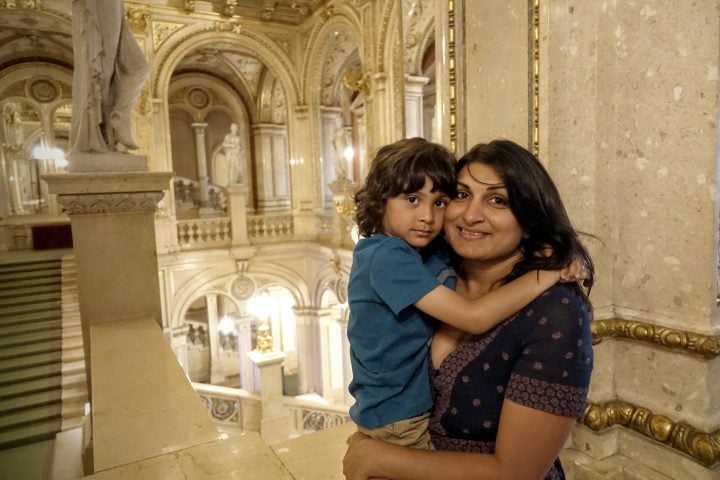 I'm a camera enthusiast and brought my Sony RX100 M4 point-and-shoot with me. It can wirelessly transfer high-resolution photos to my iPhone so I can edit and share them immediately. Sharing high-resolution photos through social media and sharing apps can gobble through data, but I  didn't have to worry about it thanks to T-Mobile's free international data feature. Above is an example of a photos of my wife and son that I shot with the RX100 M4 inside of the Vienna State Opera House.  I was able to send this to family back home in the United States just after the tour via my T-Mobile iPhone without minding my megabytes.
AT&T's Lackluster International Plans
Most of my devices are on AT&T, including my primary iPhone. AT&T is my favorite network in my hometown of San Francisco because of its fast network and reasonable pricing for additional lines. However, AT&T's limited international roaming options  leave a lot to be desired.
AT&T offers three international travel packages, starting at $40 per month and ranging up to $120 per month. The $40 Passport plan comes with 200MB, the $60 Passport Silver plan comes with 300MB of data, and the $120 Passport Gold plan comes with 800MB of data. That's a lot of cash for very tiny buckets of data. For many users, even the 800MB package wouldn't be enough to get through a week or two abroad.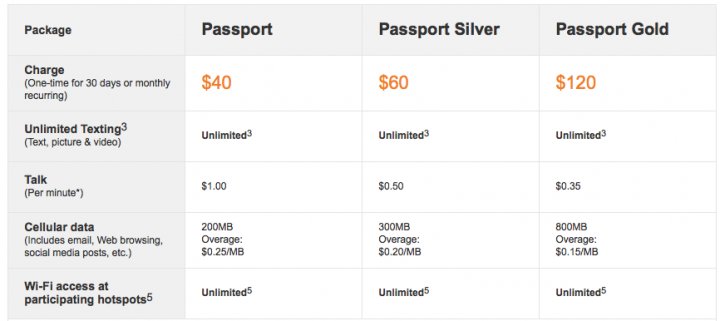 As you can see in the above pricing table from AT&T, each of the plans offer unlimited texting and unlimited Wi-Fi access at participating hotspots. Unfortunately, AT&T's overage charges are ridiculously expensive.  Going over the 800MB Passport Gold data allotment brings overage charges of $0.15 per MB. That doesn't sound like a lot until you do the math and see that AT&T is charging $153.60 per GB of data. One GB of data isn't as much as you might think, especially when you're away from your home and work Wi-Fi networks. It's absurd to pay several dollars to download an app, watch a single YouTube video, or upload some photos to Facebook.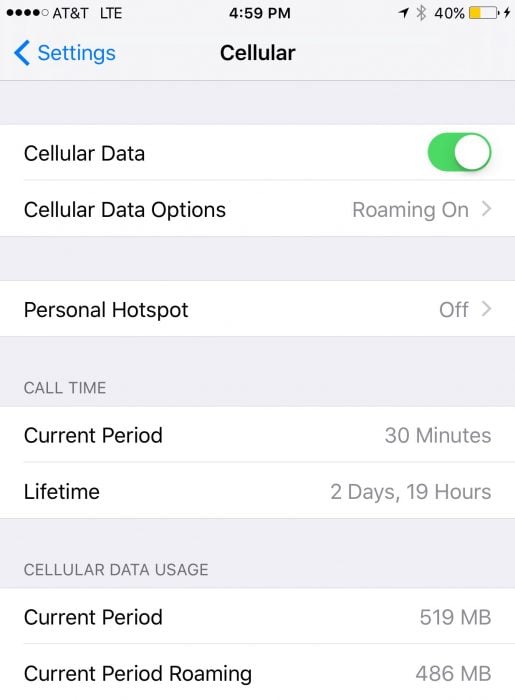 I signed up for a Passport Gold plan since I really wanted my primary phone online while traveling, but knew I couldn't really use it for anything substantial while traveling unless I wanted to come home to an enormous bill. Instead of using my iPhone 6s Plus as my primary phone, I used it sparingly and made sure to connect to Wi-Fi whenever possible. Despite using my T-Mobile as my primary device while traveling, I still used almost 500MB, just 300MB away from entering the danger zone of $0.15 per MB.
One thing that truly annoys me about AT&T's international pricing structure is that its customers don't get anything in return for the standard domestic fees while traveling. By definition, they aren't using any of AT&T's domestic resources, which means AT&T is essentially double dipping.
Verizon's Travelpass is a Good Compromise
Verizon's international roaming plan isn't as good as T-Mobile's, but it's a lot better than AT&T's. Rather than charging for additional data, Verizon charges a daily access fee of $10 per phone. The additional fee allows domestic data to fly with you overseas. That means my family could gobble through my 15GB of data while traveling to Germany, Austria and the Czech Republic, just like we were at home.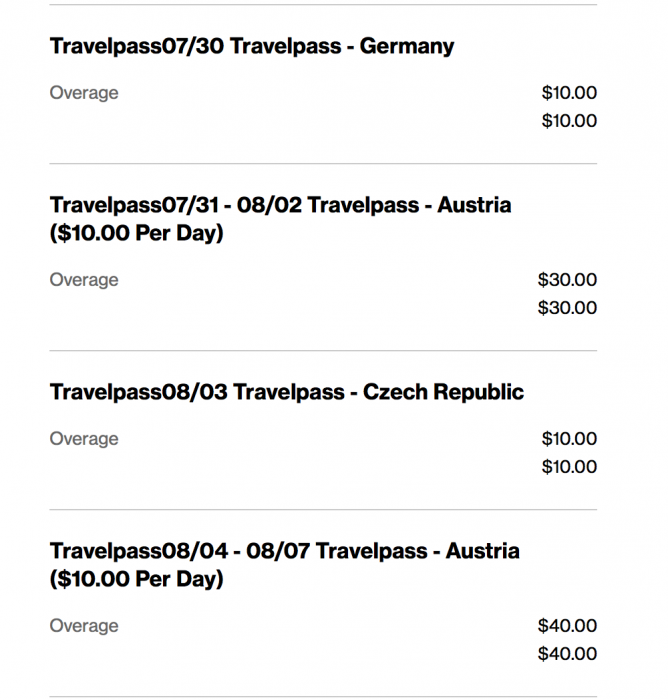 The $10 per day surcharge only kicks in on days that you actually use it, allowing travelers to avoid paying roaming charges when connected to Wi-Fi, such as a lazy day poolside a hotel. I paid a total of $90 to keep my Galaxy S7 Edge online over 9 days.
Paying an occasional overage fee such as the one above isn't going to break the bank, but T-Mobile is a much better option if you're bouncing between countries. Getting a text message from Verizon each day asking for another $10 only reminded me that T-Mobile is a better network to travel with.