Best iOS 7 Themes for iPhone: Cydia Themes for Winterboard
With the iOS 7 jailbreak users can install new iOS 7 themes from Cydia to give the iPhone a completely new look. This is an excellent way to change the default look of IOS 7 including app icons, the status bar, dock and other parts of the user experience.
Users can go to Cydia and to other sources to download iOS 7 Winterboard themes that include the new look and icons for many popular apps so that the look carries over from the system to the apps on the home screen and in the dock. Some of these iOS 7 Cydia themes even include components that connect with other Cydia tweaks to tie everything together.
Users must find the iOS 7 themes in Cydia or download them from other sources and install them to a specific folder. Once installed the iOS 7 themes are activated using the free WinterBoard for iOS 7 app that is available in Cydia. Users can combine parts of themes and re-order the themes to combine parts of themes for a completely new look.
The best iOS 7 themes aren't all free, but the most you'll need to spend is $2.99 to get the paid iOS 7 Cydia themes on this list. There are plenty of free iOS 7 themes included, so even users that aren't paying for jailbreak apps can find something, but those on this list are well worth the asking price.
Unless otherwise noted, search Cydia for the name of the theme that you like and then purchase and or install it. When installed open Winterboard to choose the theme and respring to apply it.
These iOS 7 themes run on the iPhone 5s, iPhone 5, iPhone 4s and iPhone 4 as well as the iPod touch. Some themes are also available for the iPad, but we are focusing on the iPhone and iPod in this roundup.
Ayeris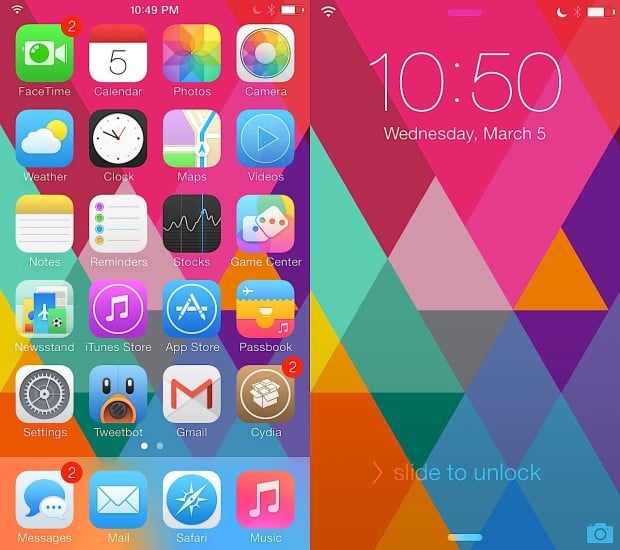 Ayeris is an amazing iOS 7 theme from Surenix, who makes another one of the best iOS 7 themes we could find. Ayeris is pronounced Iris and is a new look for iOS 7 that is still recognizable as Apple's latest software, but it feels more complete thanks to new icons and other enhancements to the OS 7 apps.
For example in Safari on iOS 7 the small icons on the bottom of the app features redesigned buttons. There are slight redesigns to the Mail app, Settings and other areas. These small tweaks add up. This iOS 7 theme includes 200+ redesigned icons, 6 high resolution wallpapers and a themed control center. We use some of the Ayeris wallpapers throughout this collection of the best iOS 7 themes.
Ayeris is $2.99 in Cydia