Best iOS 8.4 Cydia Tweaks for iPad
An iOS 8.4 jailbreak has been out for a couple of weeks now, so here are the best iOS 8.4 Cydia tweaks for iPad.
Hot on the heels of the iOS 8.4 update release, TaiG released an iOS 8.4 jailbreak just hours following, making it one of the quickest jailbreak releases we've seen for a new version of iOS. Granted, iOS 8.4 didn't patch up the exploits used in iOS 8.3, but nonetheless, it was a quick jailbreak for an iOS 8.x update period.
iOS 8.4 comes with a handful of bug fixes and performance improvements, as well as Apple Music, which is the company's own music streaming service that allows you to listen to any song on-demand for a monthly fee.
In any case, if you jailbroke your iPad on iOS 8.4, you likely have already been digging deep into Cydia and downloading all sorts of jailbreak tweaks. However, there are a handful of iOS 8.4 Cydia tweaks that you may not have heard about before. Furthermore, there is a great selection of jailbreak tweaks that work great on the iPad and take advantage of the iPad's features.
If you're wanting more ideas on which jailbreak tweaks to install on your iPad, here are the best iOS 8.4 Cydia tweaks for iPad.
CleverPin
If you don't travel a lot, then your iPad probably stays at home most of the time, meaning that your passcode is really just a waste of time if you only have it set up for thief prevention. However, you don't want to disable it completely if you do decide to take it with you somewhere.
CleverPin can fix this problem by only having the passcode enabled when you take your iPad out of the house. It does this automatically by detecting whether or not your iPad is connected to your home WiFi network. If it isn't, it will enable the passcode, and if it is, CleverPin will disable the passcode.
Of course. if you an iPad with Touch ID, CleverPin really isn't needed, since Touch ID is so incredibly convenient. However, if you still have an older iPad, CleverPin is a must-have tweak.
StatusHUD 2
If you're watching a movie on your iPad and go to change the volume, that huge and annoying volume HUD pops up and blocks your view. However, StatusHUD 2 is a tweak that can get rid of this.
Basically, StatusHUD 2 simply moves the volume HUD to the status bar so that it stays out of the way when you change the volume.
You can even change the look of the new status bar volume HUD by changing the marks into squares and other shapes for a more creative and unique look on your iPad, but I personally find the circles to be classic.
SwipeSelection
Apple introduced a feature in iOS 9 that allows you to swipe around on the keyboard in order to move the cursor, but you can get this feature in iOS 8.4 as well, thanks to a tweak called SwipeSelection.
By swiping across the keyboard with one finger, you can move the cursor wherever you want in the text box, so if you need to go back and edit a word, you can do it quickly and easily.
There is a Pro version that you can pay for, but honestly, it's not really needed, as the free version does just fine for most users who want this kind of capability.
BetterRotate
One of the biggest pet peeves with the iPad home screen layout is that when users rotate the screen, all of the apps appear in a different position. That's because the grid goes from a 4×5 layout in portrait mode to a 5×4 layout in horizontal mode.
It makes sense for Apple to do this in order to keep the spacing between icons the same in both orientations, but it gets a bit confusing to say the least.
BetterRotate is a tweak that fixes this problem by keeping the grid at a 5×4 layout no matter what the screen orientation is, keeping your apps in the same location so that you don't get confused.
CCControls
There are a handful of jailbreak tweaks that allow you to customize the Control Center, but CCControls takes it a bit further by allowing you to apply themes.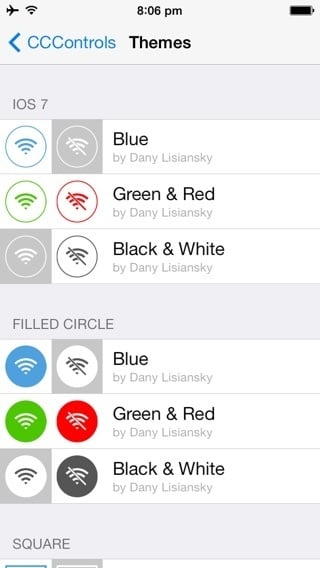 The tweak lets you do stuff like change around icons and buttons, as well as add and remove different toggles, but you can also change around the look and give it a unique theme by changing colors and styles of the buttons.
For instance, if you don't like the circular toggle buttons, you can change them into squares. You can also change the colors of the toggle buttons, which can make it easier to see if there's a toggle enabled or not.
Controllers for All
If you play a lot of games on your iPad, using the on-screen controls might not be the best way to go. Instead, there's a tweak that lets you use a PS4 or PS3 controller.
Of course, you can use a Made for iPhone controller, but most of them aren't very good, to say the least. Plus, they're pretty overpriced for what you get. However, Controllers for All allows you to use a PlayStation controller with your iPad and have it be recognized as a Made-for-iPhone controller.
You'll first need to pair your PS4 or PS3 controller to your computer before you can pair it to your iPad, but it's a relatively painless process that's worth it in the end.

This article may contain affiliate links. Click here for more details.