10 Best iOS 8 Cydia Tweaks for iPad
We've discussed a ton of iOS 8 Cydia tweaks in the recent past, but many of them focused on the iPhone, whereas the iPad was left out in most cases. However, here are the 10 best iOS 8 Cydia tweaks for your iPad.
There are plenty of jailbreak tweaks that work flawlessly with both the iPhone and the iPad, but I wanted to highlight some specific tweaks that work especially well on Apple's tablet.
There are so many jailbreak tweaks available on Cydia that it's really hard to sift through the junk to get to the good stuff. Cydia doesn't really have a good system for showing its most popular tweaks, other than on the home page which lists "featured" tweaks that may or may not be all that popular in the first place, but that's why I've covered so many awesome tweaks in the past, which helps you get passed the crap and into the good stuff.
Again, some of the tweaks mentioned below also work on the iPhone, but they're incredibly useful on the iPad, maybe even more so. However, I also included some jailbreak tweaks that are specifically built for the iPad. So without further ado, here are the 10 best iOS 8 Cydia tweaks for the iPad.
F.lux
F.lux is always one of the first jailbreak tweaks I install. It essentially gets rid of that nasty blue hue that your screen emits in favor of a warmer color temperature. This assures that you don't get eye strain when you're using your iPad late at night.
F.lux is also available for OS X and Windows (but not Android, sadly), and I highly recommend getting it for your computer if you spend most of the day looking at your computer monitor; it works wonders.
GridSwitcher
While AppButton does a good job of making it easier to switch between apps, GridSwitcher might be more up your alley if you still like seeing a preview window.
When you bring up the app switcher, the tweak fills the screen with four apps that you have running in the background, and then you just simply select one to open it up. It's a lot better than having to scroll through running apps one by one in the default app switcher for sure.
Springtomize 3
Springtomize is one of the most popular jailbreak tweaks around, and the developers behind the app have recently updated it to work with iOS 8. There are a whole heap of customizations that you can make to you iOS device with this app, including hiding unused apps, resizing icons, creating nested folders, changing fonts and much more.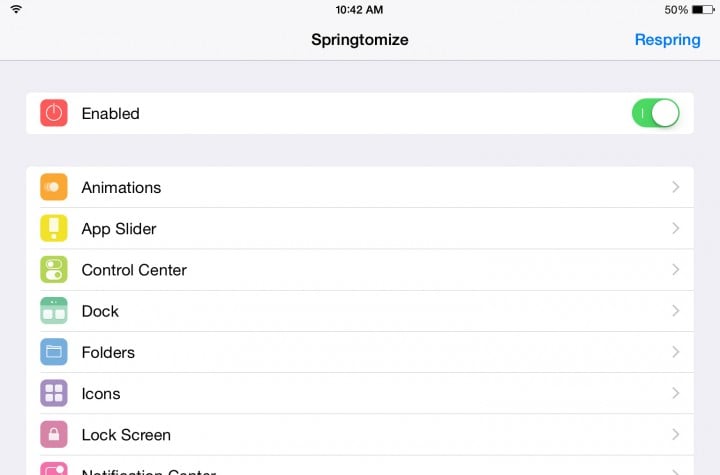 Springtomize essentially gets rid of the need for multiple single-purpose jailbreak tweaks and puts them all into one app that you can buy for just a couple of dollars. It's certainly one of the best deals in the Cydia store.
BetterRotate
One of the biggest pet peeves with the iPad home screen layout is that when you rotate the screen, all of the apps are in a different position because the grid goes from a 4×5 layout in portrait mode to a 5×4 layout in horizontal mode.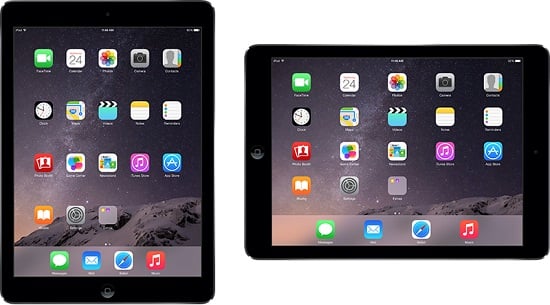 BetterRotate fixes this problem by keeping the grid at a 5×4 layout no matter the rotation, keeping your apps in the same location so that you don't get confused. It's a minor jailbreak tweak, but it helps a ton.
SwipeSelection
iOS's default method for moving around the cursor in a block of text isn't exactly the best way that it could be done; you have to tap and hold down, and then you can slide your finger to where you want the cursor to go. An easier way would be to just slide your finger across the keyboard and have the cursor move with it, and your finger wouldn't be blocking the cursor either.
Luckily, this is exactly what SwipeSelection does, and it's an absolute Godsend if you type a lot on your iPad. There's also SwipeSelection Pro, which comes with a settings menu where you can customize the cursor speed and such, but the basic version is good enough for most users.
AppButton
Speaking of the app switcher on the iPad, it's pretty cool and all, but it's not the most efficient way to switch between apps. One of the best tweaks that helps with app switching is called AppButton.
The tweak adds a small button on the screen and when you tap and drag it across the screen, it will bring up a small tray of the apps that you have running in the background. To switch to another app, all you have to do is to drag your finger to it and let go.
Furthermore, if you're simply just switching between two apps, AppButton lets you do this even quicker, by simply just tapping on the button once to switch between the last app that you were using.
ShowCase
The one great thing about the Android keyboard is that it shows lowercase letters when typing in lowercase, and uppercase letters when typing in uppercase. However, on iOS, the keyboard shows uppercase letters all the time. A simple jailbreak tweak called ShowCase solves this problem and shows lowercase letters when typing in lowercase, which quickly allows you to see which case you're typing in without having to look at the Shift key.
ShowCase is a fairly trivial jailbreak tweak, but it's one that I don't recommend taking for granted, as it makes your typing experience a lot quicker and easier.
FolderCloser
FolderCloser is a jailbreak tweak that was first introduced in iOS 6, but it was updated for iOS 7 as well. While it hasn't be officially updated for iOS 8 yet, it still works with the latest iOS version, so it's definitely worth downloading.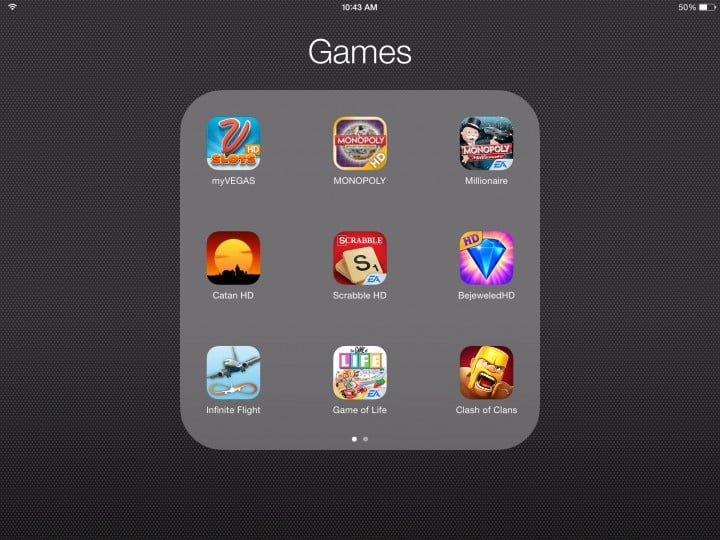 If you get annoyed by folders staying open after you launch and close an application from within said folder, then you need to download and install FolderCloser right now. It automatically closes the opened folder, so when you exit an app, you'll be brought back to the home screen rather than to the folder that the app belongs in. It's a dead-simple tweak, but it fixes a huge iOS annoyance.
FlipControlCenter
Another jailbreak tweak that's worth having on your iPad comes with the ability to customize the Control Center. It's called FlipControlCenter and it lets you do just that, to an extent. It doesn't include as much customization as we'd like, but it's a great start.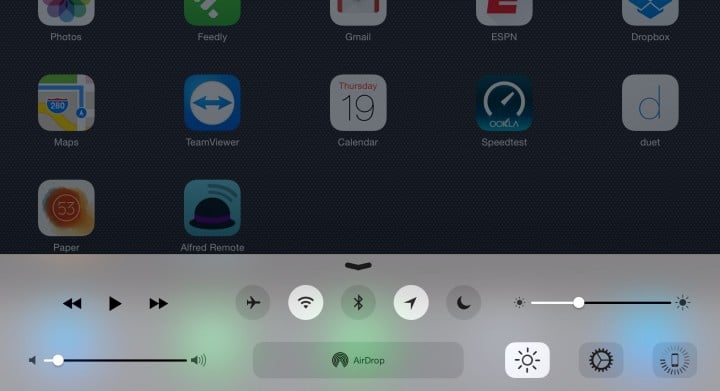 You can switch around connectivity toggles, as well as the bottom app shortcuts. Plus, you can add on pages that you can swipe through to add even more toggles and shortcuts to Control Center.
Auxo 3
We've discussed Auxo in the past, as it's one of the most well-known jailbreak tweaks in the jailbreak community. It essentially turns the iPad's multitasking tray and app switcher into something on steroids. It also combines the app switcher and Control Center, as well as provides "hot corners" and a really easy way to switch apps without having to access the app switcher in the first place.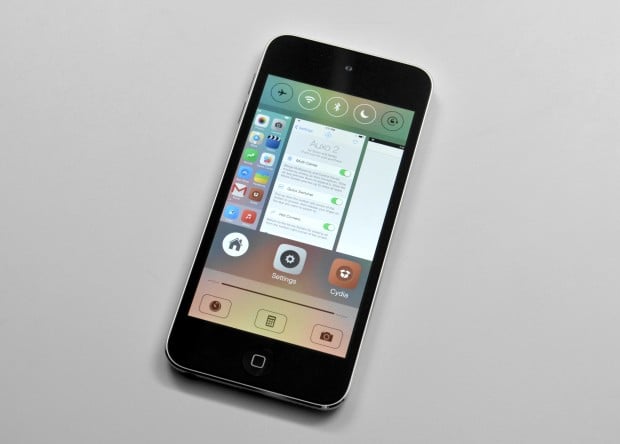 Swiping up from the bottom of the screen will bring up Control Center as well as the app switcher, which also puts a little less strain on the Home button since you don't need to double-click on it every time you want to open up the app switcher.
It's not an a tweak that suits everyone, since some users like to keep Control Center and the app switcher separate, but many users love the convenience that Auxo offers, which is why it's one of the most popular tweaks available.