While you technically shouldn't use your electronic devices before bed, it's something that many people still embrace. With that said, here are the best iPad bed stands for better comfort and usability.
There's no denying that the iPad makes a great bedside companion. It's small and portable enough that it can fit on your lap and it doesn't take up a lot of space. Then when you're done with it you can just throw it off to the side without a lot of effort. A laptop isn't that versatile, so an iPad is great for when you want to play games or check email right before bedtime.
However, holding an iPad isn't entirely comfortable, and you can only do it for so long before your hands start to get tired. Plus, there's really no good way to prop up your iPad with your knees, as it'll most likely just slide down your legs. However, this is where iPad bed stands can be handy.
There are all sorts of different kinds of bed stands that you can use with an iPad, and there's one that caters to all sorts of different types of users. It mostly comes down to finding one that you personally like.
To make the choice a bit easier for you, we've rounded up some of the best and most popular iPad bed stands around, covering all sorts of styles and designs.
iProp Bean Bag
If you like having your iPad propped up in your lap, but are having a hard time getting it stay put, then the iProp Bean Bag stand is probably your best bet. It's essentially a bean bag and a stand in one device, and it easily props up your iPad without any extra leg work (pun intended).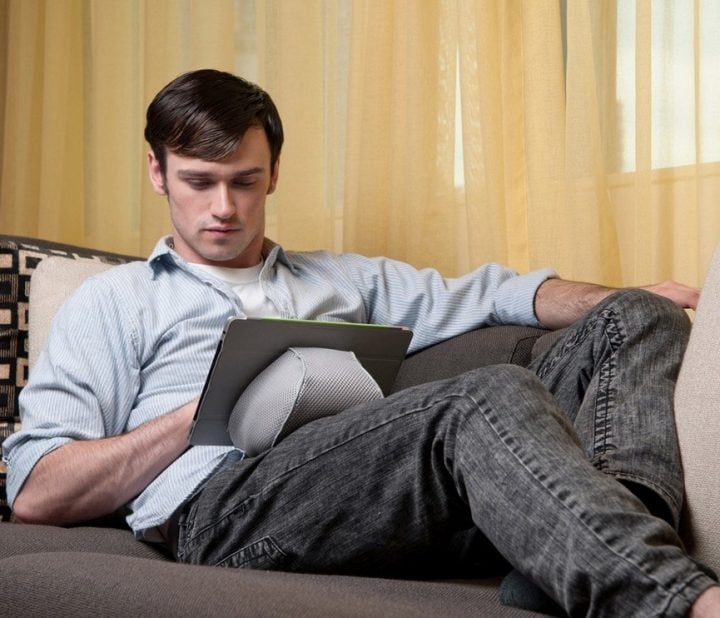 The bean bag itself is really flexible and can be conformed to just about any shape and angle, and it can sit on flat or irregular surfaces.
It costs $25, making it one of the cheaper iPad bed stands available on the market.
Goose Neck Clamp Mount
If you prefer a hands-free approach when using your iPad before bedtime, perhaps something like a goose neck clamp mount system would be ideal.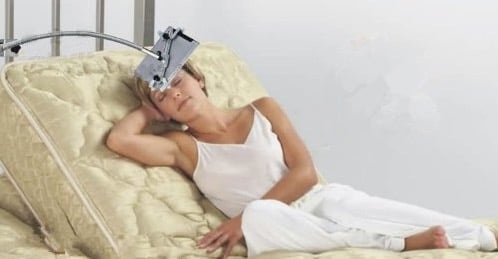 Many accessory manufacturers make them, but this $39 iPad bed stand will work just fine for most people. You simply clamp it onto your headboard and then you can adjust the goose neck arm into whatever position you'd like. From there, mount your iPad and you're off to the races.
This will allow you to watch TV shows or movies in bed without having to prop up the iPad yourself — a completely hands-free experience!
Gogo Pillow
While it may seem like mostly a gimmick, the $10 GoGo Pillow is actually pretty ingenious. You simply mount your iPad inside of the corner flaps that hold it in place, and you're essentially left with a pillow that has a built-in iPad.
Of course, it's not meant for laying your head on or anything, but for positioning on your lap for a more comfortable iPad experience before bed time.
Plus, the pillow can transform into a travel neck pillow that makes it great for when you're away from home, once again making it a good travel companion for your iPad.
Tablift
If you're looking for something a bit more robust, the Tablift might be for you. It's a $60 iPad bed stand that has long legs that extend to either side of you, and your iPad gets mounted in the center, sort of like a breakfast-in-bed tray table of sorts.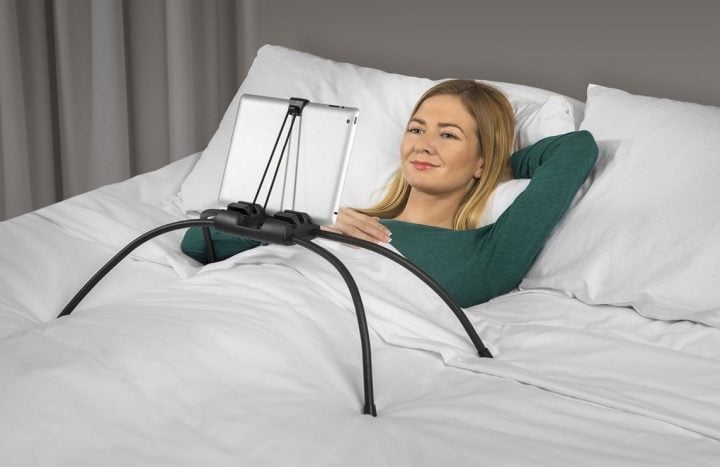 It does have some drawbacks, though, with the biggest being that you can't lie down completely flat and expect to get a good view of your iPad. Instead, you have to sit up a bit. It's a bit large and you simply just can't move it out of the way like you can with the goose neck mount.
However, it's a unique iPad bed stand that some users may actually find useful.
Flote
If you an iPad bed stand that not only does a good job, but also looks really great, the Flote is probably your cup of tea.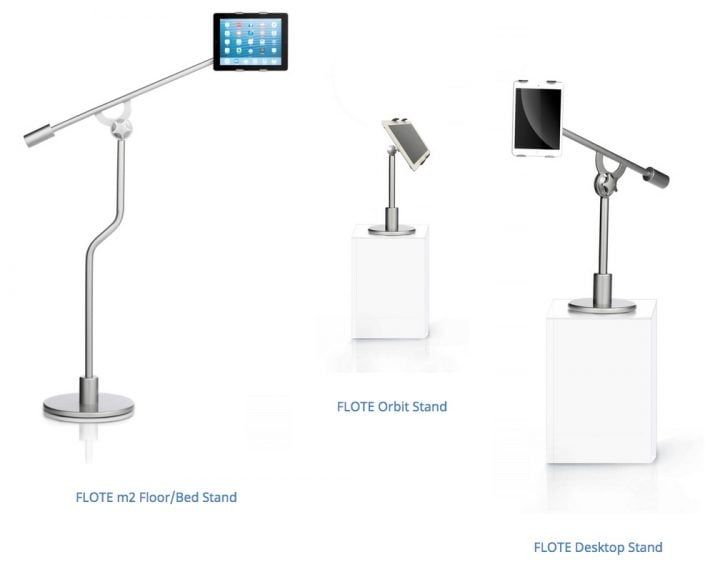 It's a bit on the pricy side, with the cheapest model costing $129, but it's a great decoration piece, as well as being a functional iPad stand.
The Flote Desktop Stand is great for putting on your bedside table and having the arm extend out over your bed. There's also the m2, which is meant more for the bed specifically, as the Desktop Stand is meant for other uses. However, the m2 costs $299, so buy accordingly.

This article may contain affiliate links. Click here for more details.