Best iPad Sports Apps for Fans to Follow Their Teams
Keeping up with your favorite teams is usually as simple as turning on the TV or firing up your browser. Sometimes when you are away from home or work or live out of market, it is not that easy. That's why we have a few of the best apps for tracking your team
The best sports app is MLB At Bat 11 (see our sister site review)! Even if you are not a big baseball fan you can at least see the merits of this great app. I just wish the NFL, NBA, NASCAR and all the other sports would call the MLB At Bat Developers and say, "Can we have one just like it please?"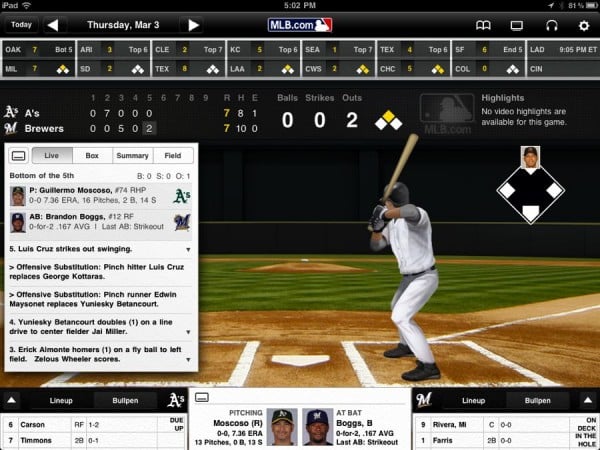 The app has everything from news about individual teams to league news. It has stats about games, teams and players. And it offers broadcasts in both audio and video. The broadcasts require a subscription.
The next best thing to actually watching the games or listening to them is following them with ESPN ScoreCenter XL. It is like having the ESPN web site in an app. You can not only see what the current score is, but for a lot of major sporting events follow the action during the game with scoring updates and stats. The live play-by-play is pretty good and the video highlights let you say, "Yes, I did see that dunk!" when you are talking about the game in the break room Monday morning.
Talk to the fans of mainstream sports and you'd think there were only 6 real soccer fans in North America and they'd say five of them are from south oft he border. The truth is this sport is growing in popularity and with MLS MatchDay 2011 you can get your futbol fix. Truth is I love soccer and for no good reason am a fan of the Columbus Crew. I get a notification when every one of their games starts to remind me to keep track. I also get notifications when they score, at the half and the final. The app lets you watch the games live if you are MatchDay Live subscription (a $60 in app upgrade) or just get the highlights for free.
If the other sports can't get the MLB At Bat folks to make their app, they should call these guys. MLS MatchDay is the second best sports app on the iPad for keeping track of a team. I know – some of you say too bad it's all about soccer.
This is a decent app for keeping track of the NBA, but it doesn't offer broadcasts. It is a good companion to have while watching a game and it helps track a game if you can't be near the TV. If only they would add subscription based, or better, free live streaming of the games, like the NCAA tournament app had. Now that the playoffs are in full swing, they have the brackets and show how each series is going.
Safari, iTunes and YouTube
These are two built-in apps but they can be helpful. Just fire up Safari and search for your team, game, or sport and you will find a plethora of great web content. If you have a particular site that you go to often, make a Home screen link by tapping the Add Bookmark button just left of the address bar. One of the options is "Add to Home Screen". It will show up on your home screen just like an app does.
It's a good idea to organize all of your favorite sports apps and sites into a Sports folder. Press and hold one app icon until it starts dancing and an X appears in the corner. Now drag one icon on top of another and it creates a folder. This works with both app links and Home screen bookmarks. If you have a bunch of team pages or sports news sites on your Home screen make a folder for them.
A lot of game highlights are available for download in the iTunes store. For example the 2010 Packers season costs $24.99 offering a 20-25 minute highlight reel of each game.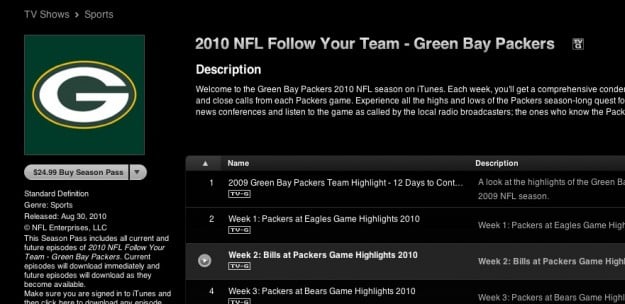 YouTube is a good place to look for sports highlights and videos. There are usually a few good videos about your favorite team or player.
Team Based Apps
Don't forget to search for apps based on your favorite team. Some of them are nothing more than collections of links to news pages. But others have a little more like schedules, ticket info, and broadcasts times/places, especially if is an official team app. There are also digital versions of the good old program that you would buy at the game for $10-$20. The apps are often free, however. My team won the Superbowl this year and I downloaded the official game program and really enjoyed looking through it. There were stories, videos, and even links to buy memorabilia.