Best iPhone 4S Jailbreak Apps & Tweaks Updated
The iPhone 4S jailbreak for iOS 5.1.1. is here and with it a number fo awesome iPhone 4S jailbreak apps and tweaks.
After installing my essential iPhone 4S jailbreak apps, I decided to collect the best iPhone 4S jailbreak apps available.
The apps listed in our original iPhone 4S jailbreak app roundup are still great, but many of these apps offer new customizations and tweaks for the iPhone 4S.
Be sure to check out our iPhone 4S Jailbreak Guide for iOS 5.1.1 – Absinthe 2.0 to learn everything you need to know about the latest iPhone 4S jailbreak.
Most of these iPhone 4S Jailbreak apps are available free of charge. To find these apps, tap on the Cydia app and search the name.
NC Settings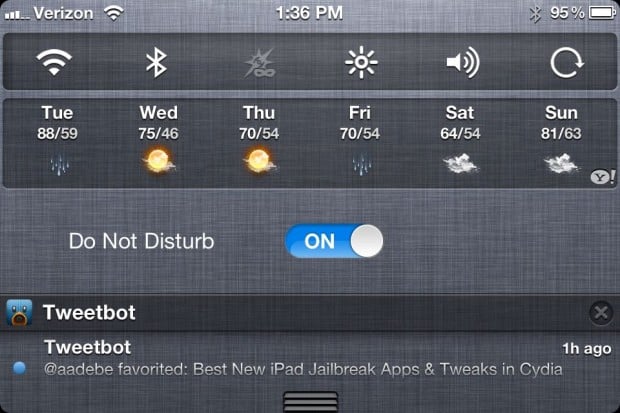 I'm still a fan of SBSettings, but I like the minimalist NC Settings, which puts access to common settings in the Notification Center.
NC Settings includes toggles for WiFi, Bluetooth, Brightness and many more. Users can pick the order of settings and where the settings show up in the Notification Center. Swipe to reveal other settings without leaving the Notification Center.
This app is my new go to iPhone 4S jailbreak app.
Do Not Disturb
Do Not Disturb is a great iPhone 4S jailbreak app that delivers my much wanted Do Not Disturb mode for the iPhone.
The jailbreak app is a Notification Center widget that allows users to silence all notifications and notification sounds with the flip of a switch, and turn them back on when they are done.
if the app doesn't appear in the Notification Center after installing, it may need enabled in Settings -> Notifications.
AutoProtect
I recommend using a PassCode on the iPhone 4S, but it is annoying to unlock the iPhone when you're sitting at home.
AutoProtect knows when the iPhone is connected to your home network and keeps the iPhone Pass Code off. As soon as you leave the range of your Home WiFi, the Pass Code is turned back on.
AutoProtect is a great app that is quite stable so far.
Sparrow+
If you check your email on the iPhone, you should be using Sparrow for iPhone as your email client.
Sparrow+ takes Sparrow to the next level with Sparrow notifications on iPhone and the ability to set Sparrow as your default mail client for the iPhone.
This excellent iPhone jailbreak app is a great tool for users who need a better email experience on the iPhone 4S, but can't wait for the official Sparrow notifications to arrive.
Sparrow is $2.99 in the iPhone app store, but Sparrow+ is a free jailbreak app. You must have Sparrow installed to use Sparrow+.
Zephyr
Once you jailbreak the iPhone 4S, you can add multitasking gestures with Zephyr.
As shown in the video above, Zephyr adds the ability to swipe between open apps, including in landscape mode. Faster access to the Notification Center and the ability to open the multitasking app draw with a swipe up form the bottom.
Zephyr is a paid jailbreak app, but it is definitely worth it. Purchase Zephyr for $4.99 in the Cydia app store with Amazon or Paypal.
f.lux
f.lux is part of my essential iPhone jailbreak apps post, but it is so good that I had to include it in this new list of iPhone 4S jailbreak apps.
f.lux changes the color warmth of your iPhone 4S display based on the time of day. This means as sunset and night approach, the iPhone display loses the harsh blue glow that can keep you awake longer at night.
There is a sacrifice in image quality, but it's worth it to use the iPhone late at night without worrying about harsh light.
AppFront
Users who love Viber, Skype and WhatsApp will enjoy AppFront, an iPhone jailbreak app that makes it easier to use messaging and VOIP apps on the iPhone.
With AppFront  it's possible to use the standard phone app to start and make calls that are placed with Viber or Skype. The app requires Viber, Skype or WhatsApp be installed.
AppFront is $1.99 in the Cydia app store.
More iPhone 4S Jailbreak Apps
There are many great iPhone jailbreak apps and tweaks in Cydia. We've covered the best jailbreak apps extensively in a series of posts that make it possible to track down the absolute best of Cydia.
You don't have to look far for great iPhone jailbreak apps.
—
Do you have any favorite iPhone 4S jailbreak apps we need to download?

As an Amazon Associate I earn from qualifying purchases.