Best iPhone 5 Battery Cases
Instead of trying to get better iPhone 5 battery life, it is time to invest in an iPhone 5 battery case that can double the iPhone 5 battery life without the need to find a charge.
iPhone 5 battery cases snap on like any iPhone 5 case to protect the iPhone from damage, but they also connect to the Lightning connection so users can charge up the iPhone 5 anywhere.
There are many iPhone 5 charging cases available, with varying battery sizes, so there are many styles and colors for users that want an iPhone 5 battery case that they can express themselves with, just like a standard case.
Any iPhone 5 battery case will add some bulk, but most that we've had a chance to review are still slim enough to fit in a pocket. We typically use these cases for travel and when planning a long day out, or will keep the battery case charged and in a car so it is ready if we need it. That said, you can use any of these iPhone 5 battery cases as your primary case if you can live with a little extra bulk.
All of these cases connect to the Lightning port on the iPhone 5 to charge it up, and offer an on/off switch to let you pick the best times to charge it up. The best way to supercharge the iPhone 5 battery life is to charge from 20% up to 80% and then turn it off until later. This is the easiest to charge, and will result in longer overall battery life from the iPhone 5 battery case.
With the battery case on, users can charge the iPhone 5 and the battery case with a Micro USB cable, which is a common cable used for Android smartphones. Most iPhone 5 battery cases include a cable. Users will need to take the iPhone 5 out of the battery case to sync to a computer, so it's a good idea to set up WiFi syncing in iTunes.
Because the cases need to include a lightning connector and the headphone jack is on the bottom of the case, not all headphones will fit, but most cases include a headphone adapter.
While there are many iPhone 5 charging cases, we've narrowed it down to the best iPhone 5 battery cases available. We've reviewed many of these cases, gone hands on with others and only picked those from companies we trust.
Mophie Juice Pack Helium iPhone 5 Battery Case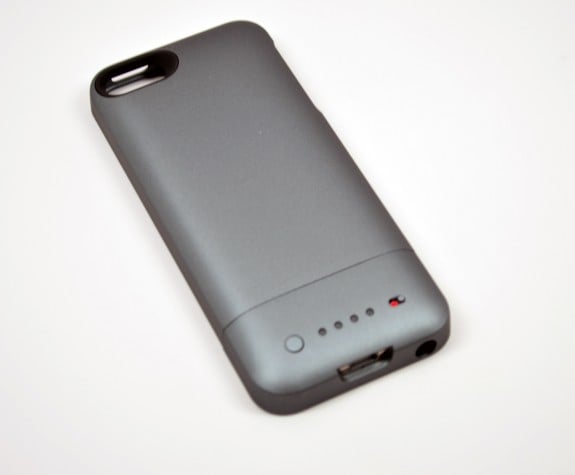 The Mophie Juice Pack Helium is the go to iPhone 5 battery case for many users because of the affordable price and slim size.
This iPhone 5 battery case includes a 1,500mAh battery that Mophie claims will add about 80% of battery life to the iPhone 5. In our testing, we found it delivers about 60-65% of a charge, which is still respectable.
Read: Mophie Juice Pack Helium Review
The Mophie Juice Pack Helium snaps on and off easily and the bottom detaches for access to the Lightning port for syncing. The case includes a headphone adapter, but works ok for the stock Apple Earpods without it.
Four LED lights on the back of the case allow users to see how much power is left in the iPhone 5 charging case and there is a switch to turn it on and off.
$79.95 at Amazon