Best iPhone 6 Plus Bluetooth Keyboards
Pair one of the best iPhone 6 Plus Bluetooth keyboards to your iPhone to boost your productivity and typing speed without adding a lot of bulk to your gear bag or purse.
With a 5.5-inch screen and plenty of amazing apps for writing, communication and productivity the iPhone 6 Plus is a go to tool for mobile work.
If you need to be ready to write when inspiration strikes, when a boss calls or news breaks, the iPhone 6 Plus and a good small Bluetooth keyboard is an essential iPhone 6 Plus accessory.
We use an iPhone 6 Plus Bluetooth keyboard to write in WordPress, iA Writer and in Notes, but there are also other options like Microsoft Word for iPhone and Microsoft Excel for iPhone that also deliver essential mobile productivity options.
Read: iPhone 6 Plus Tips & Tricks
All of these iPhone 6 Plus keyboards are portable and most can fold or roll up for easier transport. You'll spend at least $26 on an iPhone 6 Plus Bluetooth keyboard that is pretty basic, and $50 or more on folding or roll up iPhone 6 Plus Bluetooth keyboards.
Be sure to check out the details on each of these Bluetooth keyboards, because some are better than others for specific purposes, like entering numbers and punctuation. Many of these options are close to full size, but if you need a real full size option, you may need to deal with a bulkier iPhone 6 Plus Bluetooth keyboard.
Look through the slides below to see the best iPhone 6 Plus keyboards we could find based on our use and reviews from trusted users.
Best iPhone 6 Plus Bluetooth Keyboards
Flyshark Folding iPhone 6 Plus Keyboard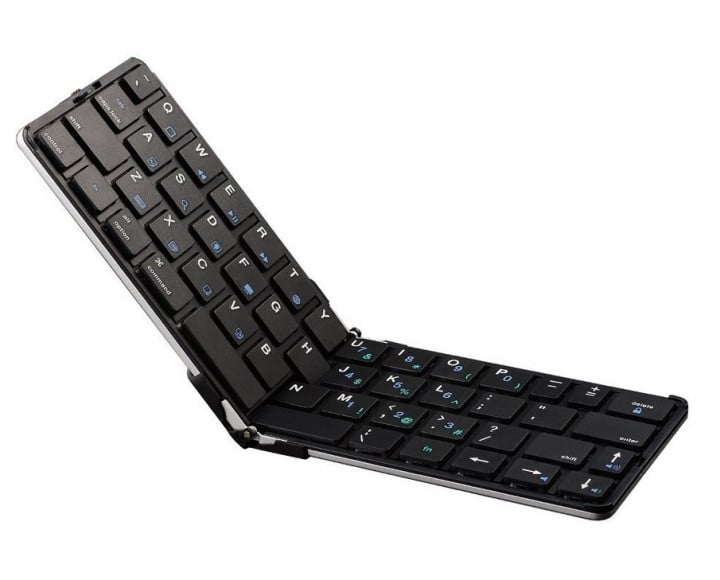 The FlyShark folding keyboard is one of the best options out there for users looking for a slim folding iPhone 6 Plus Bluetooth keyboard. This includes a fold in the middle while still offering a large space bar and keys that most users will need on a daily basis.
For users that need to use numbers and a lot of punctuation, this may not be the best option. There is no number row, which leaves you to press a function key for numbers and a function key for the punctuation that is normally above your number row.
Choose from silver or black and which language you want from English, Spanish, French or German.
$49.99 at Amazon