Best iPhone 6 Plus Wallet Cases
The best iPhone 6 Plus wallet cases let you stash several cards and cash in your iPhone 6 Plus case so that you can make payments anywhere you go, even if Apple Pay isn't an option. This is the perfect option for users who cannot go all digital due to banks and places they shop, and who don't want to carry a big wallet with an already big iPhone.
You'll find iPhone 6 Plus wallet cases that connect to the iPhone 6 Plus like a regular case and offer some added protection from drops as well as iPhone 6 Plus wallet cases that stick on to the iPhone 6 Plus with an adhesive that allows for a thinner overall design.
Whether you want an iPhone 6 Plus wallet that covers the front of the screen or one that is slim and stays on the back we have several options for you to choose from. We've used these cases, brands or similar versions for the iPhone 6 and iPhone 5s, so we know these are quality cases.
You'll need to pre-order some of these iPhone 6 Plus cases, but most are already available to order with delivery in a few days. Most of these iPhone 6 Plus wallet cases can hold three or more cards and even some cash, so you are prepared without carrying a separate wallet with you.
A common concern is that if you lose your iPhone you'll also lose your wallet, but if you use Find My iPhone, your wallet now has a GPS tracker that you can use to find where it is lost or even track down a thief if that's how you lost it. Not many regular wallets can do that.
Here are the best iPhone 6 Plus wallet cases we can find from $35 up to $130 depending on the amount of style, customization and how much high-end leather and craftsmanship you want on your iPhone 6 Plus wallet.
Best iPhone 6 Plus Wallet Cases
Distil Union Wally Stick On iPhone 6 Plus Wallet Case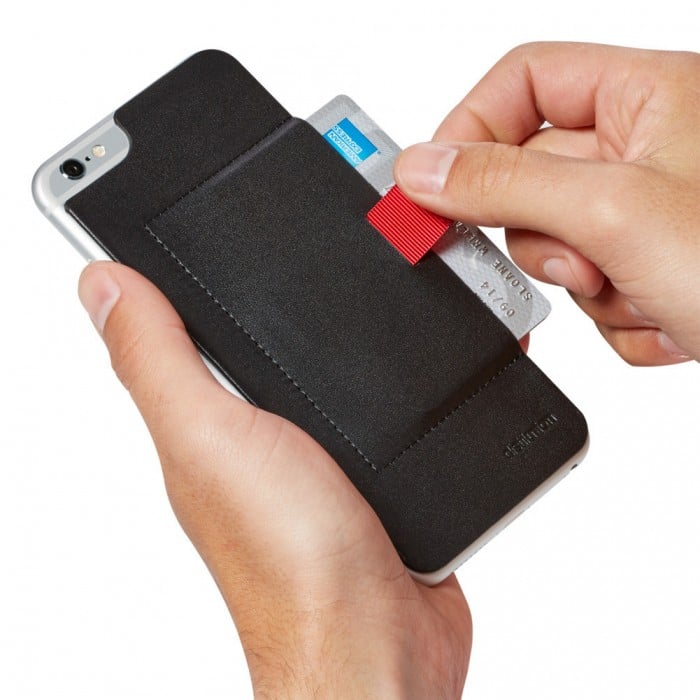 Distil Union makes a stick on iPhone 6 Plus wallet case that holds up to three cards or two cards and some cash. This iPhone 6 Plus wallet case includes a cool pull out mechanism to let you remove the cards from the wallet. This design makes it look like you are simply using a leather back for the iPhone 6 Plus.
After using the iPhone 6 wallet case version, which snaps on instead of sticks on, we know the design is going to hold up to daily use. The thin leather case is soft to the touch and easily holds an ID, personal debit card and a business debit card which is just enough to handle most events.
$39.99 at Distil Union