6 Best iPhone 6s Wallet Cases
Apple had a busy week with the announcement of the all-new iPhone 6s and iPhone 6s Plus, and now that the new phone is coming soon, future owners are in need of a good case to protect it. The options are almost unlimited for iPhone owners, but those who want extra features from a case will want to check out these six iPhone 6s wallet cases.
Picking a case for a brand new $700 iPhone 6s is no easy task, and most buyers look for something that offers more than your typical protection. As a result many buyers opt to get wallet cases, cases with built-in kickstands and more.
Read: Apple iOS 9 Review
The new iPhone 6s and 6s Plus will start shipping in just under two weeks, being available on September 25th and buyers will want to have a fancy case ready and waiting to put on immediately. Last year we detailed 11 great iPhone 6 cases, all of which will work with the new iPhone 6s as it's nearly the same size, but below are some of the best iPhone 6s wallet cases available right now.
Just as expected, the new iPhone 6s looks exactly the same as last year. Being an "s" model it's all about changes on the inside, and not on the outside. And while it received a much-improved 12 megapixel camera, 3D Touch, and a more durable aluminum frame to prevent bending, the phone is still the same size and shape. This means iPhone 6 cases will work with the iPhone 6s.
However, those switching from an iPhone 5s to the new 6s, or from Android, will want to protect the bright 4.7-inch or 5.5-inch Retina iPhone 6s and 6s Plus. Drops can still crack the big screen or scratch the aluminum, so protecting the phone from daily wear and tear is a good idea.
Being one of the most popular phones on the planet everyone makes a case for the iPhone 6s, but rather than flip through pages of cheap options, check out our list below for six great cases that also feature built-in wallets to make life easier.
CM4 Q-Card Case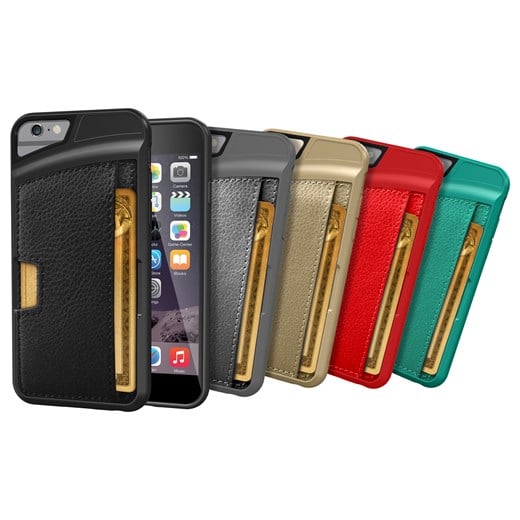 The Q-Card case shown above is my probably my favorite iPhone 6s wallet case for a few reasons. For one, I've used them in the past on the iPhone 5, Galaxy S5, and currently with my iPhone 6 and Galaxy S6, and they're excellent cases. Then most importantly, it isn't a typical flip case. This makes the CM4 an attractive offer out of the gate. Secondly it's made of a durable lightweight plastic that protects the screen and camera, but then finished off with premium faux-leather design for the wallet part.
The soft-touch rubber design is comfortable and easy to hold, which also curves around the sides and protects the camera lens and big screen. It's an awesome design that can hold 3 credit cards plus some cash. It comes in five different colors for the price below, as well as a premium genuine-leather brown option for $59.
CM4 iPhone 6s Wallet Case - Buy for $39.99

As an Amazon Associate I earn from qualifying purchases.